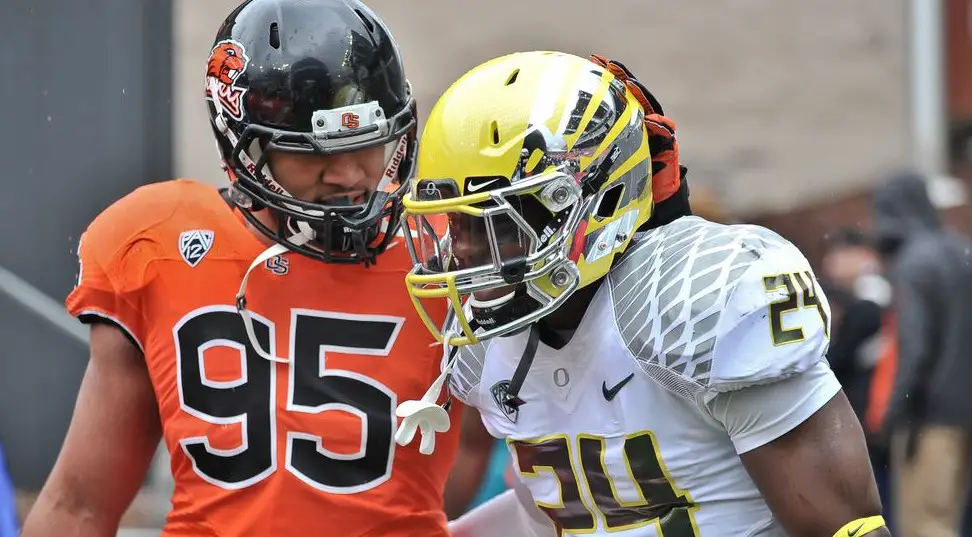 Courtesy of Kevin Cline Photography
I recently read that many pundits think the Oregon State Beavers might actually be a contender; not just in the Pac-12 North, but in the Pac-12 in general.  I have also heard this same statement from many of my friends who are Beaver fans.  To my friends I must nod politely while trying not to smile and actually chuckle.  The fact that Oregon has won the last 5 Civil War meetings should be enough to squash that feeling – but alas, hope abounds.
Last season, the Beavers started their year off by beating then ranked No. 13 Wisconsin.  The Badgers would go on to finish their season losing to Stanford in the Rose Bowl with a sub-par 8-6 season record.  The Beavers went on to win their next 5 games, and in the first half of their season they were 6-0 and ranked No. 8 in the nation.  Then they lost to a 7-6 Washington team and four weeks later met their arch nemesis and big brother Oregon.  Oregon put a hurting on the Beavers, 48-24, for their third loss of the season.  Of course, they didn't drop in the rankings because, well, Oregon is awesome and was ranked 5th in the nation at that point.
While much was made of the Ducks having a patty cake non-conference schedule last season, it was due mainly to teams using escape clauses in their scheduled games.  Oregon's non-conference opponents combined for a 22-15 record, while the Beavers non-conference opponents combined for a 17-21 record.  Add the fact that Oregon State lost their bowl game to a 9-4 Texas team, and it becomes apparent that they have a long way to go before being considered a contender for any title in the PAC-12.
There are many reasons to sell rather than buy on the Beavers this year.  For starters, they are losing without a doubt the two best players on their team in Markus Wheaton and Jordan Poyer, who were respectively an outstanding receiver and one of the nation's best lock down corners.  As if losing Poyer wasn't a big enough blow to the defense, add the fact that the Beavers are losing both of their starting defensive tackles and their starting middle linebacker.  If I was a Beaver fan, I would be very worried about my defense getting run over by opposing running backs.  Luckily, I'm not.
Now with the offense…where to start?  Oh yes, the most important position: quarterback.  After an entire season last year, Oregon State still cannot decide on a starting quarterback.  This takes me back to the Jason Fife/Kellen Clemens phase at Oregon; a phase that I would rather forget.  If one quarterback has not set himself apart from another, then in my experience it is usually not because they are both so good.  Anyone who has played football in their life can tell you that you must have familiarity between your QB and the team.  You can't expect someone who is splitting time to be able to take control of a team and earn the respect of the players, especially receivers and tight ends.  Is it Vaz or Mannion, Mannion or Vaz?  You had an entire season to make up your mind and you still don't know.
The last piece of the puzzle as to why the Beavers stand no chance of winning the PAC-12 North is their coach.  Don't get me wrong – I like Mike Riley as much as the next guy.  He is a class act all around, but he is mediocre overall .  He seems to do just enough to stay employed.  After going 9-4 in 2008, he then went for 8-5 in 2009, 5-7 in 2010, and hit his low with 3-9 in 2011.  Just when everyone was saying he was on the hot seat, he starts the 2012 season 6-0 and ends with a 9-4 record…just enough to save his job.
If Beaver fans want their team to become a household name, they better start demanding some change.  If you want to land better recruits, you better demand some change.  Don't tell me anything about how Phil Knight helps Oregon financially so we get recruits.  Look at Boise State; any team can land the recruits they need to win a lot of games, they just need to recruit the right players.  Most of Oregon's best players were not super star recruits, LaMichael James and Kenjon Barner were 3 star recruits.  They went on to become No. 1 and No. 2 on Oregon's career rushing list.
The one bright spot in the cloudy sky for the Beavers is ironically named Storm.  Storm Woods is the one thing Oregon State has going for themselves and they better use him to his full potential.  Luckily for the Beavers he is only a sophomore this year, and they can build around him; but for now they must resign themselves as being the "little brother" to Oregon for the foreseeable future, unless they demand some change.
Side note:  If nothing else, I love the fact that Cliff Harris has left us with quotable phrases like "little brother" and "the natty".  I love even more that it gets on the nerves of Oregon haters everywhere!  They better get use to it, because I plan on using them for quite awhile.

Sam was born and raised in Cottage Grove, Oregon and he has been a die hard Duck fan his entire life. Sam studied at the University of Oregon before moving to San Diego for 5 years. After moving back to Oregon, Sam decided to follow his passion for writing and started writing for various sports sites. To him, nothing is better than being in Autzen Stadium with 59,000 fans screaming their heads off!
SIGN UP for the New FishDuck Commenting/Posting System!
The first step toward some big additions to the site is moving away from the Disqus system, to our own new commenting/posting system for the great discussions below the articles.  Signing up now will automatically have you registered in the new forum that will be released in the next three weeks.
It takes a minute is all, and will allow us to continue our amazing discussions of Oregon Sports in a new format that will allow more flexibility over time as we add features.  Sign-up now!  
Mr. FishDuck