Ever wonder what would happen to Oregon's glorious offense if our starting quarterback went down due to injury?  Unfortunately, most Duck fans will recall the 2007 season in which Heisman Trophy favorite Dennis Dixon tore his ACL on a routine read-option play shortly after a 60-yard scamper down the sideline for a touchdown.  There went the season, the national championship, and all the glory.
If a similar scenario were to unfold this year with incumbent starter Marcus Mariota, our beloved Ducks could still have quite a successful season.  This, in large part, is due to the potential backups at quarterback Oregon will have on the 2013 roster.  Some of you may have read up on Jake Rodrigues a while ago, but now I'm here to introduce the final backup candidate, Jeff Lockie.
Lockie committed to Oregon back in the summer of 2011 (recruited by current head coach Mark Helfrich) shortly before the start of his his senior football season at Monte Vista High School in Danville, California. He was quite successful in his two years as a starter, and led his team to a semifinal playoff appearance in the Nor Cal CIF Championships. Despite his production on the field, he was out shadowed by standout league-rival Zach Kline (now playing QB at Cal).
Lockie never garnered as much national attention or recognition as Kline had.  Recruiting services had always listed him as a pro-style quarterback and a 3-star prospect.  Oregon was one of his two major offers (the other being SDSU), falling in love with Oregon as soon as the coaching staff showed interest during his junior season.
Throughout his two years as a starter, Lockie accumulated some impressive statistics.  In 2010, he threw for just under 2,500 yards and 26 touchdowns while adding 205 yards on the ground.  Then in 2011, after releasing his inner-Duck, he threw the ball 3,278 yards for 31 touchdowns and ran it in for 7 scores.  One dimensional pocket-passer?  I think not.
Here are some of his high school highlights:

So what kind of player is he? And what exactly can he do for Oregon?
It is very important to kill the notion that Lockie is some sort of stand-still, "traditional" quarterback. The last traditional quarterback to play in Autzen was Brady Leaf… they just don't fit in with the current scheme.  He may not have Mariota-esque speed, but he can still run a sub-five 40-yard dash and has one heck of an arm. He is an extremely accurate passer and has displayed great arm strength when forced to run outside of the pocket.
As a former Duck comparison, Lockie seems most similar to Kellen Clemens in terms of potential role,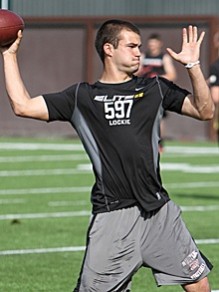 size, and skill set.  They both stand at 6'2″ and share a common 200-210 lb. build.  Both display strong and well-rounded arms. And most importantly, they both have similar tendencies when the defense is locking up receivers and/or crashing in on the pocket.  Clemens won the heart of Duck fans with his 3rd and long scampers to keep drives alive.  He was quick on his feet, and knew just when to use them.  Expect Lockie to have similar 5-10 yard runs after being on the field for a while.  This great footwork and ability to run also makes Lockie a threat in the read-option game, a must-have trait for Oregon quarterbacks.
The Ducks are currently in the middle of spring ball, and the coaching staff has been quite pleased with the development of both Jeff Lockie and Jake Rodrigues in such a complex offense.  The media's attention may be geared elsewhere at the position, but the backup quarterback role is something that cannot be ignored.  As both players have admitted, the backup competition has increased both their comfortability and determination as a potential leader of this offense.  May the best man win.
No Duck fan can ever expect nor prepare for Mariota to go down, and why should they? He has displayed so much durability, charisma, and leadership that he has most of us convinced nothing can stop him.  But having such a talented depth chart at quarterback is something everyone involved with Oregon football is lucky to have.  We are extremely fortunate for this luxury, and it's something we have not always been used to.
135 days.  Go Ducks.
Joe Packer is a sophomore at the University of Oregon, majoring in Journalism. A Portland, Oregon native, he has been an avid Duck fan his whole life, attending his first of countless Duck football games at the age of 2. He played Lacrosse in high school, and today enjoys shooting hoops and a round of golf just about every day. As a player, referee, and youth sports coach, Joe looks to share his diverse perspective on the world of sports. He welcomes your feedback. Follow him on twitter: @JoePa_
Articles EVERY DAY Again on FishDuck!
Our focus is now on this wonderful Oregon Sports Community, and we will have at least a short article every day to begin the Duck Discussion.
You are also welcome to post other current events or items about Our Beloved Ducks in the comments as well.
Our 32 rules can be summarized to this: 1) be polite and respectful, 2) keep it clean, and 3) no reference of any kind to politics. Easy-peasy!
Take note though, there are NO STRIKES, NO WARNINGS, and NO SLACK given. Violate the rules and you are gone, as this is what the 99% who post superb comments want. (The Ban could be for weeks, months or permanent)
For the 1% out there who do not have impulse-control … as you write your comment that violates our rules, ask yourself, "is this worth getting banned over?"
FishDuck members….we got your back.  No Trolls Allowed!
New at FishDuck? Learn about the site right here!