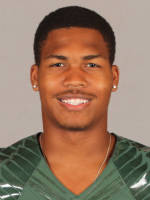 Chance Allen, alongside his hometown buddy Bralon Addison, committed to Oregon on National Signing Day back in 2012.  He comes to us from Missouri City, Texas, where he was the star athlete for Fort Bend Elkins High Schoo; participating in football, basketball, and track.  He really burst onto the national recruiting scene throughout his senior season and earned a 3-star rating, whereas he was a 2-star for a good portion of 2011.  Coming down the wire it seemed as if Oklahoma State was his top choice; however, the good ol' Scoot Frost hit the recruiting trail and managed to steal this guy out of Texas and bring him to the Pacific Northwest.
After starting for 2 years on varsity, Allen accumulated 126 receptions, 1920 yards, and 22 touchdowns against the cutthroat competition that is Texas high school football.  He put up equally impressive numbers on the basketball court, but a future in basketball was not his chosen option.
Here are some of his high school highlights:

So what kind of player is he? And what exactly can he do for Oregon?
Well, the fact that he redshirted this past season is no reflection on his skill set or potential.  At the time, he was one of the sixteen listed receivers on the roster.  He spent the redshirt season learning the ins and outs of the offense, getting stronger, and assisting the coaching staff in recruiting (Chance Allen and Bralon Addison have been attributed to helping push the commitment of DE Torrodeny Prevot, a Texas native).
Standing at a rangy 6'2″ and 195 lbs, he has become well-known for a being an all-around receiver.  He possesses great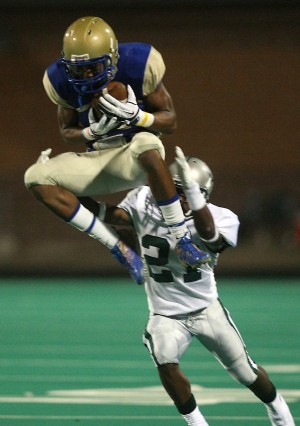 open-field speed, dependable hands, tough durability, and an excellent attitude. Recruiting services have listed route-running ability as an area for improvement, but, that can be countered by the tenacity and strength he demonstrates when run-blocking corners and safeties — something vitally important in the Oregon offense.
I see his former Duck comparison as D.J. Davis.  They mirror each other in terms of size and Allen looks to fulfill a very similar role as Davis on this roster — as an all-around, more traditional receiver to compliment the sub six-foot lightning bolts running all over the field.
Spring ball will be Allen's chance (no pun intended) to show both the coaching staff and loyal fan base that he is the real deal and can replace a Josh Huff or Keanon Lowe just fine. Currently, Allen is floating around in that 5th/6th spot on Oregon's depth chart. Very dependable and proven players are ahead of him, but as we all know, the injury bug can hit anyone at anytime. A spread offense works in his favor in terms of potential reps (especially in the all-too-familiar "garbage" time) so be sure to keep an eye out for #20 this spring and further into this season. Allen must use this time to get comfortable on the field, stay healthy, and improve everyday so that he can become Oregon's go too wideout within the next couple of years.

Joe Packer is a sophomore at the University of Oregon, majoring in Journalism. A Portland, Oregon native, he has been an avid Duck fan his whole life, attending his first of countless Duck football games at the age of 2. He played Lacrosse in high school, and today enjoys shooting hoops and a round of golf just about every day. As a player, referee, and youth sports coach, Joe looks to share his diverse perspective on the world of sports. He welcomes your feedback. Follow him on twitter: @JoePa_
For Greybeards … the EYES Have it!
Want to know a secret about web behavior? Readers don't like long stretches of sentences in comment posts without any breaks, and most readers don't even like long paragraphs.
Break it up! After every third sentence in your post…hit "enter" on your keyboard twice if your computer is a PC, or "return" twice if you have a Mac.
This creates natural breaks between scads of sentences, and so many of us thank you for making it easier on our "Greybeard-age" eyes!