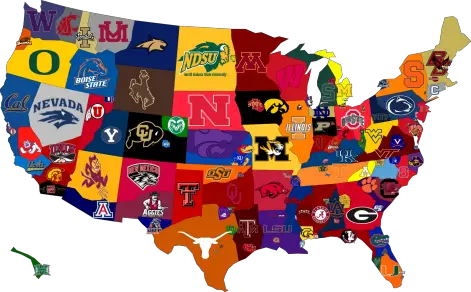 Spring ball is upon us….for some….while others will have to wait until the end of the month to get a look at their favorite team and start making expectations for the upcoming season.  Now, if the March Madness spirit is still upon you, then the Final Four will be something to help with expectations.  Maybe Auburn fans can watch the Final Four to keep their minds off of everything going on right now.  Let's get into some news and thoughts from the past week:
1.  Let's keep talking about Auburn and the allegations of them paying players and changing grades.  This is news?  I thought most schools (especially in the SEC) pay their players and change grades to keep them eligible.  Sounds like someone is going down and wants to bring Auburn with them.  Ask Maurice Clarrett of Ohio State how that is working out for him.  I think the NCAA is in so much HOT water right now with the Miami Case and the Ed O'Bannon case right now that this is just a hiccup and will get pushed to the back of everyone's minds by next week.
2.  Speaking the NCAA…have you heard about the Ed O"Bannon vs NCAA case?  If that goes through then EVERYTHING will change.  It kind of makes me scared to think of what will happen if the NCAA loses.  Rising ticket prices, cuts in all side sports, and some conferences would cease to exist.  I know student-athletes bring in a lot of money for a university but giving them a 50/50 cut will make things awful.  The smaller conferences will become non-existent.  Most schools are working in the red when it comes to the budget as it is, and this case will bankrupt the smaller schools and just make the well known programs become "richer".  If this goes through it is going to be a hot mess.  Let's hope that the case fails but the NCAA reforms.
3.  Ohio State's starting QB Braxton Miller took a big hit during practice and it's NEWS?  Well, not really, but I just wanted to talk about the kid.  Urban will need to keep that kid protected because he is going to win the Heisman and lead his team to the national title game next year.  He is an amazing athlete and I do not seeing Ohio State losing more than 2 games the next 2 years he is on campus.  Urban Meyer has another Tim Tebow, just one that can run faster.  I am putting Ohio State as one of the first teams into college football's "Final Four" in 2014.  The Kid was a highlight machine as a freshmen and is only getting better and Urban Meyer is bringing in better athletes around him to help.
The Final Four has been fun to watch.  It still makes me think and hope that the college football final four has the same feel to it.  It will take time for the system to work out all the "bugs", but at least we have it in place.  Nothing too major is going on this week.  We have had a few smaller schools talk about moving around in the Sun Belt and C-USA news, but really that does not change anything.  A move worth talking about would be the BIG-12 actually getting back up to 12 schools.  Also, I can't really talk much about Florida's spring game today because it was nonexistence for my southern fans.  Muschamp says the team was too banged up to have a full all out scrimmage.  I hope other schools will get to have full scrimmage to give fans a better outlook on what to expect from their team this fall.
NATIONAL NEWS:
1. Penn State has football news.
2. Rutgers still headed to BIG-10.
3. Florida State already winning early.
4. Georgia getting defensive.
5. PAC-12 Mailbag.

Jeff Hostetler may not have won a Super Bowl with the Giants ( though his uncle of the same name did). He has been an obsessed college football fan living in Florida ever since the Gators beat FSU in the Sugar Bowl to earn the UF's first national championship.
Ever since Jeff has immersed himself in everything possible related to college football. He enjoys watching, writing, playing, and otherwise obsessing over all things football. A graduate of the University of Florida, he brings a perspective to FishDuck free of our extreme green & yellow homerism glasses to look at the current landscape of collegiate athletics.
Mr. FishDuck … You Simply Can't Handle MY Opinions!

Baloney. I want all opinions here as it enables us see the full spectrum of ideas and helps us to learn from others and modify our own views as a result. In fact, this is the only Duck website where you can safely share your full-spectrum views on Oregon Sports.
If there is a problem … it is with your behaviors, and not your opinion, even if unpopular. Be polite and courteous to others and you will be reciprocated, and consequently you'll have a tremendous experience on FishDuck.
The majority of our rules can be summarized to this: 1) be polite and respectful, 2) keep it clean for grandchildren reading, and 3) no reference to politics.
Easy-Peasy!