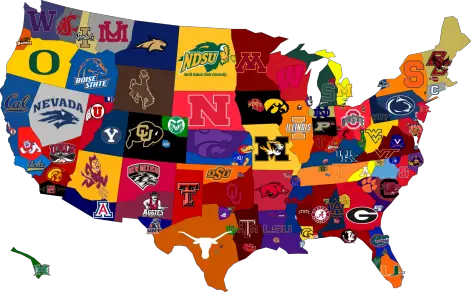 Spring football is over.  The dull time is here for college football, unless your a fan of watching the police reports come out every week.  Oregon fans will hold their breath this summer as the NCAA decides their fate on infractions committed during the Chip Kelly era.  Let's hope they avoid a bowl ban which could possibly put them in the same shoes as Ohio State last year.  Let's get into some news and thoughts from this past week:
1.  The SEC and ESPN are finalizing a TV deal.  The SEC dominates college football, the NFL draft, and most media outlets.  Now the SEC will be able to dominate your TV set 24/7.  I think most fans will enjoy watching Nick Saban buy his daily cup of coffee.  Or maybe they can have cameras watching Les Miles sleep since they will need some footage to fill those late night hours.  With all this SEC coverage hopefully college football fans won't get officially fed up with the SEC conference.  Most people hate the SEC for dominating the national championship scene as it is.
2.  Texas A&M is still striking while the iron is hot.  They just approved for their stadium to make additions and be able to seat over 102,000 people.  This will make their stadium the biggest in the SEC.  I heard everything is bigger in Texas, and I guess A&M is trying to hold true to that principle.  Notre Dame also does not want to be left out of the stadium expansion news, so they decided to finally start updating their stadium.  It's about time that one of the most storied programs in college football finally get with the times. Sorry South Bend, a stadium expansion still will not prevent your team from getting those beat downs from teams like Alabama.
3.  Some BIG news is how the BIG-12, BIG-10, and ACC are looking at switching their bowl alliances.  The BIG-12 wants to get their presence down in Florida.  Of course they do – that's where all the talent and speed is.  The BIG-10 just wants something new.  The BIG-10 commissioner is probably still thinking about that hit and wants to save his teams from facing SEC teams down in Florida.  I am all for this switch happening.  Besides the fact that the bowl system is corrupt, I feel it would be in college football's best interest to look into things like this.  Most of us are tired of seeing the same teams matched up in bowl games year after year.  Plus, I love how the BIG-12 recognizes that they want bowl games closer, so fans can be able to drive to them.  Finally, someone looking out for the fans.
Look for more news to come out about the playoffs this summer.  More and more details will emerge on how it will all shake out. The most important thing they could do is make sure to have a selection committee for the playoffs and make sure it is a diverse committee.  Make sure there are representatives from all regions, ages, and conference affiliations involved; possibly, even include a fan vote to play a percentage into the decision.  The selection committee should show why they picked a certain team over another.  Keep the selection committee process open, and don't make it some secret black ops project behind closed doors.  College football needs to be given back to the fans, and this playoff is the first major step.
NATIONAL NEWS:
1. FBS budget not adding up
2.  NCAA changes recruiting…again
3.  San Diego State slightly changing
4. Ranking coaches and twitter
5. College football mailbag