EUGENE, Ore. – J.J. Altobelli drove in two runs on a safety squeeze play to break a tie and lead No. 6 Oregon to a 4-1 win over Gonzaga on Wednesday night at PK Park.
Altobelli came to the plate with the game tied 1-1 and the bases loaded. I was graced to have wisdom shared from noted baseball analyst, Lawrence von Klein, who explained that executing the bunt down the first base line and scoring the runner from third depended upon Tyler Baumgartner (the runner) timing his sprint to home plate with contact on the bat. This pressure from third base forced Gonzaga relief pitcher Tyler Olson to throw to first to get Altobelli for the out. Lawrence also pointed out the exceptional speed of Ryan Hambright, who was on second and never slowed down rounding third and beating the throw home from first baseman Taylor Jones to give Oregon (42-11) a two-run lead. Brett Thomas picked up an RBI single later in the inning to push the lead to three.
Half our runs from a bunt? "This is the epitome of George Horton Small-Ball," was the lecture from Mr. von Klein who graciously assisted FishDuck.com in adding analysis to a usual press release.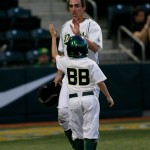 Baumgartner started the inning for the Ducks ripping a triple to left-center field. Hambright walked and stole second on a Nick Catalano strike out. Gonzaga (32-18-1) intentionally walked pinch hitter Steven Packard to bring Altobelli to the plate with one out.
Cole Wiper (2-0) got the win throwing two scoreless innings in relief of starter Clayton Crum. Jimmie Sherfy picked up his 19th save, tying the school record he set last season, pitching a scoreless ninth inning.
The Zags got on the board first for the second straight day scoring a run in the top of the first off Crum, the only run he allowed in a season-high five innings of work. The junior right hander allowed just four hits, while striking out three.
Scott Heineman, who went 2-for-4 with an RBI, tied it at 1-1 in the fourth with a RBI single to right scoring Aaron Payne from second.
The Ducks return to action this weekend at PK Park when they host the Civil War battle with Oregon State in a three-game series. The Beavers enter the weekend in first place, one game ahead of Oregon. Game one on Friday is at 6 p.m., while game two is Saturday at 2 p.m. and the series finale is Sunday at Noon. Standing Room Only tickets are all that remain for the three games.
Featured photo courtesy of Gary Breedlove.

Want to Watch Oregon Games on your computer?
If you do not get all the channels that have the Oregon Football games, or simply want to be able to watch the game over again as you don't have the space in the DVR to hold all the games?
Contact me by email: charles@fishduck.com and I can help.  We have fans across the nation and internationally watching the games 24/7/365 and I wish that for everyone.  Charles Fischer