FishDuck.com is now doing a Chip Kelly update every Friday?  You thought we were just an OREGON site and proud of it?  That has been true to date, but there is just too much curiosity surrounding Coach Kelly as to how progress is going, the week to week changes, and of course….what is his quote of the week?  I've been told that thousands of Oregon fans would like to keep up, but don't have the time to check the Philadelphia blogs every day.  We are fortunate to have a new professional writer and editor, Mark Saltveit, do precisely that for us and provide an update every Friday.  I know this is just what I wanted as well, so enjoy and tell your friends!  FishDuck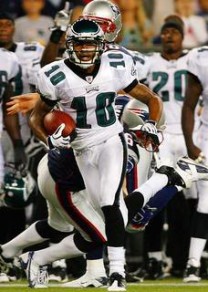 Philadelphia Eagles blogs are buzzing about the high inside fastball that new coach Chip Kelly threw to Eagles star receiver DeSean Jackson in the team's Organized Team Activities (OTAs). Kelly assigned Jackson to the third unit and second unit squads at different times as well as the starters in a not-so-subtle signal that no one has a guaranteed position on his teams.  Duck fans are well aware that coach Kelly loves open competitions for all his positions and that how you play (and improve) in practice is his favorite yardstick to measure results.
Some of the Eagles have been slow to pick up that message, though.
Jackson told Tim McManus of the Birds 24/7 blog that he marched right into Kelly's office, "and talked to him face-to-face to see what was going on with that."
The reply, he says, was that Chip "expects everybody to buy into the system and do everything the right way. And if there is any little thing a player doesn't want to do, that's his way of reacting to it."
Since Jackson was the Eagles leading receiver in four of the last five years, Eagles fans can hope that he gets the picture, or Kelly's "way of reacting" might include a more permanent move down the depth chart.  The Eagles acquired several wide receivers and tight ends this off season and Kelly is widely expected to run more often, in any case.
However, the phrase "any little thing a player doesn't want to do" implies a worrisome level of attitude from Jackson, who recently fired his agent. Jackson says that after his talk with the coach, "everything is good and there's never been no problems."
Right, Chip?
"I do not really recall the conversation," Kelly told  a reporter.  Well, that's a vote of confidence.
The Eagles picked up some bad habits in recent years from former coach Andy Reid's "Fast Food Fridays" and "Taco Tuesdays" to a general "me first" attitude that led some to call them "The Philadelphia Egos."  Another guy on the roster who might need an attitude adjustment is free agent signee Cary Williams, who missed many of the OTAs with compelling excuses like his need to decorate his new house.
"I just had to make sure my sconces, my wood was picked out, my fireplace…"   It's true that OTAs are entirely voluntary, but the ex-Ravens cornerback seems to have forgotten that Kelly playing him is entirely voluntary, too, even after the Eagles ponied up $5 million a year for his services.
Kelly made it clear that money won't sway him when he ate $4 million in guaranteed money to get rid of Nnamdi Asomugha, the poster child for last year's dysfunctional Eagles. Nnamdi, a huge free agent pickup in 2011, played his way onto the bench for the last quarter of his final game in Philly by giving up two interference calls and a touchdown on the same drive, which he said was "explainable."
Less explainable was the sky-high passer rating for quarterbacks throwing his way last year – 120.6 (per Pro Football Focus), the worst among all NFL starting corners. Or the fact that during practices, he ate his lunches alone in his car – away from teammates – in order to get some "me time."  After the Eagles waived him, Asomugha signed with the 49ers for $1.35 million – less than one-tenth of his scheduled $15 million salary in Philly.
Gradually but steadily, Chip is imposing some discipline on the Eagles. In the comments to these blog articles, Eagles fans are looking "a-sconce" at Jackson and Williams (sorry) and cheering Chip on – for now anyway.

Mark Saltveit's newest book is "Controlled Chaos: Chip Kelly's Football Revolution" (Diversion Books, NY) has been recently released. He is the author of "The Tao of Chip Kelly" (2013) and writes on science, religion, wordplay and political scandals. He is also a standup comedian and the world palindrome champion.
A Clean Site … no Ads!
With the transition to the new format on the site to better serve mobile users–the ads would have been pushed to the bottom and cease to become a relevant revenue source.  So we don't have any!
This site is now GUARANTEED TROLL-FREE and AD-FREE, which makes it the cleanest site out there! Do donate a few bucks when you can, as it is so nice to not have the distracting ads present.