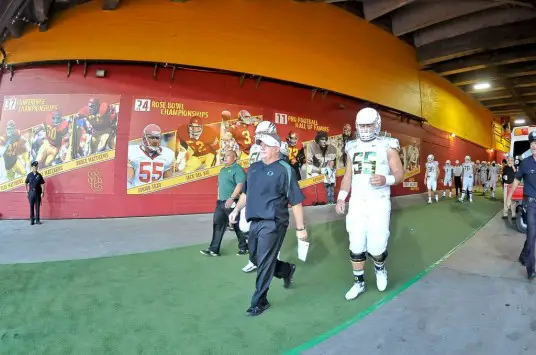 It's over and in the end, it looks like the Ducks did the right thing.
The NCAA finally ended the 27-month Willie Lyles recruiting scandal by announcing sanctions on the Duck football program that included a loss of one scholarship for the 2013 and 2014 school year and a three-year probation.
Oregon will be bowl eligible.
A slap on the wrist.
While the accusations might have been serious, the penalty was not. Why?
Oregon and Chip Kelly, cooperated and that didn't go unnoticed.
Greg Sankey, the chairman of the NCAA Committee on Infractions, said numerous times in his Wednesday morning teleconference that Oregon's cooperation played a significant role in determining what sanctions were going to be levied.
The lesson: When you screw up, admit to it like an adult and the punishment won't be all that harsh.
How often do we see the circumstances where the cover up is worse than the original screw up? Ask USC. The Trojans tried to cover up the Reggie Bush fiasco, got busted and was handed down a punishment that they are still trying to recover from.
Kelly was handed an 18-month show-cause penalty, basically saying he is unemployable at an NCAA institution until Dec. 25, 2014. But since he just signed a five-year deal to coach the Philadelphia Eagles, the show-cause is meaningless.
But in the April hearing, Kelly did admit to a lack of program control. And while the NCAA couldn't touch him, his last act was to save the football program. That act might have prevented a bowl ban for 2013 and beyond, which is huge since Oregon has the talent to win it all this year.
A lot of people within the program made a number of mistakes, but since it was all on Kelly's watch, he stood up like a man and took responsibility. Even as a former coach, Kelly was still teaching his Ducks a valuable life lesson.
No one is perfect. We all make mistakes. But when those mistakes occur, stand up and say, "Yeah, I did it. I'm sorry."
So if or when the Ducks meander down to Pasadena for the Rose Bowl or hopefully the National Title Game, every Duck fan that makes the trip or watches on television should thank Chip Kelly.
Not for Marcus Mariota or the myriad of talent on the roster, but for being a leader, a true leader.

Want to Watch Oregon Games on your computer?
If you do not get all the channels that have the Oregon Football games, or simply want to be able to watch the game over again as you don't have the space in the DVR to hold all the games?
Contact me by email: charles@fishduck.com and I can help.  We have fans across the nation and internationally watching the games 24/7/365 and I wish that for everyone.  Charles Fischer