---
I always like to take a look at the starters who aren't necessarily the main 1-2 punch for a team, but role players who can make or break a team down the stretch.
Granted the Oregon Ducks have a fair amount of depth on their roster for offense, still there are some questions that must be asked. Who will have the break out season? Who will make the fan-favorite play that will make Autzen Stadium burst into an array of storming Ducks?
One player comes to mind.
He stuck out after an explosive spring game, as Coach Mark Helfrich eluded the importance of young wide receiver Bralon Addison.
Addison had an exciting, but limited year as a true freshman, grabbing 22 receptions for 243 yards and three touchdowns. Those numbers are expected to change this season because of a few departures from last year's offense.
Running back Kenjon Barner was the starter last season and boy did he keep the bar set high for Oregon running backs. In 2012, he rushed for 1,767 yards and scored 21 touchdowns for a high-powered Duck offense.
With his departure, star athlete De' Anthony Thomas is expected to get more reps at the running back position. Thomas, whose usual position is running back, played a major role for the offense in the slot position, on the outside receiving, and on special teams, will now be the go-to guy on offense.
Stepping in to fill this spot is Addison. The young sophomore could see time on the field in all three areas that Thomas has excelled in the past few seasons.
Slot/Wide Receiver: Addison has great quickness coming off the line and a good pair of hands to go with it. With his size, he can maneuver and weave through defenses, which can allow for deep ball opportunities, both for Addison and other receivers like Josh Huff and Keanon Lowe. If Addison's spring game performance gives Duck fans some insight for what we should expect this season, I am truly ecstatic.
Special Teams: Now that  Thomas is getting more reps at running back, I don't think we'll be seeing him as much on special teams. I suspect Thomas to continue to be the same play maker we saw in his first two seasons, but as he becomes more dangerous, teams will try to limit the amount of times he touches the ball. Last season, many teams diverted from kicking to Thomas and when they did, well last year's Fiesta Bowl tells it all. He will also have to conserve energy now that he will be getting more touches on offense.
Yes, expect to see Thomas out returning kicks in big moments and to start games but don't be surprised if other players take the majority of the reps on special teams, particularly Addison.
Number 11 had the second most punt returns on the team behind Thomas while also receiving a few kickoffs, so he has some experience at the position. What I really like about Addison is he is an exceptional athlete, especially with the ball in his hands.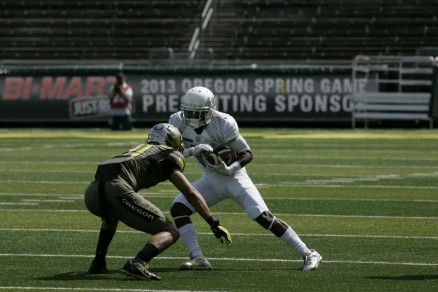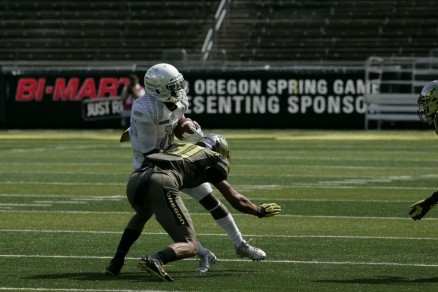 In high school, Addison played primarily at quarterback where he was awarded with All-State First Team honors for his dual-threat ability.
The explosiveness and potential is there for the young wide out from Missouri City, Texas. Now, we just have to wait and see what the Ducks and Helfrich have in store come September.
All three photos above by Gary Breedlove