AmazingMoments.com
What does Oregon's defense do in the secondary when they are faced with an opposing offense in the Red Zone and the Ducks are in danger of being scored upon?  Your beloved Ducks often rely on the easiest coverage to implement, but leaving each pass defender "on an island" with his man….and that would be the Cover Zero defense!  It is the easiest because each of the secondary defenders simply has a man, and it's also the hardest coverage–because everybody has a man to cover!  Isn't that a contradiction of terms?  Let's find out, and learn how Oregon will make plays in the Red Zone this upcoming season!
Do you remember that incredible defensive performance we saw this past year against Arizona?  The Ducks did an outstanding job in the Red Zone keeping the Wildcats from scoring as they utilized the defense superbly.  That game offers some excellent insights, so let's turn to some analysis and figure out exactly how those Ducks protected their nest.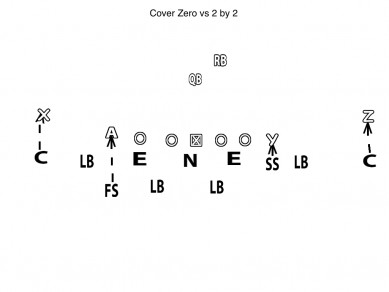 The above diagram shows the Cover Zero defense versus two receivers on each side.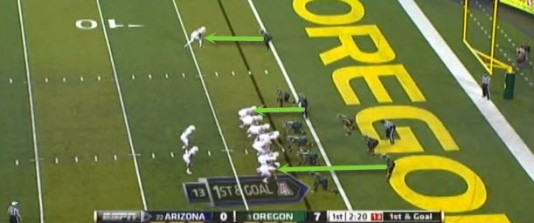 Above is the Cover Zero defense in action versus Arizona as the Ducks face a two by two receiver formation as each secondary defender has a receiver covered (corner at bottom of screen is not in view). In the Cover Zero defense, the basic rules are that the corners cover the number one, or the most outside receiver to their side in your classic man-to-man defense. The safeties then will take the number two receiver or the second receiver, the slot receiver to their side. The linebackers will account for the running back and the quarterback in coverage; hence everyone on offense is covered man-to-man with nobody "free" in the secondary to help out as they would in a Zone defense.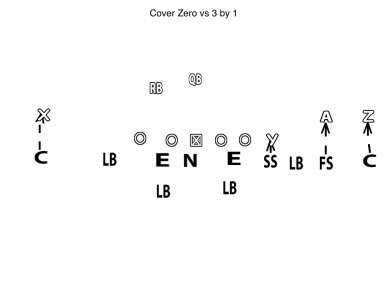 The above diagram is Cover Zero versus a trips formation.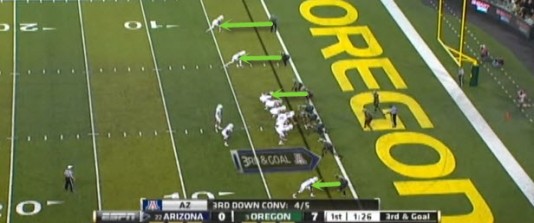 Above is Oregon versus Arizona, who is in trips formation. If the safeties do not have a number two receiver (slot wide receiver on their side) they must then go over to the triple receiver side and take a receiver. When the safeties come over to take a man in trips, they will select a receiver based on the scouting report and how Oregon's defensive backs match up with the opponent. For instance, Oregon might like their strong safety on the line versus a tight end and the free safety out on a slot receiver.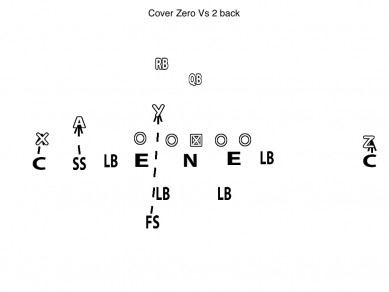 There are a couple more defensive alignments to consider. If an offense comes out with two running backs, then they will have only three receivers in formation. In this case, the free safety would be responsible for one of the running backs, and in the above diagram it shows Oregon's Cover Zero defense versus a two back offensive formation.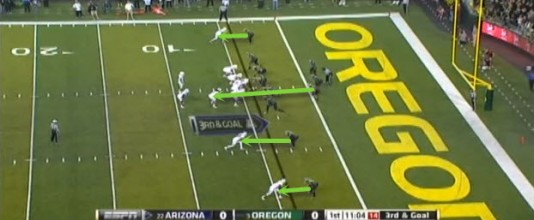 Above is an example of how Oregon played a two back formation in the Cover Zero defense versus Arizona. Notice how the free safety is responsible for the H back (third green line from the bottom).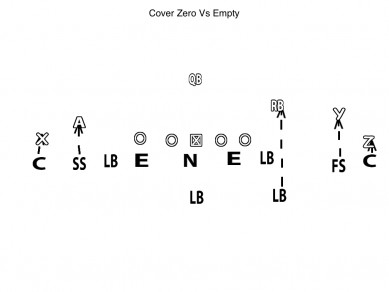 If Oregon got an empty backfield formation thrown at them and still wanted to stay in the Cover Zero defense, then a linebacker would then be responsible for a receiver. In the above diagram Oregon could easily adapt to an empty backfield offensive formation with the Cover Zero defense!
So each defender in the Oregon secondary knows whom to defend in the Cover Zero defense, and that's the easy part, while the hard part is actually playing the Cover Zero defense. So what makes Cover Zero so tough? Zero means no help; the defender is out there on an island by himself with no free safety help. If he takes a wrong step, hesitates, slips, or does anything that gives the receiver a step, the Ducks give up a touchdown while everybody in the country is watching and will know who was at fault.
That's the hard part of playing the Cover Zero defense, and talk about pressure! A great defense like Oregon's can be flexible, as the Ducks can blitz up to seven players on a play in the Cover Zero defense. Bringing that many blitzers can stifle the offense on key plays!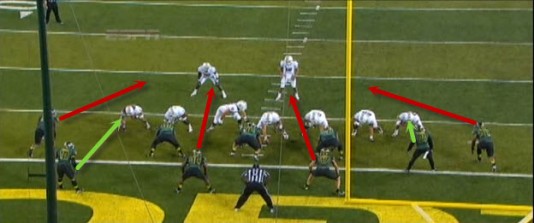 Above is the Cover Zero defense versus a two by two offensive formation. Notice how the linebackers (red arrows) have a gap they can blitz and wreak havoc. The Cover Zero defense allows Oregon to put nine defenders in the box on this play to match up against the Wildcats.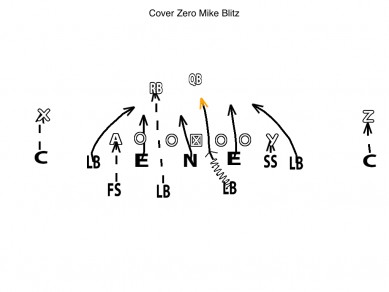 Above is a diagram of an Oregon inside linebacker and outside linebacker blitz in a Cover Zero defense versus Arizona. The inside linebacker who is not blitzing is responsible for the coverage of the Arizona running back.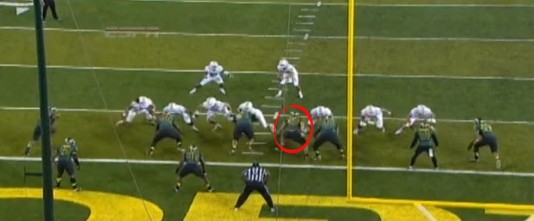 Above is Oregon's Cover Zero defense as they blitzed the outside linebackers and inside linebacker. Inside linebacker No. 47 Kiko Alonso (circled in red) does a great job disguising his blitz and gets to the line of scrimmage at the snap.
The play opens up for a big hit and a huge tackle-for-loss on Arizona's running back! Great defensive call and tremendous execution! Wow.
The Cover Zero defense in the red zone allows the Ducks' secondary defenders to play man coverage in a confined space, which makes it easier for the defensive backs. While the Cover Zero defense can be riskier than playing Zone coverage with help, it can pay big dividends in stopping the running attack of Oregon's opponent, and applying pressure to the opposing quarterback by bringing more Ducks than they can block!
Next time those Ducks get threatened in the Red Zone, do pay attention to the secondary and watch them play the receivers tight in the Cover Zero defense. You will truly appreciate how talented they are in protecting the nest along with the scouting, coaching, and application of strategy by the Oregon Defensive coaching staff!
"Oh how we love to learn about your beloved Ducks here in Southern Illinois."
Cameron Pettus
Head Football Coach
Belleville West High School
Belleville, Illinois
————————————————————————————————————
ANNOUNCEMENTS
*If you would like to join the other 80+ volunteers at FishDuck.com, and have five hours a week to donate… we have slots open for volunteer Editors, Writers, Analysts, Photo Archivists and Social Media Associates. Can you help us manage people? Consider our volunteer Sales Manager and HR Manager positions and give some time each week to help young associates learn! E-mail us at charles@fishduck.com
*Don't miss our football analysis every Tuesday, our Recruiting Update every Wednesday and our new Chip Kelly updates every Friday!

Coach Pettus (Football Analyst) is the head coach and offensive coordinator of the Belleville West Maroons from Belleville, IL. He is a graduate of Millikin University and has coached previously at McKendree University and Paulding County High School. Coach Pettus' goal is is to inspire his players to be successful by building the skills of hard work, dedication and strong character. He enjoys working the grind, practicing on the grass and building a new team each year. You can follow him on twitter @cameronpettus.
Mr. FishDuck … You Simply Can't Handle MY Opinions!

Baloney. I want all opinions here as it enables us see the full spectrum of ideas and helps us to learn from others and modify our own views as a result. In fact, this is the only Duck website where you can safely share your full-spectrum views on Oregon Sports.
If there is a problem … it is with your behaviors, and not your opinion, even if unpopular. Be polite and courteous to others and you will be reciprocated, and consequently you'll have a tremendous experience on FishDuck.
The majority of our rules can be summarized to this: 1) be polite and respectful, 2) keep it clean for grandchildren reading, and 3) no reference to politics.
Easy-Peasy!