There is no debate: in college football, nothing is more important than talent. The overwhelmingly positive correlation between talent and winning says it all. While many factors go into becoming a successful, winning program, no other has as much of an impact as talent. There's a reason coaches take recruiting so seriously.
This week, we look at the four most talented programs in the Pac-12. Each of these teams have the prerequisite talent needed to win the conference. Before getting started, I want to address a couple items:
1) These rankings ARE NOT subjective. I don't rank teams based on personal observation or opinion. That's part of what makes them unique. They are compiled using the best objective data available: recruiting rankings (four sets of them for each player).
2) It is possible that the #10 team in these rankings is better than the #3 team in a given year. How? Well, chemistry, leadership, talent development and good coaching in general.  The coaching component would include offensive/defensive system, game planning, play calling and roster management.  All these traits play significant roles in the formulation of a good TEAM. All of the individual talent in the world can't make up for a program that lacks leadership, chemistry and a coaching staff that has the respect of the players and is able to implement an effective game plan.
Below is an explanation of our tier-system used to compile the data:
Tier-E: 5-star rating by at least one service
Tier-1: 4-star rating by at least two services
Tier-2: 4-star rating by one service
Tier-3: 3-star rating by at least two services
Tier-4: 3-star rating by one service
Tier-5: No 3-star rating by any service
* Note that "E-2″ represents the total combined Tier-E, Tier-1 and Tier-2 players.  "4-5″ represents the total combined Tier-4 and Tier-5 players.
#4 – Stanford Cardinal
What I Said Last Year
"It wasn't just Andrew Luck and this team isn't going anywhere."
"This team is here to stay…[Stanford] is a good team with a promising future."
"If you could buy stock in football teams, I would load up on shares of Cardinal."
2012 Season Recap
Stanford had another great year, going 12-2 overall and 8-1 in the conference. They finished #7 in the final AP rankings after beating Wisconsin in the Rose Bowl. Their only losses came against Washington (13-17) and Notre Dame (13-20 in overtime). No strangers to tight games, eight of the Cardinal's twelve wins came by 7 or fewer points.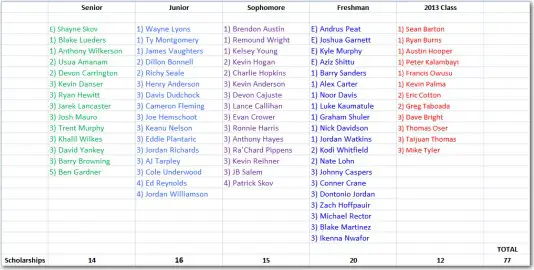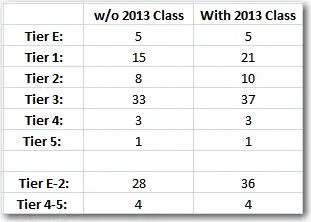 Talent Summary
Many people think of Stanford as a well-coached, over-achieving group whose sum is better than the individual parts, and while that might be true, the Cardinal have enough talent to hang with anybody in the conference. Due to their style of recruiting and rigorous academic standards, Stanford will never pull in top-10 classes, but the program has capitalized on its recent success and built a roster with 34 E-2 players. While the 2013 class was a disappointment, in part due to only signing 12 new recruits, it looks like 2014 will be a bounce-back year.
What the Future Holds
David Shaw has done a great job of managing the roster (although some of the credit has to go to Jim Harbaugh). Scholarships are evenly distributed throughout each class, and combined with low attrition, this is a recipe for long-term success. Having a big group of upperclassmen means leadership on and off the field. It also allows the younger players to develop and grow into their eventual roles. Stanford is the epitome of effective roster management. Combined with the required talent and some great coaching, it's no wonder the program has been so successful. The future is promising, as well. Ranked #4 in the preseason AP poll, 2013 could be another special year for the Cardinal, although expectations may be a tad high. Long-term, the program's success will depend on the leadership in place, specifically the coaching staff. Harbaugh and Shaw have proven that Stanford can be a big-time football program year after year, and now it's about maintaining that model, which is no small task. If Shaw sticks with the program then the sky's the limit. The appeal of attending a school that's at the top of the football AND academic world is appealing to many elite recruits and their parents.
#3 – UCLA Bruins
What I Said Last Year
"There's already enough talent on the roster to expect on field success."
"The Bruins can't compete with their neighbors just yet, but they are easily the 2nd best team in the South."
"Make no mistake, this team could be a force in a couple of years."
"Looking two or three years into the future, there's no reason this can't be a top-15 team nationally."
2012 Season Recap
The Bruins had a solid year, going 9-5 (6-3 in conference), but ended on a sour note, losing their final three games, including an embarrassing performance against Baylor in the Holiday Bowl , losing 26-49. The team had a nice stretch in the middle of the season, where they won five straight including an impressive 66-10 beat-down of Arizona and wins over Arizona State and their crosstown rival, USC.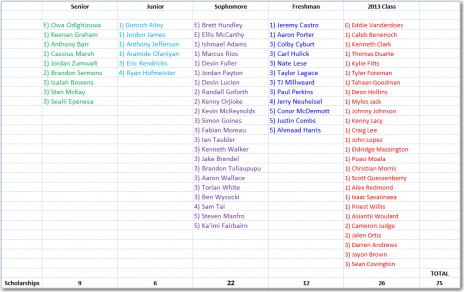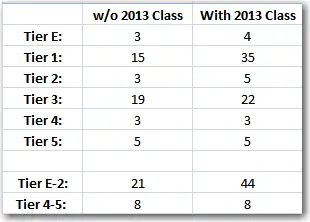 Talent Summary
UCLA was uniquely difficult to place in these rankings due to the size and substance of their 2013 recruiting class. Over half of the team's E-2 players will be true freshman in 2013. That doesn't mean the rest of the team is void of any talent, however. Nineteen E-2 players have at least one year of playing experience (redshirt freshman not included). Nonetheless, the "44" number is a bit of a misnomer because of the 23 E-2 guys who will be true freshman. That's what kept UCLA from being #2 in these rankings. Next summer could be a different story.
What the Future Holds
While 2012 was a decent season on the field, it was still mainly hype over substance. Luckily for UCLA, perception is everything. More important than anything else Mora has done, is the excitement he's created around the program. Recruits were obviously feeling it, as the Bruins managed to land the best recruiting class in the conference and one of the best in the nation. That momentum seems to be slowing a bit in 2014, but another nice season would help. Due to the lack of upperclassmen on the roster (there are only 15 scholarship juniors and seniors), expectations might be a little high in Westwood. UCLA is, however, more than capable of winning 10 games if everything comes together and a couple of the true freshman can have an early impact. Long-term, no other team is as likely to cement themselves at #2 in these rankings. UCLA's proximity to talent will serve them well going forward. There are questions surrounding Mora's desire to stay in the college ranks, but even if he goes back to the NFL, there won't be a shortage of quality candidates to replace him. One way or another, the Bruins should remain relevant in the Pac-12 and continue as a top-25 team nationally.
#2 – Oregon Ducks
What I Said Last Year
"There's a perception out there that Oregon's recent dominance has been in spite of its talent. Well, that's just not the case."
"[Chip Kelly] has made it clear that he plans to coach in the NFL, it's just a matter of when."
"This team has the talent to continue being very, very good for another four years, regardless of who the coach is."
2012 Season Recap
2012 was another great year for the Oregon football program. The Ducks finished 12-1 (8-1 in conference) and capped their fourth straight year in a BCS game with their win over Kansas State in the Fiesta Bowl.  This win propelled them to #2 in the final AP ranking. Other than a 14-17 overtime loss to Stanford, Oregon was dominant all season. Eleven of their twelve wins came by at least 17 points, and the other win was a 62-51 victory over USC that wasn't as close as the score suggests. In a high-profile conclusion to the season, Chip Kelly left for the NFL and Mark Helfrich took over as head coach.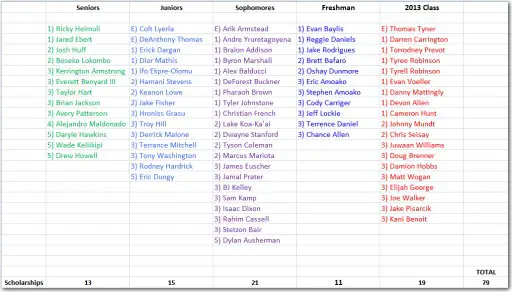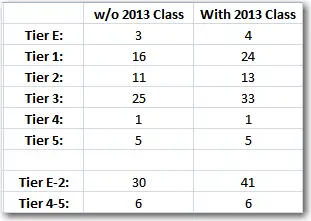 Talent Summary
The misconception that Oregon has been to four straight BCS bowl games in spite of their talent is beginning to fade. Most analysts and mainstream media outlets now recognize the significant amount of talent on Oregon's roster. With adequate talent distributed among all classes, the Ducks are well positioned for the immediate and foreseeable future. While they may never pull in top-10 recruiting classes, continuing to land top-15 or even top-20 classes will allow Oregon to compete for conference championships and remain nationally relevant.
What the Future Holds
As the #3 team in the preseason AP poll, Oregon is in good position to make another run at a National Championship in 2013. It might be their best chance to win one for a while, as a number of key players could be lost early to the 2014 NFL Draft. Regardless, the roster is talented from top to bottom, and there is definitely a "we don't rebuild, we reload" mentality in Eugene, with the depth of talent to back it up. Looking long-term, it's hard to imagine that there won't be a drop-off. The fact is, Oregon is farther away from a talent-rich area than ANY OTHER currently or historically relevant program. Eventually, that's going to catch up with the Ducks. When that happens has a lot to do with their coach. If Oregon has some success early on under Helfrich, it could really help recruiting, which will lead to more success (and so on and so on). Helfrich has made it clear that Oregon is his dream job, so it's possible that, with the help of Uncle Phil and the program's new world-class football facility, the Ducks are here to stay. Expect 2013 to keep the ball rolling downhill; a fifth straight BCS bowl game is a reasonable expectation.
#1 – USC Trojans
What I Said Last Year
"Let's not beat around the bush, USC has ridiculous talent. No one else in the conference is even close."
"Right now, this might be the best team in the country."
"The Trojans are going to be a force for a long time."
"When I look at the college football landscape as a whole, there are few teams with a future as bright as USC's."
2012 Season Recap
For a team as talented as USC was last year, 2012 was, to put it bluntly, appalling. The Trojans finished up 7-6 (5-4 in conference) after three straight losses to close out the year, including a 7-21 loss to Georgia Tech in the Sun Bowl. Losing to, arguably their four biggest rivals (Stanford, Oregon, UCLA, Notre Dame) just added salt to the gnarly wound that was the 2012 football season.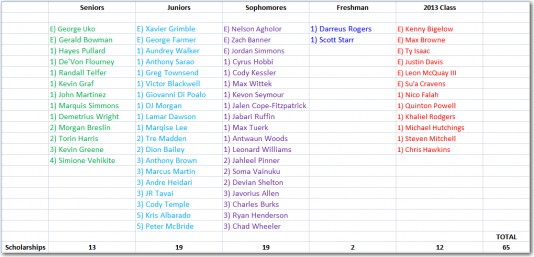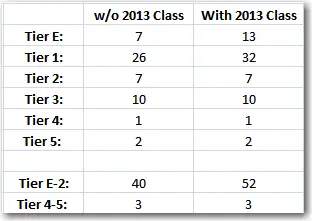 Talent Summary
Compare USC to the teams behind them in these rankings and try not to laugh. The Trojans are insanely talented. They have as much Tier-E talent on the roster as Oregon, UCLA and Stanford have COMBINED. An astounding 52 of 65 scholarship players fall in the "E-2" category. That's 80% of their non-walk-on scholarship roster. Compare that percentage to Oregon's, which is 52%. USC is #1 in these rankings by a mile, and that's going to become two miles once sanctions wear off and the Trojans are able to field a full, 85-scholarship roster. This is one of the five most talented rosters in the nation, even with the sanctions.
What the Future Holds
Whether or not Lane Kiffin is the right coach for USC has been a hot topic amongst Trojan fans this offseason. I'm not sure what the consensus is, but I'm pretty sure the other Pac-12 coaches are thrilled that he's still in charge of the program. Again, for as talented as USC was last year, a child should have been able to coach them to 9 wins. Going from realistic championship dreams to a six-loss season is ugly. I've heard every possible excuse from Trojan fans attempting to defend Kiffin, but it's tough to reconcile a team with so many NFL players being so bad. The schedule looks easy in 2013 and I don't doubt that Kiffin has learned a thing or two (like the fact that USC can run on almost anyone), but it's hard to predict a ton of a success for this team with the same head coach they had last year. Even then, 9 wins isn't enough; not at THAT school, fielding a roster with that much talent. Anything less than 10 wins has to be considered a failure. Long-term, USC will bounce back. Blue bloods are blue bloods for a reason; namely, location and tradition. The USC campus is located in the middle of, arguably, the most talent-rich region in the country. They'll always be able to recruit. When Kiffin leaves (probably not by choice), the Trojans will have their pick of coaches to replace him. I can't imagine Kiffin still being the head coach two years from now, and that's a very bad thing for the rest of the conference.
Conclusion
The talent of these four teams is superior to any conference's top-four outside of the SEC. It's obvious that #2-#4 in these rankings are very close. The order could change in a hurry. The bottom line is that all three of those teams have the talent to compete at a high level, and it would seem fair and practical to compare their results. USC, at #1, has a pretty distinct talent advantage. It's hard for anyone to judge the actual impact of the sanctions (a loss of 10 scholarships per year for three years, meaning a 75-scholarship max), but it's hard to believe that sanctions alone are responsible for USC's struggles. If the Trojans don't take advantage of their talent soon and start winning conference championships, there's going to be some significant turnover, and I'm not talking about fumbles. Ultimately, though, each of the four teams on top of these talent rankings is well positioned for both the short and long term. While Oregon and Stanford look like the conference's best in 2013, USC and UCLA might be the most likely to be on top ten years from now. In an improving conference, these four teams are the ones carrying the torch; the national perception of the Pac-12 comes down to the performance of these four teams.
Check back next week for a wrap up of the "Pac-12 Talent Rankings" and a look at what lies ahead for the conference, as well as predictions for the 2013 and 2018 seasons.
Featured image at top of article: Kevin Cline
————————————————————————————————————————
ANNOUNCEMENTS
*If you would like to join the other 80+ volunteers at FishDuck.com, and have five hours a week to donate… we have slots open for volunteer Editors, Writers, Analysts, Photo Archivists and Social Media Associates.  Can you help us manage people? Consider our volunteer Sales Manager and HR Manager positions and give some time each week to help young associates learn!  E-mail us at charles@fishduck.com.
*Don't miss our football analysis every Tuesday, our Recruiting Update every Wednesday and our new Chip Kelly updates every Friday!

Chris was born in Montevideo, Uruguay, but made his way to Oregon by the age of five, when he attended his first game at Autzen Stadium. A huge sports fan at a young age, Chris grew up playing football, basketball and golf. Although realizing he isn't likely to play in the NFL or NBA, Chris still holds on to hopes of being a professional golfer should his unfortunate putting woes take a turn for the better. A bit of a platypus, he attended both Oregon State and Oregon during his collegiate days where he earned a business degree in Finance and Business Administration. Chris works for Daimler Trucks North America in Portland, and plans to get his MBA from the University of Oregon.
Chris has been an active member in the recruiting community since 2005. He studies the intricacies of recruiting and is particularly intrigued by talent evaluation techniques. He is currently working on developing his own scouting reports for every scholarship player on the UO roster. Chris lives with his wife, Katrina, and his two-year-old son Lucas (a future dual-threat QB).
Mr. FishDuck … You Simply Can't Handle MY Opinions!

Baloney. I want all opinions here as it enables us see the full spectrum of ideas and helps us to learn from others and modify our own views as a result. In fact, this is the only Duck website where you can safely share your full-spectrum views on Oregon Sports.
If there is a problem … it is with your behaviors, and not your opinion, even if unpopular. Be polite and courteous to others and you will be reciprocated, and consequently you'll have a tremendous experience on FishDuck.
The majority of our rules can be summarized to this: 1) be polite and respectful, 2) keep it clean for grandchildren reading, and 3) no reference to politics.
Easy-Peasy!