From Video

FishDuck Note:  My video editor and I met this afternoon to shoot and edit a new video analysis using screenshots, but as we progressed into the project — I could see that it was not going to work.  It's a long story, but the bottom line is that I will provide written-with-screenshot analysis this week as we determine how to attempt this again.  I did not like the production we were making and I had to pull the plug, as just because an idea sounds good, doesn't mean in practice that it will work.  I will be doing an analysis after every game this season, but not a five-minute video made up of screenshots.  I need to use actual game footage, but the rules do not allow it, so I must figure something else out and I offer my apologies.  Charles
As we look ahead to this season, we have all thought about our chances of winning a National Championship and the barriers to it on the way.  The biggest, of course, awaits us in Palo Alto for an epic showdown and fun for fans such as us.  To me, the final pieces needed to acquire the Crystal Trophy were illustrated in the game with the Cardinal last year and serve as short lessons in where we missed, and how thin the margin that may actually mean victory.  Can we correct these?
If we just focus on the offense . . . we neglect the incredible job the defense did holding Stanford to just seven points until less than two minutes left.  This was done with freshmen rotating in on the defensive line as Armstead, Balducci and Buckner made me very proud taking on that tough Cardinal offensive line.  Our defense returns one of the best defensive lines and secondary ever at Oregon, which matches up well for our trip to Palo Alto this fall.
We will touch on the Xs and Os today, but you will get more thorough explanations from the TWO analyses on this site the week after the Stanford game, to learn what went wrong with the quarter-to-quarter strategy and what the Cardinal did so well.  (Click here for Stanford analysis #1)  (Click here for Stanford analysis #2)  Today I wish to focus on the simple, obvious reasons that we often miss and that serve to remind us of the final steps remaining for a BCS Championship.
The way to stop any offense is to defeat blocks – look at the arrows as we see Stanford defenders doing precisely that.  You look at how they used excellent D-Line technique, and how they sometimes brushed aside blockers . . . perhaps they wanted it more?  Hard to imagine but so is seeing Grasu pushed three yards into the backfield!
To offset their tremendous NT, Terrence Stephens, we began to Zone Read the NT, as we see our center ignore him and move to block the LB, while Mariota is determining the direction the man being Zone Read (Stephens) is moving. Since he was moving to the RB, then Marcus pulled the ball and ran through the vacated gap.  We've seen this before!
We have witnessed, in the past, how Oregon adjusted to how the opponent defended, and the description above was an example.  Another is when teams take away the running game, and then we turn to the passing game as we did against Stanford with our first TD to Lowe, and the majority of the drive for the second touchdown coming primarily from passing.  But what do you do when passes are not going well at key moments?
The first example everyone recalls as DAT caught the bubble pass, but had his knee down.  The heck of it is . . . he MADE the first down after he caught it had the ball not been thrown to shoelace level.  Stanford made some great plays and stopped us on fourth down, thus we lost an opportunity on an errant pass.
Another opportunity was with a great drive and a 3rd-and-nine play.  Mariota throws a routine pass, but this time it was behind the WR, and as you see — he would have made the first down.  We were driving deeper into Cardinal territory and had built great momentum.  The first pass was too low, and another was behind the wide-out as we stop ourselves with a tough throw.
A third example was driving deep into Cardinal territory and throwing the ball too high for Colt Lyerla . . . which I thought could not happen.  We see also that not only would he have made the first down, but, with a normal leading throw, Colt would have gained quite a chunk of yardage.  Make any of these three third- or fourth-down plays and the game changes.  The plays were good, and the routes were good, but the QB had an off day in these big pressure situations that alter a game.
Our QB has to get over happy feet as he frequently leaves the pocket before it breaks down. He then runs to the right sideline, often with no one to throw to.  He did this several times in the game (including overtime) where, had he remained patient, he would have the whole field to throw to instead of cutting it in half by moving to one sideline.
Here we see receivers that could have broken open on a third down — if there had been patience in the pocket.  It is really quite amazing how these few things could make the difference in winning or losing, yet look at all the amazing plays he makes and games where his talents have been the difference in victory.  Just a few final pieces for the NC!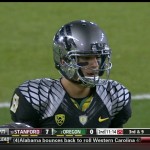 This year will be different; while that was the first time he was seriously challenged, this year he will be experienced in handling big games and winning a BCS bowl.  He will have Lyerla, Huff and DAT, who will probably NOT be at Oregon the next year, but WILL be for this 2013 campaign.  DAT has to be more involved in our passing attack this time.  He truly cannot be covered and has demonstrated great hands so often in the past.
These teams are very evenly matched and the difference was three plays, and I believe that next year he will make those plays, and frankly, as a RS freshman . . . it would have been hard for all of us at nineteen years old.  My belief is that Oregon will win because he will refine these aspects, thus our passing attack will be clicking better . . . which opens up the running game that much more.
Do check FishDuck.com for one of the best college football GIFs you'll see.  Everybody finds it pretty funny and we thank Glenn Hanna for the 20 hours of incredible skill he put into it. (Click here)  Pass it along!

If you would like to help us offset the costs at FishDuck.com . . . please click the donate button or inquire about being a primary sponsor of the site to help other Oregon fans be informed about their team.
Oh how we love to learn about our Beloved Ducks!
Charles Fischer  (FishDuck)
——————————————————————————-
Announcements
*Want some College Football humor?  Check out FishDuck.com's FIRST GIF!  (Click here)  Pass it along!
*If you would like to join the other 80+ volunteers at FishDuck.com, and have five hours a week to donate… we have slots open for volunteer Editors, Writers, Analysts, Photo Archivists and Social Media Associates. Can you help us manage people? Consider our volunteer Sales Manager and HR Manager positions and give some time each week to help young associates learn! E-mail us at charles@fishduck.com

Want to Watch Oregon Games on your computer?
If you do not get all the channels that have the Oregon Football games, or simply want to be able to watch the game over again as you don't have the space in the DVR to hold all the games?
Contact me by email: charles@fishduck.com and I can help.  We have fans across the nation and internationally watching the games 24/7/365 and I wish that for everyone.  Charles Fischer