from video
After careful analysis of expert opinions and game film, the lesson from Chip Kelly's first NFL game is obvious:
Suck It, Doubters.
Pundits: "These college plays will never work in the NFL.  Chip's another Steve Spurrier.  He doesn't have the personnel.  Mike Vick can't run this offense.  Cary Williams is a cancer.  Riley Cooper will divide the locker room.  Switching to a 3-4 defense will fail spectacularly.  The refs will slow down the blur offense. Etc. etc. etc."
Chip Kelly: "I'm sorry, did you say something?  I didn't catch that, because I was busy coaching the crap out of my team."
The Philadelphia Eagles destroyed the Washington Redskins this week in front of ESPN's biggest Monday Night Football audience ever.  The football world now knows that this Eagles team is for real, and that Chip Kelly should not be underestimated. 
The final score was 33-27, but it was 33-7 early in the third period, and the score does not reflect the Eagles' dominance.  Running back LeSean McCoy led the NFL in rushing with 115 yards at halftime.  DeSean Jackson had 7 catches, 104 yards and a touchdown at the midpoint.  The defense was tough against the Redskins, stuffing their run game, and Coach Kelly's emphasis on special teams paid off again and again.
Last year, the Eagles were 28th in the league in that category.  Monday, nine of the 11 defensive starters played on special teams. New punter Donnie Jones dropped it inside the 20 four times and uncorked a 61-yarder.  According to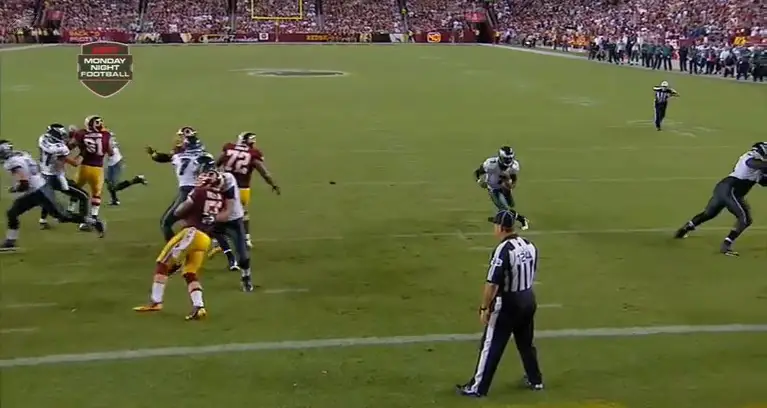 from video
The game was exciting and fun to watch.  Yet bizarrely, even after six years of thrilling, Kelly-fueled Oregon Ducks games, TV programmers left the Eagles off of this year's schedules for the most part.  Game 2 against San Diego this Sunday (at 10 a.m. PST) will be on CBS, and Game 3 vs. the Kansas City Chiefs — a Thursday night game — will be on the NFL Network.  The rest of the year?  Nothing, indicating that programmers expected Chip Kelly's program to be a flashy experiment that would fall apart quickly.
I expect to see that change.  There are flex games built into the schedule, and with any kind of success, networks should be racing to move Philadelphia into their lineup. Win or lose, Kelly's teams play exciting ball.
Can the Eagles keep winning?  The schedule does them no favors. They play their first three games over 11 days, Monday – Sunday – Thursday. Odds are good, though, that they'll win two or even three of those games. The Eagles now play San Diego and Kansas City at home. Losing to the Chargers in Philadelphia would have been an upset even before Monday's big win — San Diego blew a 21-point fourth quarter lead Sunday — and Kansas City should be a fascinating grudge match, with Andy Reid coaching a more-talented team and looking for vindication against the rookie coach who replaced him.
Washington was always going to be the toughest of these first three games, the strongest team with a great coaching staff and all summer to plan for Kelly's innovations.  Defensive coordinator Jim Haslett bragged about watching "endless film on Oregon," and everyone expected the Eagles' defense to be a disaster (including me). Instead, Kelly's offense rolled using Oregon's bread-and-butter plays, the zone reads and bubble screens, and the defense made the Redskins' potent offense look incompetent, aided by quarterback RGIII's rustiness.
Even the one tricky play, the old "Emory and Henry" formation, was something Oregon ran in their much-publicized loss to Stanford last year. Washington was well-prepared for what Philadelphia threw at them; they just couldn't find a way to stop it.
On defense, coordinator Billy Davis wisely made the most of the Eagles' one strong suit — their strength in the box — and got 9 QB hits on RGIII, three sacks, two interceptions, a fumble and safety. They shut down the running game and held the Redskins to 2-for-10 on third downs.  Defensive stars included Mychal Kendricks (10 tackles, 2 QB hits, a tackle for loss and a fumble recovery) and — to many people's surprise — Cary "Sconce Boy" Williams.
The attitudinal cornerback finally directed his anger at the right target, and Washington suffered. Williams actually sacked Robert Griffin from the cornerback position, a real achievement, and intercepted a pass early in the 3rd period. He also broke up Robert Griffin's 4th-and-15 pass, helping hold off the Redskins' desperate comeback surge.
About that comeback — Kelly took a lot of heat for letting the Redskins back in the game, and admitted afterwards that he may have let his foot up off of the gas too soon.  The Eagles ran 53 offensive plays in the first half, and only 24 in the second (nearly all runs).  Still, Washington needed several breaks — including a Jason Avant fumble and some penalties — to get back into it. A statistical analysis by Advanced NFL Statistics (via BGN) showed that the Eagles chance of winning never dropped below 90% after halftime.
Chip's rope-a-dope had other benefits, too, keeping much of his playbook hidden and giving reps to his depth players.  44 of the Eagles' 46 active players got into the game, including rookie Jordan Poyer, who gave up one of Washington's late scores.  At Oregon, Kelly's development of depth helped the Ducks weather a lot of injuries; with a roster only half as big in the NFL, this is even more important now.
If you want a full and detailed game report, Tommy Lawlor writes the best one after every game.  Here's a link to his Redskins coverage.
This was a great start.  There were some problems, which the staff is studying on tape and racing to fix.  But the Chip Kelly-era has begun, and it looks good.
The best thing about Kelly is that he makes the game fun — for players, for fans, and for himself.  Of course, losing can suck all the fun out, but it's also possible to win grim, as Bill Walsh did in San Francisco.  Chip Kelly brings joy, as well as success.  As he told a press conference after the win, he never forgets that it's a game they enjoy playing, and that makes the hard work easier.  That is the attitude of a winner.
---
Mark Saltveit's best-selling book "The Tao of Chip Kelly" has received rave reviews from coaches, players and sportswriters since its release in June. You can find it at the Oregon Ducks Stores in Portland, Eugene and Bend, at Powells Books, at the Multnomah Athletic Club M-Porium in Portland, various bookstores in Pennsylvania and New Hampshire, and online at http://www.chipkelly.tv/
__________________________________________________
Announcements
*Check out our new pregame opponent analysis on Saturday mornings. Our analysis will be unlike any other, so learn what to watch for before the game on Saturday!
*Want some College Football humor? Check out FishDuck.com's GIF Collection! (Click here) Pass it along!
*If you would like to join the other 80+ volunteers at FishDuck.com, and have five hours a week to donate . . . we have slots open for volunteer Editors, Writers, Analysts, Photo Archivists and Social Media Associates. Can you help us manage people? Consider our volunteer Sales Manager and HR Manager positions and give some time each week to help young associates learn! E-mail us at charles@fishduck.com.