readthehook.com
This week Oregon plays in Charlottesville, Virginia, at 12:30 pm Ducks time.  The Virginia Cavaliers are coming off of a 19-16 home victory over BYU, with good performances from three marquee players.  
I visited Charlottesville years ago and I remember it as a town with a good number of historical attractions, an easy air about it and, though humid, it seemed to me a model of the southern town.  Now that southern town is about to be invaded by a flock of Oregon Ducks fans and I have no doubt they will get along famously.
Now about that Virginia vs. BYU game, remember there was a two-hour game delay due to lightening, and when play resumed, it was in what amounted to a continuous downpour.
Virginia has two great playmakers and a budding new quarterback.  Darius Jennings, a 5'11", 175-pound junior wide receiver, notched 7 receptions for 62 yards and averaged an 8.9 yard pickup each time he caught the ball.  
He has a knack for getting open and seems to hide among the taller receivers.  See Jennings below (pictured at bottom) in a play where he pulled in a catch over the middle.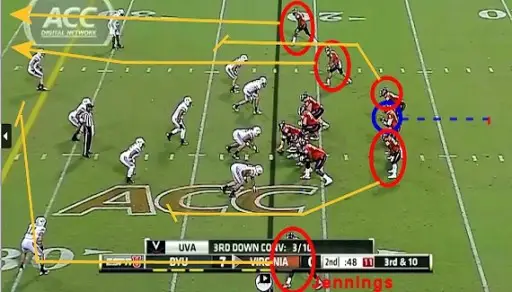 Kevin Parks is a 5'8″, 205-pound junior running back, who ran for 65 yards on 20 carries against BYU.  Parks carried the ball 160 times for 734 yards in 2012 and could have much better numbers this year.  He also had 24 receptions for 189 yards last season.  
This small, compact back can run between the tackles just as easily as he can sweep to the outside.  The photo below illustrates the lead blocking out of the backfield, and that of the receivers, that helped Parks break a touchdown run against BYU.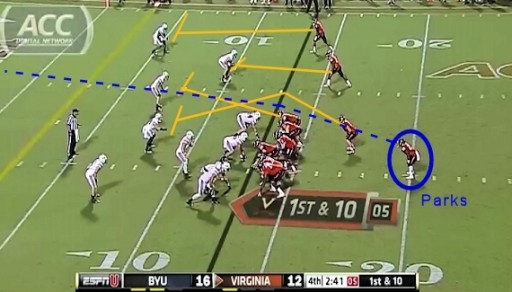 David Watford is Virginia's starting quarterback.  After redshirting in 2012, he is poised to do great things as their signal caller.  At 6'2″, 200, this sophomore is mobile and, with time, his accuracy will improve.  However, with Oregon he will be facing what is probably the best defensive backs unit in the entire country.  This game should prove a true measuring stick of what he can do at this point in his development.
Unfortunately for the Cavaliers, the Ducks are loaded at both the running back and wide receiver positions.  Oregon rushed for 500 yards and amassed another 272 yards receiving against Nicholls last week.  Their scoring drives averaged 1:32, and only one drive took more than two minutes.
The Ducks' defense offers a number of disguises. One blitz package is illustrated below.  Both inside linebackers rush the gap and overwhelm the offensive line.  This forces the quarterback to rush his actions and either make a quick toss that may be intercepted, or hand off for a run loss.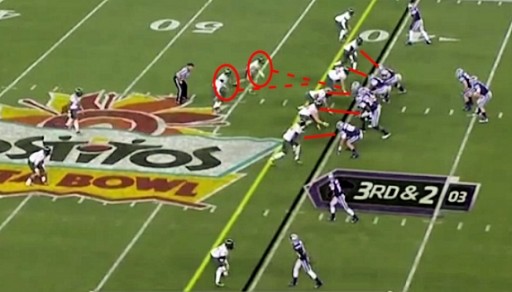 In a standard 3-4 defense, as illustrated below, inside linebackers have the option to rush the quarterback, stay back and support the secondary in pass coverage or one may rush and the other stay back.  Oregon effectively molds their defense to fit the looks and indications provided by the offense.  That is one of the biggest reasons that, in recent years, the Ducks have been so successful in limiting their opponent's scoring.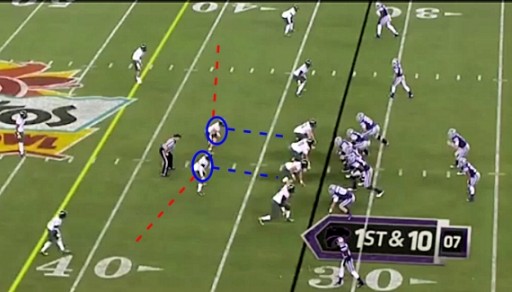 Virginia is a very young team consisting of 49 freshmen, including redshirts, 29 sophomores, 23 juniors and 9 seniors.  Consequently, they will make the kind of mistakes that young teams make, but they will also learn a lot from playing the Ducks.  Unfortunately for the Cavs, the lessons will be painful, as I see the Ducks scoring somewhere between 50 and 65 points. Wahoo!
Bob Laws, Flagstaff, Arizona and Charles Fischer, Eugene, Oregon.

Want to Watch Oregon Games on your computer?
If you do not get all the channels that have the Oregon Football games, or simply want to be able to watch the game over again as you don't have the space in the DVR to hold all the games?
Contact me by email: charles@fishduck.com and I can help.  We have fans across the nation and internationally watching the games 24/7/365 and I wish that for everyone.  Charles Fischer