Kevin Cline
Those expecting the Ducks to finish high in this year's recruiting rankings should think twice.  While the quality of recruits should be high, the quantity may not be.  Oregon's recruiting got off to a hot start but then quickly slowed, with very little activity in the past couple of months.  Expect that to change in October, but nonetheless, don't let expectations run wild.  The Ducks are simply not pursuing very many players right now, which is no surprise considering they aren't likely to take a big class in 2014.
We should keep in mind, that just because there are open scholarships doesn't mean the staff is obligated to fill every one of them.  There's been a lot of talk in recruiting circles about Oregon taking upwards of 25 players this year.  I don't buy it.  Let's start by looking at the math: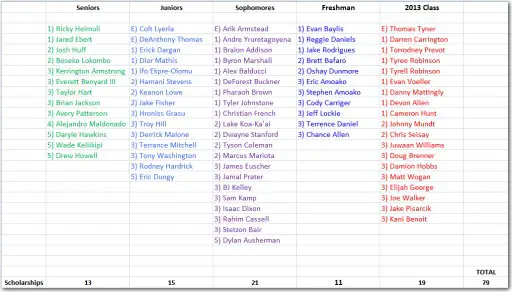 -          Oregon has 13 scholarship seniors on the 2013 roster.
-          Oregon has 6 "open" scholarships, meaning that walk-ons are currently filling those spots on one-year scholarships (all scholarships are "technically" one year, but only a handful of shady programs operate that way; when a full-ride is offered, every recruit in the country assumes the scholarship will be available for the duration of their collegiate career.  Meanwhile, walk-ons are aware of the fact that their schollies are conditional depending on the number of incoming full-ride recruits).
-          Most expect Oregon to lose AT LEAST three underclassmen to the draft (Colt Lyerla, De'Anthony Thomas and Ifo Ekpre-Olomu are all likely departures)
Put all that together and you'll see there are 22 scholarships available for the 2014 class, before the inevitable off-season attrition (injuries, transfers, etc . . .).  Assuming this attrition frees up an additional 3 scholarships (a relatively low number), that means the Oregon coaching staff could reasonably operate under the premise that they've got 25 spots to fill.
So why not fill all 25 slots?  There are many factors that go into such a decision.  However, possibly the most relevant is that the 2015 recruiting class is loaded out west and Oregon isn't likely to have many scholarship seniors next season (accounting for the expected early departures).  If Oregon uses all of their available scholarships this cycle, they'll be unable to take a big class in 2015, which is shaping up to be special.
This season is big for the future of Oregon recruiting.  Mark Helfrich is establishing himself as the head of the program, and recruits are watching.  If the Ducks continue to be named among College Football's elite, those recruits will notice.
The 2013-2014 season gives Coach Helfrich a chance to get ahead of the game with 2015's preps, many of whom have already shown genuine interest.  The staff has, in fact, begun to court a number of 2015 blue-chips.  Suffice it to say, there is a ton of interest in Oregon due to the newfound coaching stability and continued success.
The bottom line is that Oregon is likely willing to wait for 2015 to fill scholarships with elite talent.  If they can do that in 2014, they won't hesitate to do so, but note that I'm talking about truly "elite" talent.  Think Adoree' Jackson.
I'd imagine that Helfrich and company will leave a handful of scholarships open, hoping to fill them with the best of the best.  If some players come unexpectedly calling in January of 2014, the staff will listen.  Otherwise, I'd imagine they'll be more than content to carry those over to the 2015 class, rather than using them to bring in players who aren't at the top of their board.
Expect a class of around 20 for this cycle.  This could change if a few elite 2014 players emerge out of nowhere, but right now, there just aren't that many fish in the sea, at least not the trophy-size fish the Ducks are after.  If Oregon finishes 20th in the recruiting rankings come February – due to a relatively small class – don't panic.  Just realize that the coaches are wisely looking ahead to 2015.
___________________________________________________________________
Announcements
*Check out our new pregame opponent analysis on Saturday mornings. Our analysis will be unlike any other, so learn what to watch for before the game on Saturday!
*Want some College Football humor? Check out FishDuck.com's GIF Collection! (Click here) Pass it along!
*If you would like to join the other 80+ volunteers at FishDuck.com, and have five hours a week to donate . . . we have slots open for volunteer Editors, Writers, Analysts, Photo Archivists and Social Media Associates.  Can you help us manage people?  Consider our volunteer Sales Manager and HR Manager positions and give some time each week to help young associates learn!  E-mail us at charles@fishduck.com.

Chris was born in Montevideo, Uruguay, but made his way to Oregon by the age of five, when he attended his first game at Autzen Stadium. A huge sports fan at a young age, Chris grew up playing football, basketball and golf. Although realizing he isn't likely to play in the NFL or NBA, Chris still holds on to hopes of being a professional golfer should his unfortunate putting woes take a turn for the better. A bit of a platypus, he attended both Oregon State and Oregon during his collegiate days where he earned a business degree in Finance and Business Administration. Chris works for Daimler Trucks North America in Portland, and plans to get his MBA from the University of Oregon.
Chris has been an active member in the recruiting community since 2005. He studies the intricacies of recruiting and is particularly intrigued by talent evaluation techniques. He is currently working on developing his own scouting reports for every scholarship player on the UO roster. Chris lives with his wife, Katrina, and his two-year-old son Lucas (a future dual-threat QB).
For Greybeards … the EYES Have it!
Want to know a secret about web behavior? Readers don't like long stretches of sentences in comment posts without any breaks, and most readers don't even like long paragraphs.
Break it up! After every third sentence in your post…hit "enter" on your keyboard twice if your computer is a PC, or "return" twice if you have a Mac.
This creates natural breaks between scads of sentences, and so many of us thank you for making it easier on our "Greybeard-age" eyes!