from Video
Upsets shook the landscape of the BCS conversation this weekend with seven ranked teams losing on Saturday, four of them coming against unranked opponents.
The initial BCS rankings will be released this Sunday, and the top tier of teams has seemed to pull away from the rest of the field, but if there is anything to be learned from this past weekend, overlooking teams can come back to haunt you.
Stanford got the worst of it on Saturday, as Utah withstood a late Cardinal charge to pull off the upset in Salt Lake City, 27-21.  The Cardinal had a chance late in the game with the ball on the Utes 6-yard-line but on 4th-and-2, the offensive line was unable to hold back the pressure against quarterback Kevin Hogan, as they saw the game and possibly their national title hopes sail out of the back of the end zone.
The Cardinal will have a chance to redeem itself and make some noise on the national stage with games against top-10 teams Oregon and UCLA remaining on their schedule.  The defense struggled with Utah's speed on the outside so they will need to be much more effective offensively if they're going to keep pace with two of the most lethal offenses in the country.
Georgia was able to overcome injuries and defeat Tennessee on the road last week, but this week wasn't so pleasant.  The absence of top playmakers finally took its toll as the Bulldogs lost to Missouri, 41-26.
Mizzou jumped to No. 14 in the rankings and now leads the SEC East with a 6-0 record, but games against Florida and South Carolina await them starting this weekend.  The Tigers will be without starting quarterback James Franklin, who will miss the rest of the season with a shoulder injury.
The UCLA Bruins climbed into the Top-10 for the first time since 2005 after a 37-10 victory over conference opponent Cal.  The offense mustered 488 yards of offense, with 410 of those coming on the arm of Brett Hundley, illuminating an imbalanced offensive attack.  Hundley has been good enough to lead them to victory so far this season, but they will have to find a balance soon, as they get ready to play Stanford and Oregon in consecutive road games.
Alabama handed Kentucky its worst loss of the season behind a dominant defense and a big game from running backs T.J. Yeldon and Kenyan Drake.  Yeldon and Drake combined for more yards and scores than the entire Kentucky offense, rushing for 230 yards and four scores. The Tide, meanwhile, surrendered only 170 yards of total offense to the Wildcats, as they rolled to a comfortable 48-7 win.
Their next three games will be at home, concluding with what could be the toughest game of their season against No. 6 LSU.  The Tigers held Florida to just two field goals in their defensive war in Baton Rogue this weekend and have proven to be one of the most balanced teams in the country, with loads of talent on both sides of the ball.
No. 2 Oregon had its first real test of the season and responded with an impressive 45-24 win in a raucous environment up in Seattle, to extend their FBS road winning streak to 18 games.  The game was close at the start, with the game tied 7-7 at the end of the first quarter, but with the help of a tenacious defense, the Ducks rallied to a 21-7 halftime lead and never looked back.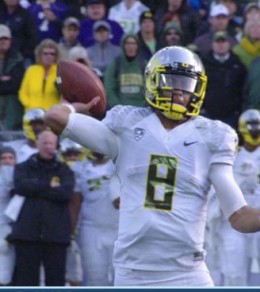 Quarterback Marcus Mariota scored both a passing and rushing touchdown for the 8th-straight game and still has yet to concede a turnover thus far this season.  Against the Huskies, his dual-threat ability was the main spark that ignited the Ducks offense; Mariota threw for 366 yards and three touchdowns, while he added 88 yards and a score on the ground.
A big reason for Mariota's success this season is because of reliable wide receivers Josh Huff and Bralon Addison.   Huff had 6 catches for 107 yards and a score, as the senior has reached the end zone in each of the past four games for Oregon.  Addison had an even bigger day with 8 receptions for 157 yards and 2 touchdowns – an almost duplicate stat line from last week, with a few extra catches.
The Ducks play Washington State at home this week, before a tough two weeks with games against UCLA and Stanford.
Bama and Oregon are at a tie in ESPN's Week 7 Power Rankings, but the winner of next Saturday's Clemson-Florida State game could make a big push towards challenging them in the title conversation.
No. 3 Clemson won their Week 7 matchup against Boston College 24-14, but it wasn't very pretty.  The Tigers turned over the ball twice and were unable to pull away from a subpar Eagle team.  To make things more interesting, ACC foe No. 5 Florida State also struggled against Boston College earlier this season, having to rally from a 14-point first quarter deficit to win, 48-34.
The difference maker in this game will be the underrated defense of the Seminoles.  Yes, we have all heard about "Famous" Jameis Winston, but the FSU defense is ranked third in the country, just behind Alabama and Louisville, allowing just 12.0 points per game.
I don't expect the victor of Clemson vs Florida State to overtake either of the top two spots spots, but they will definitely be brought into the conversation as one of the nation's elites.
When it comes down to it, Oregon looks like the most impressive team on the field this season, led by the nation's best player, but it's still Alabama's title to lose.
Bryan Holt is a 20 year old junior at the University in Oregon looking to major in Journalism and Communications with hopes in pursuing a career as a sports writer or analyst.
Articles EVERY DAY Again on FishDuck!
Our focus is now on this wonderful Oregon Sports Community, and we will have at least a short article every day to begin the Duck Discussion.
You are also welcome to post other current events or items about Our Beloved Ducks in the comments as well.
Our 32 rules can be summarized to this: 1) be polite and respectful, 2) keep it clean, and 3) no reference of any kind to politics. Easy-peasy!
Take note though, there are NO STRIKES, NO WARNINGS, and NO SLACK given. Violate the rules and you are gone, as this is what the 99% who post superb comments want. (The Ban could be for weeks, months or permanent)
For the 1% out there who do not have impulse-control … as you write your comment that violates our rules, ask yourself, "is this worth getting banned over?"
FishDuck members….we got your back.  No Trolls Allowed!