"When Offenses Attack" was the theme of the day.  It seems that as the season goes on we are seeing more and more teams put up massive numbers of yardage and points.  You have Baylor and Oregon averaging more than 50 points a game, easy.  Clemson and FSU just dominate whoever lines up in front of them.  Ohio State and Texas have the refs on their side in every game for every call.  This week we have even had some of our Playoff Committee members selected.  What are your thoughts on who they have selected?  I have my doubts over Condoleezza Rice.  Really?  Why don't you just put the USC cheerleaders on the committee while you're at it.  I agree with David Pollack . . . get people who know football and will be paying attention to every game.  I just hope they make everything public about why they made their decision and how they got there.  With that in mind, let's get into some news, scores and thoughts from this past week of action:

1. Alabama had its way with cupcake Georgia State winning easily, 45-3.  Alabama should roll through the rest of their schedule until the LSU game.  Speaking of LSU . . . their offense keeps humming along, while they try to figure it out on defense.  They pulled away in the second half to beat Mississippi State, 59-26.  Whenever LSU and Alabama meet up, it is usually a low-scoring affair . . . I expect this year to be very different.
Georgia needed every second to beat Tennessee, 34-31.  It took a wild finish in overtime for the Dawgs to get the win but they got it and avoided a let-down game after their big win vs. LSU last week.  Georgia has nothing to worry about until they meet up with Florida in Jacksonville, on November 2nd.
Florida looks to be clicking on offense with a 30-10 win over Arkansas, but the Gator defense did struggle vs the run today.  They are certainly missing Dominique Easley and hope to have things set as they travel to a hostile Death Valley, to take on LSU next week.
SEC QUICK HITS: Missouri is a surprising 5-0 after beating Vanderbilt 51-28.  Auburn got a much-needed win over a reeling Ole Miss team, 30-22, and South Carolina pulled out a win vs Kentucky, 35-28.  The SEC offenses seem to be on full display this year, while most of their defenses are M.I.A.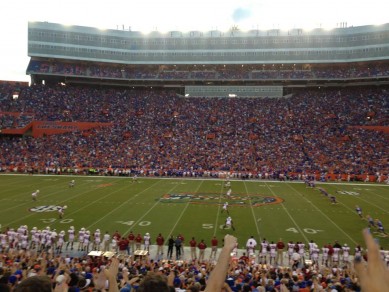 2. The ACC's top teams showed up today and did not disappoint.  FSU flexed its ACC muscles with a HUGE 63-0 win over Maryland.  FSU showed us all that Maryland is a pretender and not a contender this year.  FSU QB Jameis Winston is still making it look easy with his scrambling ability.
Clemson welcomed Syracuse to the ACC with a 49-14 beating.  Syracuse has plenty more of those coming but will feel like they returned the favor when basketball season starts.  That is how Duke feels all the time.
Virginia Tech has quietly rebounded from the 'Bama Beat Down they got, and is 5-1 right now after beating North Carolina, 27-17. Virginia Tech's only real big game left is against Miami and they will not play them until November.
Miami also has surprised by beating Georgia Tech, 45-30, to remain undefeated.  The 'Canes have shown that the Florida win at the beginning of the season was not a fluke, but just another day at the office for them.  Hats off to Al Golden for bringing Miami back from the brink of incurring the NCAA's DEATH PENALTY (nothing is final yet with the NCAA but seems to be on the back burner, as of now).
ACC quick hits: Virginia embarrassed the whole conference today when they lost to Ball State, 48-27.  Really?  Virginia should be looking for a new coach by season's end.  Boston College rebounded from the FSU loss with a 48-27 win over Army.  Beating Army is nothing to be proud of, however.  Wake Forest got to .500 with a 28-13 win over NC STATE. Look for FSU, Clemson and Miami, to be the ones to carry the ACC banner the rest of the year.
3. All of the country had it's eye on Evanston, Illinois, as Ohio State marched into a rowdy Northwestern stadium and sneaked out with a 40-30 win.  It was a chance for Ohio State to show it's dominance to the whole country, but all we saw was a team just trying to avoid the upset bug.  Ohio State looks very beatable but no one in the B1G has the fire power to do it.  Guess Ohio State will go undefeated and get embarrassed in the national title game, like always.  If you ask me, the refs gave Ohio State a few calls to help keep them in the game and, even at the end, gave them a VERY LUCKY SPOT on a 4th-down attempt by Northwestern.

B1G quick hits: Indiana FINALLY beat Penn State, 44-24.  Indiana was 0-16 until they got that victory today.  Good for them . . . just win six games and get to a bowl game, for the fan base.  That is like winning a national title for Indiana football.  Has backup quarterback Tommy Armstrong sparked the Nebraska offense?  A 39-19 win over Illinois says yes.  Time will tell for the Cornhuskers.  Michigan State beat Iowa, 26-14, in a game probably no one cared about but their fans.  Michigan beat Minnesota, 42-14, to get some positive momentum after the last two nail-biters vs undermanned opponents.  The B1G's only hope of being taken seriously is for Michigan and Ohio State to go undefeated until they meet at season's end.
4. Oregon just makes football look easy.  Every college football fan wishes their offense and uniforms were as cool as Oregon's.  Oregon pounded Colorado, 57-16.  I think Oregon even called off the "ducks" in the 1st quarter.  Mariota would have even better numbers if he was playing all four quarters.  Duck fans are living some good times with college football.  If Oregon can continue to put up 50+ points in the next 4 games, then they have my vote to play for it all.
Keith Price showed a lot of heart but still could not lead his team to the upset over Stanford, falling 31-28.  Stanford got lucky tonight but, thanks to special teams, they got the victory.  Also, do you think the ball hit the ground?  Or was it a catch?  The Stanford-Oregon showdown is getting closer and will probably be the deciding factor in who wins the Pac-12, and possibly goes on to the national title game.
Pac-12 quick hits: Mike Leach finally got his Air Raid on, as Washington State beat Cal, 44-22.  I know that does not say a lot, but for Washington State to be at 4-2 right now is a big accomplishment.  USC fired Lane Kiffin after losing to ASU last week and has this week off to overcome this "huge" loss.  How will USC ever go on with out Kiffin?  Arizona State gave it their best but came up short, losing to Notre Dame, 34-37.  I still STRONGLY dislike Notre Dame.  UCLA still looks like a force to be reckoned with after beating Utah, 34-27.  The Bruins seem to be the team to beat in the Pac-12 South.
5. The BIG-12 surprises me every week.  I think the biggest surprise has been Baylor who has scored 70+ points their last 3 games, and look to be a real threat to win the BIG-12.  Who would have thought Baylor would come this far while Texas has fallen so low.  Texas needed every second and every call to beat upset-minded Iowa State, 31-30.  The refs refused to let Texas lose that game.  No matter what happens with the rest of the season, if I am Mack Brown, I get out of Austin.  Oklahoma held on to beat TCU, 20-17.  The Sooners were probably thinking about next week's game vs Texas in the annual Red River Rivalry.  Texas Tech moved to 5-0 after demolishing Kansas, 54-16.  Kansas football is the Big-12's punching bag.  Oklahoma State rebounded with a win over Kansas State, 33-29.  I always pull for the underdog.  I like a team that has never been there before to finally reach the top of the mountain.  Baylor has been so bad at football in the past, they thought about dropping the program.  I hope Baylor rises up and wins the BIG-12 this year.  Imagine if we had Baylor and Oregon play for a national title.  The scoreboard would short circuit because of all the points being scored.
Best of the Rest: Louisville beat Temple, 30-7.  Louisville needs a signature win to get into the Top-5, but with how their schedule looks it probably will not happen.  Fresno State kept its BCS BUSTER hopes alive with a dominating 61-14 win over Idaho.  Despite government shutdowns, Navy managed to not only play their game today vs Air Force but also win, 28-10.  Rutgers had a wild finish beating SMU 55-52, in TRIPLE OVER TIME.  I love games like that!  Northern Illinois kept their BCS dreams alive with a 38-24 win over Kent State.  The Huskies will need A LOT of upsets, though, to get into a BCS spot this year.
What a great weekend of college football.  We are being given a great display of offense and should appreciate it.  How many times are you stuck there watching a boring 9-6 game (ahem . . . SEC "Game of the Century"), when all we really want is some explosive plays and points on the board.  Keep watching Oregon and Baylor because they have it all.  Will it all add up in a conference title and possible national title game?  Still got another half-season of football left to find out.
NATIONAL NEWS:
1. EA SPORTS settles
2. Kill out with seizures 
3. Murray sets some records
4. Trick play gone wrong
5. Great catch in Lincoln
—————————————-
Announcements
* Are you a current or retired coach who would want to create some analyses as other guest coaches have in the past? The readers and I have learned so much from expertise offered, and we would love to talk with you about how you can help us all continue to learn at FishDuck.com. E-Mail me… charles@fishduck.com
*You MUST watch the new video spoofing the interim USC coach by Glenn Hanna. Too good! (Click here)

Jeff Hostetler may not have won a Super Bowl with the Giants ( though his uncle of the same name did). He has been an obsessed college football fan living in Florida ever since the Gators beat FSU in the Sugar Bowl to earn the UF's first national championship.
Ever since Jeff has immersed himself in everything possible related to college football. He enjoys watching, writing, playing, and otherwise obsessing over all things football. A graduate of the University of Florida, he brings a perspective to FishDuck free of our extreme green & yellow homerism glasses to look at the current landscape of collegiate athletics.
FishDuck Has New Off-Season Schedule and see the OUR BELOVED DUCKS Forum!
FishDuck articles will now be on Monday-Tuesday-Wednesday only during the off-season, and then we will go back to seven days a week during the football season beginning in August.
We will have some occasional guest articles later in the week, but the hottest Oregon football information will be posted in the OBD forum!
The Our Beloved Ducks Forum (OBD) is where we we discuss the article above and many more topics, as it is so much easier in a message board format over there.  At the free OBD forum we will be posting Oregon Sports article links, the daily Press Releases from the Athletic Department and the news coming out every day.
Be a part of the forum and stay caught up!  When you wish to post there, do know that you are protected just as you were on FishDuck. Join us on the free forum right here!
Our 33 rules at the free OBD Forum can be summarized to this: 1) be polite and respectful, 2) keep it clean, and 3) no reference of any kind to politics. Easy-peasy!
OBD Forum members….we got your back.  No Trolls Allowed!