en.wikipedia.org 
A relatively unknown battle is taking place Saturday as the Colorado Buffaloes host Oregon and have a decisive statistic in their favor going into this contest. You see, Colorado has the 10th-best run defense in the country, allowing only 91 yards per game while Oregon, on the other hand, has the best rushing offense in the land, averaging 332.5 yards per game.  This is the tug-of-war matchup that the Buffaloes are hoping to win — or even tie — as it will determine the fate of the game.
In his interview on Tuesday, Colorado Buffaloes coach Mike MacIntyre said that the way to beat the Oregon Ducks is to make them hold the ball longer.  He said the Buffaloes needed to force the Ducks into 3rd and 4th downs, and preferably, with long yardage to go for a first down.  He also mentions that Colorado needed to maintain their "run fence," which is an imaginary fence along the line of scrimmage that, theoretically, prevents runners from crossing.
Additionally, he mentioned, "We will move the ball better than people have moved on them, if we don't let them get up 28 points – bang, bang." And to that he added, "Nobody has taken them [the Ducks] into the second half yet — and that's what our goal is . . .."
As you can see in the picture (above), Colorado likes to run the 4-3 defensive scheme, though sometimes the defensive ends will be in a two-point stance rather than the typical three-point stance (see the DEs in yellow, above).  This formation resulted in an interception on the play.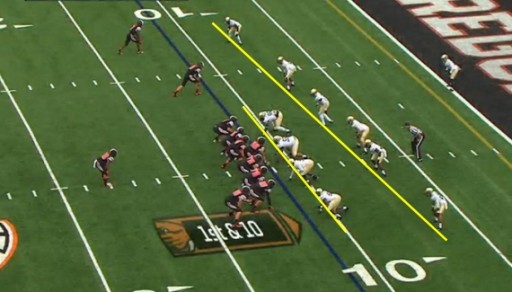 In this picture (above), the Buffaloes have created a second line of scrimmage, thus you can see they are not afraid to play up tight and in your face. You also can't help but notice, as well, that the DEs are in the down position.  The end result of this was a sack and fumble, which Colorado recovered.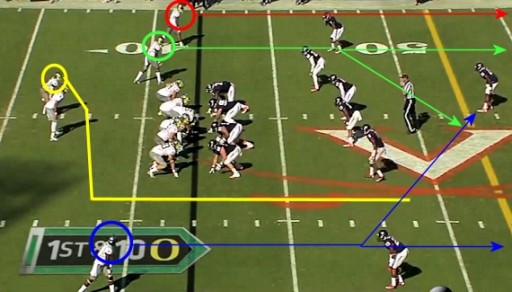 Now in this picture (above), the Ducks have at least one formation they can use to spread out the Buffaloes' defense and make them stay honest.  In this formation,
Mariota (above) can hand off to the RB or, depending on what Colorado is showing him, make any number of tosses for short or long gains.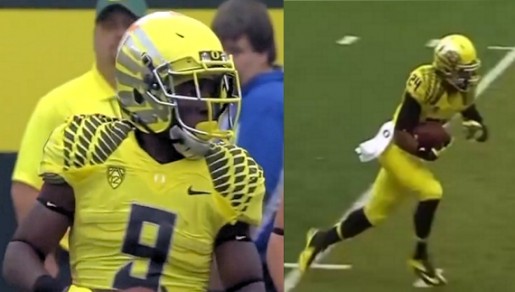 It has been rumored that De'Anthony Thomas will not be participating, but Oregon will be well-represented in the running game by both Byron Marshall (9) and Thomas Tyner (24).  Against the Cal Bear defense, Marshall plowed for 130 yards on 19 carries and Tyner had 94 yards on 13 carries — and that was in typhoon-like conditions.
So, what can we expect this weekend in Boulder?  As I see it – and in light of the Beavers' pounding the Buffs 44-17 – the Ducks will probably run for well over 300 yards and Mariota could pass for 300+, as well.  This could be a dream killer for Colorado, with Oregon flying home as the winner – in the neighborhood of 66-10.
Bob Laws, Flagstaff, Arizona and Charles Fischer, Eugene, Oregon

Visit our Sister Site, the new Our Beloved Ducks Forum!
This new forum that is unlike anything you have ever seen between our civilized discussion, (NO TROLLS ALLOWED) complete directions available for easy usage and the delivery of all Oregon Sports News.  (That last part is a gradual transition up to Spring Football)
Go to the forum where we delve into today's article and so many more topics and the nuances within them over there.
We have a topic post begun over at the forum for today's article; it is a free site and offers more opportunity for the exchange of opinions on all the Oregon Sports subjects of the day. (And there are some very cool features!)
An introduction article about the new forum is right here.