en.wikipedia.org 
A relatively unknown battle is taking place Saturday as the Colorado Buffaloes host Oregon and have a decisive statistic in their favor going into this contest. You see, Colorado has the 10th-best run defense in the country, allowing only 91 yards per game while Oregon, on the other hand, has the best rushing offense in the land, averaging 332.5 yards per game.  This is the tug-of-war matchup that the Buffaloes are hoping to win — or even tie — as it will determine the fate of the game.
In his interview on Tuesday, Colorado Buffaloes coach Mike MacIntyre said that the way to beat the Oregon Ducks is to make them hold the ball longer.  He said the Buffaloes needed to force the Ducks into 3rd and 4th downs, and preferably, with long yardage to go for a first down.  He also mentions that Colorado needed to maintain their "run fence," which is an imaginary fence along the line of scrimmage that, theoretically, prevents runners from crossing.
Additionally, he mentioned, "We will move the ball better than people have moved on them, if we don't let them get up 28 points – bang, bang." And to that he added, "Nobody has taken them [the Ducks] into the second half yet — and that's what our goal is . . .."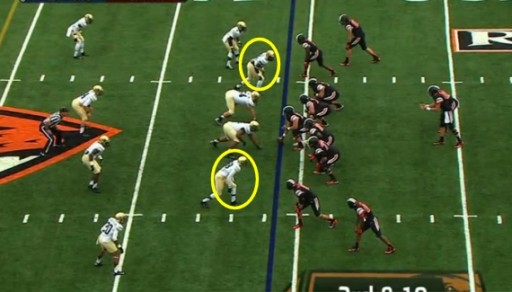 As you can see in the picture (above), Colorado likes to run the 4-3 defensive scheme, though sometimes the defensive ends will be in a two-point stance rather than the typical three-point stance (see the DEs in yellow, above).  This formation resulted in an interception on the play.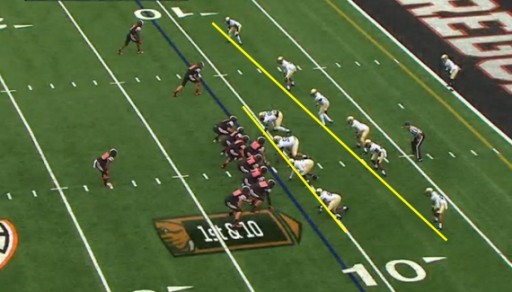 In this picture (above), the Buffaloes have created a second line of scrimmage, thus you can see they are not afraid to play up tight and in your face. You also can't help but notice, as well, that the DEs are in the down position.  The end result of this was a sack and fumble, which Colorado recovered.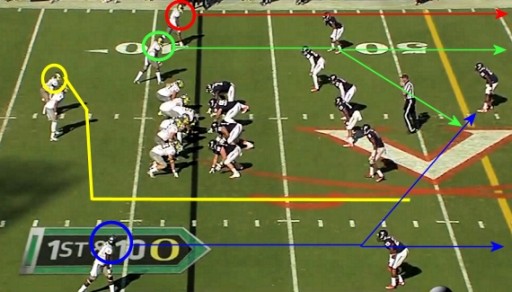 Now in this picture (above), the Ducks have at least one formation they can use to spread out the Buffaloes' defense and make them stay honest.  In this formation,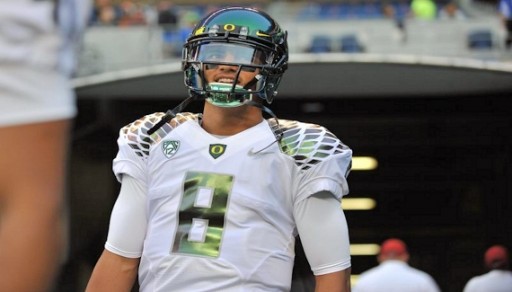 Mariota (above) can hand off to the RB or, depending on what Colorado is showing him, make any number of tosses for short or long gains.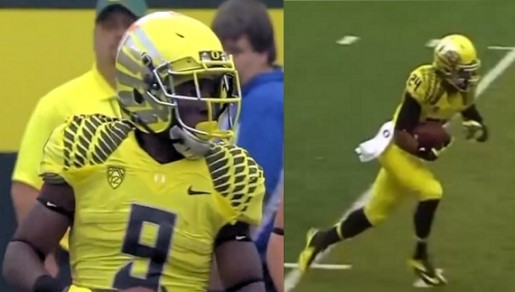 It has been rumored that De'Anthony Thomas will not be participating, but Oregon will be well-represented in the running game by both Byron Marshall (9) and Thomas Tyner (24).  Against the Cal Bear defense, Marshall plowed for 130 yards on 19 carries and Tyner had 94 yards on 13 carries — and that was in typhoon-like conditions.
So, what can we expect this weekend in Boulder?  As I see it – and in light of the Beavers' pounding the Buffs 44-17 – the Ducks will probably run for well over 300 yards and Mariota could pass for 300+, as well.  This could be a dream killer for Colorado, with Oregon flying home as the winner – in the neighborhood of 66-10.
Bob Laws, Flagstaff, Arizona and Charles Fischer, Eugene, Oregon
Bob Laws is a 4th generation Oregonian – going back to 1850 – and Duck fan, graduating from South Eugene HS in 1978. Bob went immediately into the Marines and served for the next ten years. After the Marines, Bob met his wife Rena of 26 years. The budding family, moved from Eugene to Kentucky to care for Rena's grandmother, where his wife's family have been since the earliest settling of Kentucky. Finally getting to college, Bob graduated from UK in 1994. Bob had to call up either KPNW or KUGN on Sunday's to find out if the Ducks had won. After ten years, the family moved to Tennessee as business dictated and remained there for eight years. When his two daughters were entering high school, the family moved to Arizona. Interestingly, Bob's oldest daughter was born in Eugene (5th generation Oregonian) and his youngest daughter was born in Kentucky (gazillionith generation Kentuckian), so his family consists of both Pac12 and SEC followers, as his son still lives in Tennessee. Bob has his own blog at azwebfoot.blogspot.com where he can do his number crunching with glee. Bob enjoys his fishing and hunting in the high country of Arizona where he lives (elevation 7,000 feet).
For Football Season: FishDuck Back to Seven Days a Week!
I had to shut down the daily articles on July 20th because I could no longer work the extra 3 to 12 hours per week of certain managerial/editorial duties. (beyond the usual ones with FishDuck)
I've had a blast writing without those duties, and now, due to a new agreement with the writers, I can announce that we will have articles seven days a week again. I wish to thank the writers publicly for their graciousness in coming to a solution, as now I still do not have do those extra duties with our agreement, and meanwhile the writers are back having fun creating articles as I am.
Everybody is happy! So below is the new schedule through football season:
Monday: Mr. FishDuck
Tuesday: Darren Perkins
Wednesday: Joshua Whitted & Mr. FishDuck
Thursday: Coach Eric Boles & Alex Heining
Friday: David Marsh
Saturday: Mr. FishDuck (GameDay Baby!)
Sunday: Jordan Ingram
A couple of writers could not join us as they have new projects in their lives, and cannot write for anyone at the moment–but perhaps we will see them back later.
Things rarely work out so well for all parties in agreements, but this time it has and truly….everyone wins!
Our 33 rules at FishDuck can be summarized to this: 1) be polite and respectful, 2) keep it clean, and 3) no reference of any kind to politics. Easy-peasy!
FishDuck members….we got your back.  No Trolls Allowed!