Kevin Cline
Football Recruiting
Visits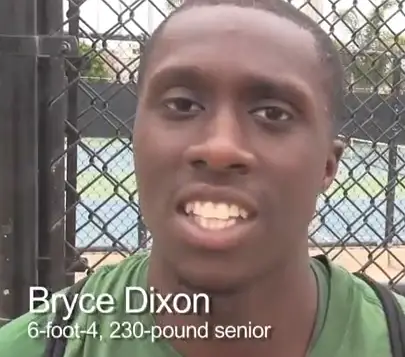 Oregon's definitive 62-38 thrashing of Washington State Saturday night put the Ducks in recruiting command of one of the top athletes in the nation.  The No. 2 ranked tight end and top Oregon big board prep Bryce Dixon (4-Star/Ventura, CA) was on hand to take in the sights and sounds of Autzen Stadium.  He was not disappointed.
"I absolutely enjoyed it, Oregon is for real," said Dixon.  "They did a really, really good job recruiting me.  I can't even describe it all. They presented the school and told me all of these things and it was exactly like they said it was.  The way I got along with the players was perfect.  We got along so good and we all are kind of the same.  I loved the small town feel to Eugene.  It was small, but I liked it.  I liked how passionate the fans were and how Oregon has 93 straight sell outs.  That's amazing fan support."
An imposing 6-foot-4, 230 lbs., Dixon's hands in space and breakaway speed are a perfect fit for a tight end's role in the Oregon Blur.
"(The Ducks) said I'm pretty much the top guy on their board at my spot.  They like how I run and how they could flex me out wide too," said Dixon.
Oregon now sits at the top of Dixon's program list and figures to make a late push when his prep career concludes later this year.  To view Dixon highlights, please click here.
New Oregon defensive line target David Moa (NR/San Diego, CA) flew into Eugene having an idea of what to expect.  Once on Martin Luther King, Jr. Boulevard, Moa knew the reality.
"From the start the whole trip was amazing," said Moa.  "I saw the new facilities, which were breathtaking.  It was everything we thought it would be and more.  I got to meet De'Anthony Thomas and Marcus Mariota. Marcus is super humble and he's an amazing guy."
A lanky 6-foot-3, 235 lbs., Moa uses a quick first step and shifty body mechanics to find holes in opposing offensive lines.  Athleticism seems to run in the family as older brother, Ben, a freshman at the JUCO level, is also hearing from Oregon about the possibility of forming a tandem.
"Coach (Ron) Aiken said he likes me as a nose tackle and that I will hear from them soon," said Moa.  "If Oregon offers, I'd accept it on the spot."
Moa's chances of landing an Oregon offer are contingent upon continuing a strong senior season and the status of a few other Duck targets.  Stay tuned!
For up to the minute recruiting news, please visit our friends at DUCK TERRITORY, who graciously provide FISHDUCK with in-depth analysis and player-generated material.  Look for my latest recruiting update every Wednesday. WTD!!!
Follow me on Twitter: @MarkDFlores
Be sure to like us on Facebook: FISHDUCK.COM