from Video
This Saturday, the Washington State Cougars come to town for a 7 pm match up between the Blur and the Air Raid offenses.  Think trying to hit a cheetah with a sling shot.
Now for the mandatory stats.
The Ducks lead the series 45-38-7 and have won six in a row over the Cougs.  Washington State's last win in the series came in 2006 in Pullman over then-16th-ranked Oregon.  The Cougars' last win in Eugene was a painful loss for Oregon, 55-16.  Ducks QB Marcus Mariota is in first place in ESPN's Total Quarterback Rating (QBR) at 97.0.  The stat that stands out for me is that after six games and 165 passing attempts on the season, Mariota has yet to throw an interception!  Better than that, going back to the Stanford game last year, Mariota has a Pac-12 record 233 passes without an interception!
Washington State's Connor Halliday with 2200+ yards, ranks 10th in the nation and second in the Pac-12 to only Sean Mannion (at 2500+ yards) of the bark rats.  Halliday will be facing the 5th-best pass efficiency defense in the country.
Let's take a look at three formations that I noticed Wazzu likes to run.
In the above photo, the lone back comes out and you have five possible receivers depending on what the defense does.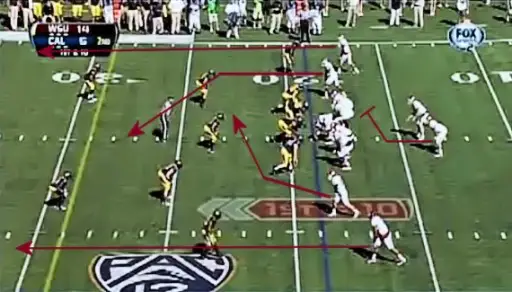 In this photo (above), it is the same formation, but the lone back stays behind to block.  However, the RB can block and release — and become a fifth receiver.
In the above formation, there are a number of options, for example the wideouts could gun down the sides and the two backs flare out to either side for a screen or dump-off pass.  However, I'm just going to talk about how they set up the run.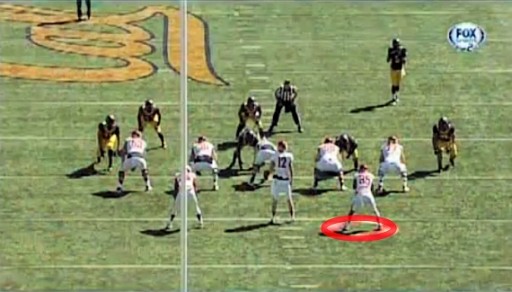 From the backside of the formation the RB, above in the red circle, will flare out to the left.
If the linebacker (yellow arrow, above) stays home (which he does), that puts one less defender to tackle the RB, who now becomes a receiver.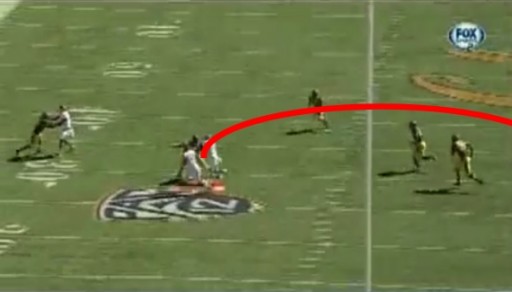 Notice that there are only two defenders close, the others are trying to play catch up.
Now the two wideouts block their defenders, which creates a tunnel that the running back-turned-receiver can run through.  This play went for 61 yards.  I think the Ducks have the speed, however, to keep this bottled up.
So how do you counter Mike Leach's Air Raid?  You start by applying some heavy pressure up front.  I was impressed last week at Washington with the play of DT Wade Keliikipi and DEs DeForest Buckner and Tony Washington.  Throw in some pressure from WLB, Derrick Malone and SLB, Boseko Lokombo and you have the makings of a pretty tough time for any QB.  The Ducks DBs, Mitchell, Patterson, Jackson and Ekpre-Olomu play like they're already in the NFL, and that just has to give nightmares to anyone planning on throwing the ball.
So, what are we looking at this weekend?  Consider that Halliday has been picked 13 times in seven games, or an average of just under two per game, and I expect we will pick at least three of his passes.
The Cougars' run game is nearly nonexistent with just over 66 yards per game.  I expect that the Ducks' front seven will cut that in half.  All in all, WSU should have enough wins this year to go Bowling, as they are already 4-2 in the win-loss column.  Their fifth win just won't come at Oregon's expense.  Wazzu will score Saturday night, just not a lot.
Final Score: Ducks 59, Cougs 17
Bob Laws, Flagstaff, Arizona and Charles Fischer, Eugene, Oregon

Visit our Sister Site, the new Our Beloved Ducks Forum!
This new forum that is unlike anything you have ever seen between our civilized discussion, (NO TROLLS ALLOWED) complete directions available for easy usage and the delivery of all Oregon Sports News.  (That last part is a gradual transition up to Spring Football)
Go to the forum where we delve into today's article and so many more topics and the nuances within them over there.
We have a topic post begun over at the forum for today's article; it is a free site and offers more opportunity for the exchange of opinions on all the Oregon Sports subjects of the day. (And there are some very cool features!)
An introduction article about the new forum is right here.