The team that pulled last week's big upset against Oregon, was in turn the victim of college football's Week 12 big upset, as Stanford fell in dramatic fashion to USC, 20-17, on Saturday night.  This loss propels Oregon back in the driver's seat in the Pac-12 North.
The Ducks are now the top one-loss team in the nation and, if chaos were to occur, could find themselves back in BCS title game contention.
The Ducks are now No. 5 in the country after the tree fell and Oregon coasted to victory over the Utes, 44-21.  Oregon had a 17-7 lead at the half after a slower than usual start, but an 86-yard kickoff return by De'Anthony Thomas to start the second half, fueled the offense to four straight touchdowns to pull away to victory.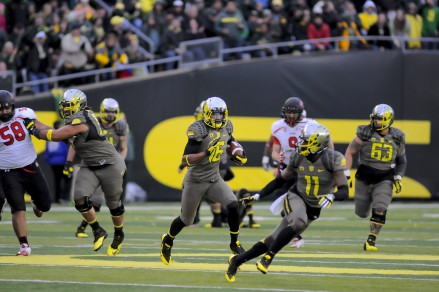 They bounced back from the dreadful loss last week, piling up 433 total yards on offense, while holding Utah to 116 yards rushing on 42 attempts.
Marcus Mariota continued his Heisman campaign, throwing for 288 yards and three scores — and he has yet to throw an interception on the season.  He is now 183-285 (61%) on the year with a 25-0 touchdown-interception ratio.
As it looks now, if the Ducks win out the rest of the regular season and emerge victorious from the Pac-12 title game, they will play in the Rose Bowl against the winner of the B1G championship.
Remaining on the schedule for Oregon is a trip to Tuscon to face Arizona and for the season finale, a classic Civil War game.  They should win both of these games but each of those teams post an offense that can compete, if they elevate their performance on defense.
The Wildcats are just 6-4 this season but their running back, Ka'Deem Carey, could cause trouble for Oregon's defense.  Carey has rushed more than 100 yards in every game this year and is a very tough runner, which has caused problems for the Duck defense.
Two running backs with similar size and running style to Carey: Washington's Bishop Sankey (160 yards, two touchdowns) and Stanford's Tyler Gaffney (157 yards, one touchdown).  Each had successful days on the ground against Oregon this year.
Oregon State should be a tougher opponent with the expertise of quarterback Shaun Mannion to guide them, but he and the beavers have had recent struggles.  They started out the year 6-1 but have lost three straight; Mannion has a 4-7 touchdown-interception ratio in those losses.
If the Ducks were to win both, they would then have a Pac-12 title game against a wide open south division, consisting of No. 14 UCLA, No. 17 Arizona State and No. 23 USC.
Arizona State leads both the Bruins and Trojans by a game, but the picture will clear itself up within the next few weeks; ASU plays UCLA next week, and then the Bruins will travel to South Central to face USC in the battle for LA in the last game of the regular season.
Now it's time to unfold some of the chaos that could potentially take over the college football world.
No. 1 Alabama has a big game against No. 6 Auburn in the Iron Bowl in their finale and an SEC title game to finish the season.  Auburn has been exceptional this year coming off a 3-9 2012 campaign.  They are 10-1 in 2013, with their only loss coming in Death Valley to LSU, and considering the miracle 73-yard Hail Mary, a prayer they had answered to keep their season alive, they may have the best shot at dethroning the champs.
Florida State remained at No. 2 in this week's standings and luckily have the easiest road to Pasadena. Their wins have been more convincing than any team's this year, and the only games that will potentially give them trouble would be a banged-up Florida team or their opponent in the ACC championship game – most likely Duke or Virginia Tech.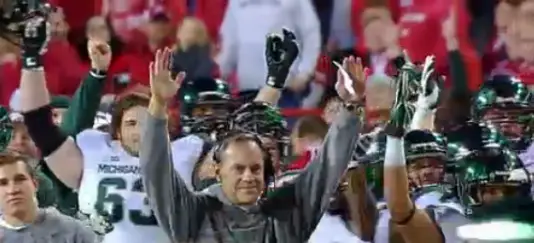 At No. 3 is Ohio State who are still rolling with the nation's longest winning streak, now up to 22 games.  They still have a rival game against Michigan in Ann Arbor but their biggest test will be the Big 10 championship, which will presumably be against No. 13 Michigan State.  The Spartans have arguably the best defense in the country, allowing a mere 13.2 points per game.
Baylor comes in at their highest BCS ranking in school history at No. 4, but it has a few more road bumps coming as well, with games away against No. 10 Oklahoma State and TCU, while finishing in Waco versus the Texas Longhorns.  These three games will determine how good this Bears offense really is and if their defense can play consistent on a week-to-week basis.
With still much football left to be played, there is still hope for Oregon.  They will need a lot of help in order to jump back into the NCG picture, but they are the first listed one-loss team and are just waiting for a slip by the undefeated – and undefeated seasons are hard to come by in college sports.

Want to Watch Oregon Games on your computer?
If you do not get all the channels that have the Oregon Football games, or simply want to be able to watch the game over again as you don't have the space in the DVR to hold all the games?
Contact me by email: charles@fishduck.com and I can help.  We have fans across the nation and internationally watching the games 24/7/365 and I wish that for everyone.  Charles Fischer