Two weeks ago, against the Dallas Cowboys, Nick Foles had one of the worst games any NFL quarterback has thrown (up) this year.  Today, he's in the NFL Hall of Fame.  Literally – as we speak.  Foles destroyed the Oakland Raiders, 49-20, last Sunday by tossing 7 touchdowns (3 to former pariah Riley Cooper), tying the league's record for TDs in a game.  (I covered the game from the press box; my photos today are from the tailgate scene – which was more interesting than the actual game.)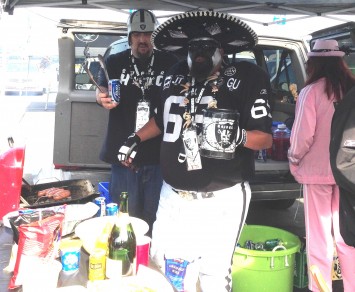 Canton immediately requested his jersey and the game ball, and it has already been delivered and installed.  Foles is now listed as an all-time great, alongside Peyton Manning and such legends as Y.A. Tittle, George Blanda, Sid Luckman and Joe Kapp.  Arguably, his game was better than the others' — he got his 7th in the 3rd period, as Kelly actually benched him during the 4th, and, unlike the others, Foles had no interceptions — and a perfect 158.3 passer rating.
Last Saturday, Eagles' fans were in despair and pundits were writing off Chip Kelly as unfit for the pros, or "already figured out."  24 hours later, Chip was a genius again — and Eagles' fans, typically bipolar, were back in their manic phase, wondering who they will face in the playoffs.
A post-season run is not unrealistic, especially after Philadelphia got a big break (literally) Monday night.  Sunday's opponent, Green Bay, lost starting QB Aaron Rodgers to a "slight" collarbone fracture, turning a likely double-digit road loss into a tossup, where the Eagles have all the momentum.
Outside writers, stung by having their opinions refuted so emphatically, rushed to minimize Foles' achievement:  "It was only the Oakland Raiders, fer crisakes!"
My answer is, "Well, Peyton Manning and Andrew Luck have both played Oakland this year, and scored only 5 touchdowns combined in those two games."
The Raiders are actually a strong defensive team – especially against the run – and they held the Eagles' excellent rushing attack in check.  LeSean McCoy got only 44 yards (plus another 36 on passes), though Bryce Brown broke out for 54 yards (including a 32-yard run – the first time the Raiders have allowed a run of more than 20 all year).
So where does the Eagles' "quarterback controversy" stand?  Michael Vick rushed back from injury too quickly in Week 8 against the Giants, reinjuring his hamstring.  Unless Foles reverts to his Cowboys'-game form or gets injured again, you can be sure that the team will baby that hammy, delaying Vicks' return for months — or forever.
What made the difference?  No one's sure.  Foles swears he wasn't injured or nervous against Dallas, and Kelly says it was "just a bad game."  The main thing Kelly did to unlock Foles' potential was to tell him to stop thinking. "Grip it and rip it," he advised his QB, and so Foles did.
People forget how young Nick is – just a second-year player – but Kelly has admired him from across the collegiate field as when the Arizona Wildcats gave his Oregon Ducks so much trouble (including Foles' switching to his left hand and throwing a 13-yard pass as Kiko Alonso and Taylor Hart were crushing him).
Kelly reminisced about that game this past week: "We beat the crap out of that kid," he recalled fondly.
Chip hasn't announced that Foles is the new starter — and why should he?  Putting a name on the situation adds nothing except newspaper headlines and only creates problems.  But everyone can see where we stand – and Foles is seriously being considered as the team's franchise quarterback going forward.
The only thing Kelly committed to, before the Raiders game, was that he might consider giving Nick the job if he threw "100-for-100, with 27 touchdowns."  Chip was joking, of course, but Foles is not that far off that pace: he's 22-for-28 with 7 touchdowns since Kelly's comments.  For the year, he has thrown 13 touchdowns and no interceptions – rivaling the Ducks' Marcus Mariota's Heisman-leading record of 20 TDs, no INTs – despite starting only three games.
Speaking of the Ducks, the Eagles' players had a bit of good-natured rivalry going on between themselves (I'm writing this Thursday, before the big college showdown.).
Zach Ertz, who won the game against Oregon last year with his controversial TD reception, has been taking some guff from former Ducks Patrick Chung, Casey Matthews and Jeff Maehl.  Legend has it that when Coach Kelly sat down with Ertz after drafting him, he said something to the effect of "Come on, you gotta admit that wasn't a touchdown against us!"
Ertz and Chung have a bet on the game; the loser has to wear the other team's jersey Friday.  On Twitter, Ertz mocked DAT's prediction that the Ducks would "score 40," and tweeted this (somewhat defensively quoting the refs on that TD last year): "The ruling on the field is overturned, it was a CATCH."
Back in Philadelphia, Foles' heroics masked a general improvement in this team.  Trading mediocre nose tackle Isaac Sopoaga seemed to be addition by subtraction; young standouts Bennie Logan, Vinny Curry, Clifton Geathers and Damion Square, all excelled with extra snaps.  (Tommy Lawlor quipped, "My conclusion from today . . . Isaac Sopoaga was holding back the offense.")  The Eagles' pass coverage was excellent.  I was watching closely to see if Pryor was just missing open receivers, but no — the Eagles really smothered the Raider receivers.
Except for a very late garbage-time TD, Philadelphia held the Raiders to 13 and contained the dangerous running game of quarterback Terrelle Pryor (whose Ohio State team stuffed Chip Kelly's Ducks 26-17 in the 2009 Rose Bowl).  The offensive line was solid, and Kelly's play-calling really opened up the game for Foles.  Six different Eagles caught passes on their first drive, and they were excellent on third down (including a tough 19-yard pass to Jeff Maehl).
So Chip's team is really coming together.  The players have bought in and are beginning to see how powerful this program could be, eventually.  The explosion plays are already there; the Eagles lead the league in both passes and runs over 20 yards.  What they lack is consistency in between those big plays – the steady run of 4-yard gains that shift all the momentum – and some playmaking on defense.
But last Sunday, at least, the idea that Chip Kelly could be a dominant coach in the NFL, started to look a bit more realistic.
---
Mark Saltveit's best-selling book "The Tao of Chip Kelly" has received rave reviews from coaches, players and sportswriters since its release in June. You can find it at the Oregon Ducks Stores in Portland, Eugene and Bend, at Powells Books, at the Multnomah Athletic Club M-Porium in Portland, various bookstores in Pennsylvania and New Hampshire, and online at http://www.chipkelly.tv/

Mark Saltveit's newest book is "Controlled Chaos: Chip Kelly's Football Revolution" (Diversion Books, NY) has been recently released. He is the author of "The Tao of Chip Kelly" (2013) and writes on science, religion, wordplay and political scandals. He is also a standup comedian and the world palindrome champion.
Mr. FishDuck … You Simply Can't Handle MY Opinions!

Baloney. I want all opinions here as it enables us see the full spectrum of ideas and helps us to learn from others and modify our own views as a result. In fact, this is the only Duck website where you can safely share your full-spectrum views on Oregon Sports.
If there is a problem … it is with your behaviors, and not your opinion, even if unpopular. Be polite and courteous to others and you will be reciprocated, and consequently you'll have a tremendous experience on FishDuck.
The majority of our rules can be summarized to this: 1) be polite and respectful, 2) keep it clean for grandchildren reading, and 3) no reference to politics.
Easy-Peasy!