We had upsets galore this week and probably now have some coaches out there looking for new jobs.   Most of the top teams took care of their business, but it was the Baylor's offense going into hibernation mode and Oregon's offense was already on vacation in the desert, and stayed there.  Ohio State, FSU, and Alabama were all trying to reach 100 points for some BCS style points or whatever.  FSU got the closest with 80.  You even had Georgia Southern pull off a shocker in the swamp over Florida.  Just when Gator fans thought the season could not get any worse . . . it did.  They better call Michigan to see how a major BCS program handles losing to an FCS team.  We also have the Heisman race becoming as clear as mud this week after both Johnny F. and Marcus Mariota turn in less than stellar performances.  Then you have Jameis Winston just trying to stay out of jail while playing a little football on the side.  I think Braxton Miller could have become the front runner this week with so many other top candidates checking out today.
With all that in mind let's get into the scores, highlights, and news from today – November 23, 2013: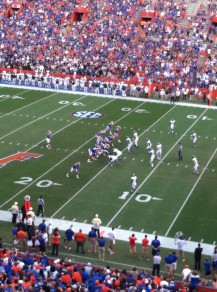 1. Best game in the SEC today was Vanderbilt beating Tennessee 14-10.  Vandy converted a 4th and 1 with less than 40 seconds to go to move into field goal range.  From there they went for the win and knocked Tennessee out of bowl eligibility.  Another good game was LSU shutting down Johnny F. and Texas A&M 34-10.  I thought this one was going to be a shootout but the LSU defense showed up and made sure Johnny F. left Death Valley with his feelings hurt.  LSU's defense made sure they did not give Johnny F. any Heisman moments and knocked him out the race.  The real shocker in the SEC was Florida getting run over by Georgia Southern 26-20.  Georgia Southern won the game without completing a single pass and ran for over 400 yards.  Gator's Coach Muschamp is really going to feel the heat.  Do they still keep him around after that one?
Missouri beat Ole Miss 24-10, and with that they are just one win away from clinching the SEC EAST.  Woo-hoo, the Tigers are on a roll!  At other games, Mississippi State kept its slim bowl eligibility hopes alive with a 24-17 overtime win over Arkansas.  South Carolina cruised to a 70-10 win over Coastal Carolina.  (Just a tune up game before they face Clemson next week) South Carolina is still looking for a Missouri loss in order to clinch the SEC EAST.  Alabama smashed Chattanooga 49-0 and is ready for Auburn next week.  Georgia beat down Kentucky 59-10 but Georgia's star quarterback Aaron Murray left with a knee injury.  They got the victory but paid a high price for it.   Alabama and Auburn will be playing for a winner take all next week.  Should be a fun one!
2. Baylor's point-a-minute offense finally met its kryptonite when they met up with Oklahoma State this week.  When Baylor got shut out in the 1st quarter you knew they were in for a long night.  Oklahoma State aired it out all over Baylor's defense and came up with a 49-17 victory.  Baylor has now fallen from the ranks of the unbeaten and still looks to finish the season strong despite this loss.  They still might be looking for an 'at large' BCS bid depending on how the rest of the season shakes out.
Oklahoma won its shootout over Kansas State 41-31 and was even using their backup quarterback.  Coach Bob Stoops has now passed Coach Barry Switzer in wins (157) while at Oklahoma.  Iowa State got a 34-0 win in the BIG-12 this season and it came against the Kansas Jayhawks, and both teams are looking to have this season finally come to an end.  It looks like the BIG-12 title is Oklahoma State's to lose after "upsetting" Baylor.
3. There were even some points scored in the ACC today.  FSU football beat Idaho 80-14 and was just fine tuning their game plan before they go get revenge against Florida next week.  FSU is on fire, and looks to be ready to take on any and all challengers that line up against them on the gridiron.  Two more wins and it is off to Pasadena for FSU.  Duke beat Wake Forest 28-21 to help set a school record of 9 wins this season, and Duke can win their division next week with a win over rival North Carolina.  North Carolina won 80-20 over Old Dominion and is ready for their rival game next week.  We could see a lot of points scored in that one.
Clemson was just messing around today and meanwhile beat Citadel 52-6.  They took care of business and look to take on in-state rival South Carolina next week.  Miami stopped its losing streak by beating up on Virginia 45-26.  East Carolina put the hammer down on NC State 42-28.  NC State is still looking for their first ACC win of the season as they prepare to meet Maryland next week and Maryland lost a heartbreaker to Boston College 29-26.  Georgia Tech beat up on Alabama A&M 66-7.  Former Big East member Pitt beat former Big East member Syracuse 17-16 to become bowl eligible.  The ACC has taken a lot of flak in the past for being a weak conference but now with FSU and Clemson rolling, the conference has a lot going for it.  They even have Duke winning more games and getting a lot of national attention – for football no less!
4. Ohio State clinched their spot in the B1G title game with a 42-14 win over Indiana.  Urban Meyer and his squad are just playing for pride at this point and hope for an Alabama or FSU loss.  Urban Meyer could become the biggest Gator fan next week in hopes of an upset, but it's probably not going to happen.  Ohio State will face Michigan State in the B1G title game.  Michigan State secured their spot with a 30-6 win over Northwestern.  It is going to be an offense against a defense kind of game when those teams meet up.
Iowa rallied from being down 14 points to beat Michigan 24-21, which was a good win for the Hawkeyes, because both teams are just playing for bowl position at this point.  Illinois finally got their first B1G win over Purdue 20-16.  Wisconsin secured the Paul Bunyan axe with a 20-7 win over Minnesota.  Wisconsin is holding onto their slim hopes of securing an At-Large BCS Bid.  Nebraska held off Penn State 23-20 in overtime, and is looking to keep the positive momentum rolling into their final game of the season against Iowa.
5. UPSET OF THE NIGHT:  Arizona stunned Oregon with a 42-16 win down in the desert.  I do not think anyone saw that one coming.  Rich Rod had his team "Bear Down" and secure their first ever win over a Top-5 team since beating #2 Oregon in 2007.  Oregon will look to right the ship against Oregon State.
At the same time, Arizona State locked up the PAC-12 south title tonight with a 38-33 win over UCLA.  The hiring of Todd Graham is looking better and better after each victory.  He looks to have the Sun Devils becoming a consistent contender in the PAC-12, and will face Stanford for the upset in the Pac-12 Championship Game.
PAC-12 QUICK HITS: USC is still winning under Coach "O".  They beat an undermanned Colorado squad, but a win is a win right now for USC.  With all the wins and upsets piling up for Coach "O", it will be very hard for the USC AD to say no to hiring him.  Where did this USC team come from?  Washington State beat Utah 49-37 to secure its 6th win to become bowl eligible.  Mike Leach will continue to build the Cougars into a constant contender in the PAC-12 North.  Stanford secured their spot in the PAC-12 title game with a 63-13 drubbing of their rival California.  Washington's game is still going on as I write all this but they are dominating Oregon State 27-0 and look to put this one away before half time.  With Oregon being upset by Arizona, there is a lot of drama and movement in the PAC-12.  Just when Duck fans thought they could win the PAC-12 and have a slim shot at a national title, well today happened!  Stanford once again will have a shot to secure a PAC-12 title and a BCS bid.
BEST OF THE REST: After having a week off, Fresno State came out and made a statement with a 69-28 win over New Mexico.  Northern Illinois beat Toledo 35-17.  It was not a very impressive win, so look for them to stay as the #2 Cinderella BCS crasher.  Louisville barely beat a horrible Memphis squad 24-17.  If both schools faced off in basketball that would have been a great match-up.  UCF kept pace winning the American Conference with a 41-17 win over Rutgers.  In the battle of independents, Notre Dame beat BYU 23-13.  UCONN finally got a win today and it came against Temple 28-21.  UCONN will be looking for a new coach once the season ends.  Western Kentucky beat Texas State 38-7.  Look for Bobby Petrino to get the call up to a big time program next season.
We had two Top-10 teams upset this weekend, leaving only 3 undefeated BCS programs left.  Look for Alabama and Ohio State to have one more real test next week while FSU pretty much just has to show up and they will be in the title game.  The Heisman picture has become "clear as mud" when deciding on a front runner since most of them struggled.  We have some of our conference title games locked up now and can start planning for those match ups.  It has been a great season with some teams coming out of nowhere surprising us (i.e. Baylor and Duke).  As for me, being a Florida fan, I wish this season ended about 6-losses ago.
Until next week college football fans.
NATIONAL NEWS:
1. Georgia takes a hit
2. College Football Mailbag
3.  Job Postings
4. Jameis Winston making news
5. Muschamp out?