The mid-to-late 90's was arguably the biggest turning point in Oregon Football History.  Particularly following the 1994 Rose Bowl season, the successors of Oregon's run for the roses had to maintain respect to prove Oregon was no "flash in the pan."
An important part of Oregon's post-Rose Bowl success was its talent in the backfield.  From 1995-1999,a talented back made a special difference in the Oregon backfield, as an overshadowed, but successful, backup star.  Only running behind two of the greatest backs in school history prevented more notoriety.  FishDuck proudly welcomes unsung hero and stalwart, Derien Latimer.
Latimer came to Oregon in 1995, just following the Rose Bowl.  The Colorado Springs, Colorado, native was a Blue Chip All-American, named Colorado's 1995 offensive player of the year, by rushing for a career 3,150 yards and 38 touchdowns, including two six-touchdown games as a senior.  The back appeared in nearly every game as a very successful backup, only having a shortfall due to the co-presence of workhorses Saladin McCullough and Reuben Droughns.
MOTTO:  "I AM SECOND."  -Derien Latimer (1995-1999 Oregon Tailback/Fullback)

Q.  WHAT SCHOOLS WERE RECRUITING YOU, AND WHAT MADE YOU DECIDE TO BE A DUCK?
A.  Oregon, Colorado State, Arizona, Northwestern, Missouri, Nebraska.  Oregon and Nebraska were final choices.
"Ahman Green (dominant RB) had committed to Notre Dame, but changed his mind to Nebraska once they earned the 1994 National Title trip.  That bumped me out of people they wanted.  I probably would have gone there, being from Colorado (given the rivalry and that they won the National Title).  What kid RB wouldn't want to go there?  But, they dropped me like a hot potato.
When I went to Oregon, school was out (Christmas Break) and no students were in Eugene.  Only the team was there getting ready for Rose Bowl practice in December.  It was a different kind of trip; but didn't get to see college life.  What I did get to see – I just got to be around the team guys a lot (unlike CU or Northwestern with parties and drinking).  We went to Reggie Jordan's house; Dino (Philyaw) and Ricky (Whittle) were co-hosts.  I remember going over there and just having a great time with the guys.  That really swayed me because I really felt I fit in."
EARLY DAYS AT OREGON:
Latimer redshirted the successful 1995 Cotton Bowl Season, but made an impact on the scout team from the start.
"I remember specifically my first big team experience.  Playing Illinois, they had guys like Simeon Rice and Kevin Hardy.  I was a scout team end for (O-lineman) Paul Wiggins to practice on!  I just remember being out there for pre-game warm-ups, and running out the tunnel for the first time.  Almost no words for it – here I am the prior year playing in front of 1,000 people, now 50,000 people.  Just the noise, lights (night game), even though I knew I wouldn't get in – it was huge."
In 1996, Latimer worked his way into the lineup as a redshirt freshman.  In only the second home game against the visiting Colorado State Rams of his home state, Latimer saw the field for the first time as a Duck.
Q.  WHAT DO YOU REMEMBER OF YOUR FIRST GAME EXPERIENCE?
A.  "My first time seeing the field was against Colorado State (home state team.)  Was bummed I wasn't higher on the depth chart.  Only a few yards on a few carries.  First time I played well was at Wazzu (the following week).  We lost, but we had a big comeback in fourth quarter.  I ended up having two touchdowns in the fourth quarter."
As a redshirt freshman overshadowed by the successful JC transfer Saladin McCullough, Latimer finished as the team's second-leading rusher.  He had two 8 yard runs in the near-comeback at WSU, along with the first touchdown of the UCLA game, and the final "icing-on-the-cake" touchdown in a 49-13 Civil War blowout over OSU.  Latimer finished the 1996 season with an impressive four touchdowns and 300 yards to  finish above all except McCullough.
MID-CAREER
The 1997 season was dominated by senior Saladin McCullough's 1,345 yards rushing.  However, Latimer quietly was in third place with 120 yards, and started one game in McCullough's place.  He had one touchdown in a near-comeback over Stanford.
In 1998 as a junior, Latimer started off the season behind a newcomer, legendary Reuben Droughns.  Despite being low on the depth chart, he worked his way up and saw the field.  An impressive performance against San Jose State (with Herman Ho-Ching injured and Droughns not 100%) Latimer had a near-100 yard performance and a touchdown in a 58-3 romp.  The following week against Stanford, he had the second touchdown of the game in a huge conference-opening 63-28 victory.
Midway through the season, Oregon lost Droughns in an unforgettable match at UCLA.  The loss gave Latimer the chance to show his worthiness the following week at home over USC.  He made the most of it, carrying the ball 25 times for nearly 100 yards in a tight 17-13 win; earning the first Autzen victory in 11 years over Mighty Troy (including a near-touchdown screen-pass-and-run that set up a score).  Truly an unsung hero of the day, Latimer bailed Oregon out more than once, including another first-down rush late in the fourth that quietly saved the game.  Only an injury prevented Latimer from going strong the remainder of the regular season; greatly thinning the backfield depth the remainder of the season that began so deep for Oregon.
UNSUNG HEROICS, GAME SAVER:

ALOHA BOWL RETURN

Oregon was very thin in the backfield at the end of the 1998 season.  Nearly every back was injured at one point in the season, including Latimer for the final regular season games.  However, he made an impressive comeback for the bowl game; having nearly every carry of the game, rushing 20 times for three touchdowns to tie an Aloha Bowl record.  Latimer carefully studied film with Coach Campbell and Offensive Coordinator Jeff Tedford to learn Colorado's biggest weakness at defending a particular run, managing to score on CU by studying.  Latimer recalls, "Tedford was convinced CU couldn't stop a play.  He had scouted them, learning there was a play opponents ran that they couldn't stop.  I scored on it once.  We kept running it, and we almost came back to beat them on it."  Oregon fell only one score short of a comeback-for-the-ages following Latimer's heroics, and likely would have tied (having such momentum) had they one additional possesson.
Latimer finished his junior season (1998) with five touchdowns and 325 yards gained, earning honorable mention for his outstanding Aloha Bowl efforts.
1999 Senior Season: Rarely-seen Tailback & Fullback Hybrid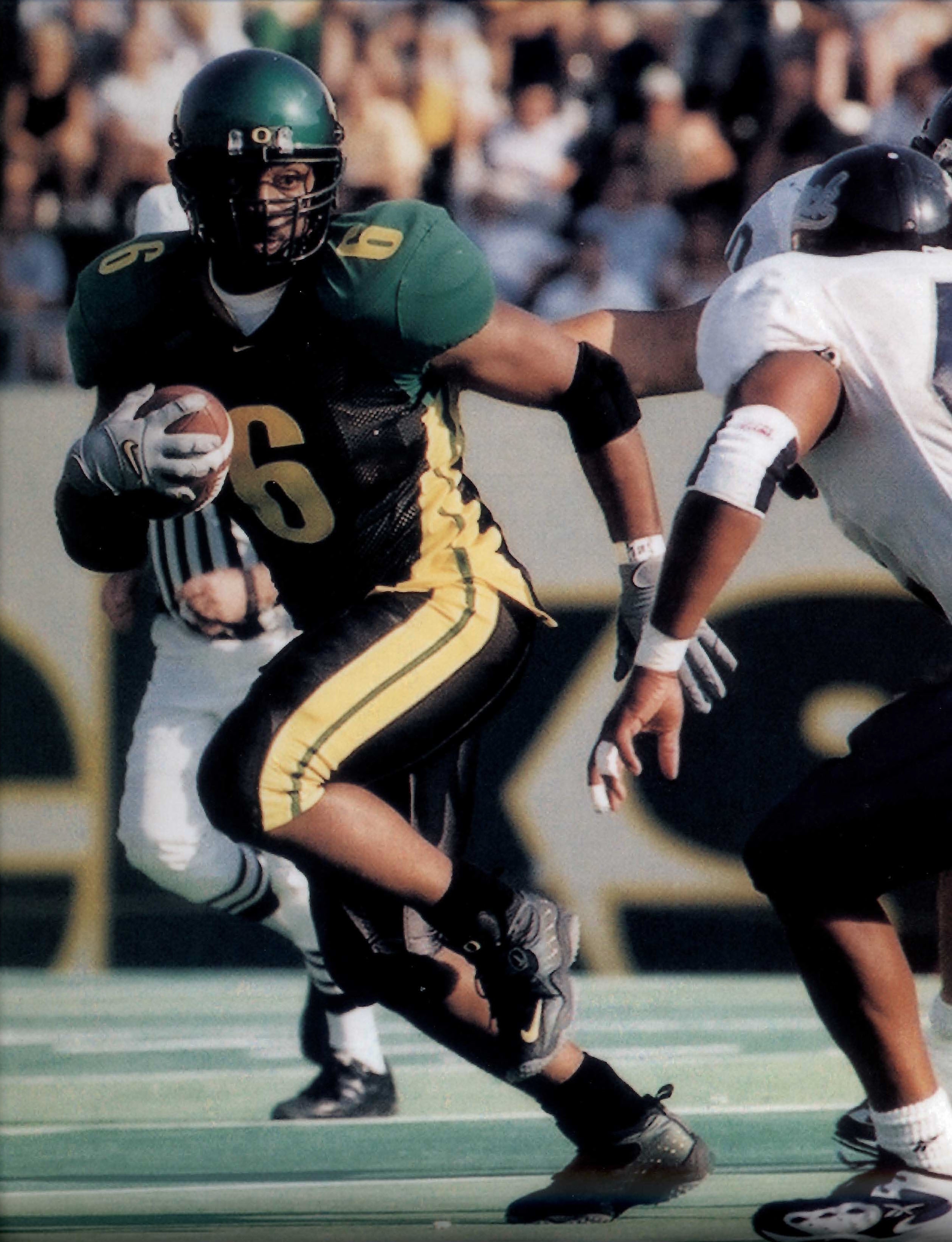 In 1999, Oregon was well-stocked at tailback with Senior Droughns and even true freshmen.  The beefed up Latimer saw an unusual hybrid position for himself, getting to play both tailback and fullback.  Earlier in the year when Droughns wasn't healthy, Latimer took over to finish out a Wild West shootout in a triple overtime thriller over USC; then started the next two games in Droughns' place to lead team in rushing and have a rushing touchdown at Washington.  When Droughns returned, many in Latimer's shoes would have never seen the field again.  Latimer, however, got to start the remainder of his senior year alongside Droughns as his key blocker.  Despite four solid fullbacks (including two senior veterans), Latimer beat them out to take over the starting fullback role and share lots of playing time with them.  Not only did D-Lat aide Droughns' 1,000 + season, but he gave opponents nightmares.  Those who took the fullback position for granted failed to notice D-Lat's speed, as he had many key screen-pass receptions for first downs, and was a double threat with Droughns.  In his semi-final homegame over Washington State, Latimer (at FB) had the first two scores; one 28 yard screen pass reception and one 35 yard rush in a 52-10 rout.  The Ducks won their final five games (including the Sun Bowl the last day of the 20th Century) and Latimer finished as the third-leading rusher and seventh leading receiver, with three touchdowns.
REMEMBERING LATIMER'S PLAYING DAYS; Q & A
Q. WHAT'S AN UNKNOWN UNIQUE FACT ABOUT YOU AS A DUCK?
1.  Nickname 'Three G's.'  Student Equipment Manager Gene Chism coined the name, given Latimer's 3,000+ High School yards.  "It got out that I rushed for so many yards.  Gene goes "I heard you rushed for three G's (grand).  It stuck.  Most team mates from back then still call me that!"
2.  "Coach Cambell went to East Texas State as my parents did.  His best friend went to college there, and his best friend dated my mom before my dad did, as we learned on his recruiting visit to my house!"
Q.  TALK ABOUT YOUR POSITION COACH, WHAT HE TAUGHT YOU, AND WHAT YOU LEARNED FROM HIM.
A.  "Coach Cambell, always so genuine.  I now work with kids each day; you can be generic with kids – or  such a humble and gracious person as him.  We would practice, and Cam would watch film after games.  He told us we'd better never fall asleep.  He told us to stand if we'd feel it!  I'll be in a meeting, hear him, and stand up hearing his voice 'LATIMO, STAND UP!'  I do that to this day!  I am a privileged human to say that man knows me. When I look at all the men he's shaped, I feel honored since I was just a guy on the team. CAMPBELL'S MOTTO: Grace and humility."
COACH RADCLIFFE MEMORY:   Radcliffe wouldn't allow us to take creatine, as most schools would.  I remember him showing us ingredients in team meeting.  Finally, Rad caved in – allowing us to take it to learn the hard way.  That fall camp, guys were getting cramped up.  One day, got stuck with Fletcher & Mclemore; they swore never to take it again!  Rad was vindicated as he always is!
Q. WHAT GAME STOOD OUT AS A TURNING POINT?
A.  "UCLA.  You couldn't help but knowing we knew we were for real after.  There's been some great teams recently; but I think that team was in the conversation (minus injuries).  That team had Tony Hartley & Griffin at Receivers; Reuben was comparable to guys to current team.  That's the team some Oregon fans don't know about; that '98 team without injuries (had Reuben stayed healthy, he was rushing for 200 each game.) ESPN Gameday was there, we were at Rose Bowl, (other than losing…) it was a perfect setting."
Q.  IF YOU COULD HAVE ONE PERSONAL PLAY BACK, WHAT WOULD IT BE?
A.  "Was in the backfield in Aloha Bowl.  Motioned out to where receiver was.  Was supposed to block corner while running quick-screen.  Field was wet, slipped, corner came up and batted ball – intercepted.  To think we lost the game by a touchdown; if I'd kept feet, at least it's not a pick-six the other way."
Q.  WHAT WAS YOUR MOST MEMORABLE GAME/MOMENT AS A DUCK?
A.  "Remember last game at Autzen (Civil War, 99).  Parents came to Autzen for first time. I started at FB, had a great game blocking for Reuben.  To win final homegame was huge. After the game, I walked over to OSU section, gave slit throat sign after the way they treated us year prior!"
POST OREGON CAREER
In 2000, following his UO Graduation, Derien Latimer married and got a job in the Springfield Schools as a multi-cultural liaison.  He taught at Springfield Middle School, later being promoted to Assistant Principal at Hamlin Middle School for five years before a big move in 2007.
OVERCOMING CHALLENGING TIMES:
In 2010, Latimer had a near-death experience.  Hospitalized with pancreatic problems, he developed diabetes, and was in Intensive Care for an extended time.  On top of that, he and his wife Pelinda had separated; and he felt he'd hit rock bottom.  However, he had a great support system and good faith to recover for his kids.  Not only did he make a strong recovery, but became a stronger person and eventually reunited with his wife.  They are a family again, and Latimer reflects on the experience.  "In order to do that, I had to reflect and change. It wasn't something that just happened overnight; it took lots of reflection, learning to put others/God first, and that's allowed me to align everything else.
"Being an athlete, relying on my body/strength didn't translate well to being a husband/father.  I wanted family/wife, but it took me a while.  Through grace of God, I've been able to change."
WHERE ARE THEY NOW:  
After starting a family in the Eugene area following their UO graduation, The Latimers moved to Colorado Springs, Colorado in 2007 where they reside today.  Derien and Pelinda Latimer (back together after a year hiatus) have four children from 4-14; and love living in the Rockies as a happy family.  Derien works as an assistant school principal and enjoys guiding kids.  He also has a passion to cook, holding a side job of his own catering business.  Pelinda, being a UO alum herself from Junction City, helps her husband encourage the kids to follow Oregon football.
FINAL MESSAGE FOR THE FANS:
"Enjoy what's ahead.  Players try to be untouchable.  But, without the fans, it's just special—that's what makes it what it is.  I tell kids I miss game day because of what fans meant.  When we come back to visit (older and wiser) – we appreciate things and are proud to belong.  Thanks for your support"
WRITER'S POSTSCRIPT NOTE:
#6 Derien Latimer was never a shining star like current #6 DeAnthony Thomas.  He never won any major awards, was never season-long captain, and didn't go pro.  However, on a personal level, I have known Mr. Latimer for years and seen what a man he has become; always knowing his work ethic to be a truly good player on and off field.  He taught the most loyal of Duck fans that showing up every day to play with your heart is what counts most, and continues to touch lives of people he comes in contact with to this day by putting them first.  All former team mates speak very highly of his inspiration, and the true fans who knew him remember his playing days fondly.  Thank you, Derien!
These are articles where the writer left and for some reason did not want his/her name on it any longer or went sideways of our rules–so we assigned it to "staff." We are grateful to all the writers who contributed to the site through these articles.
FishDuck Has New Off-Season Schedule and see the OUR BELOVED DUCKS Forum!
FishDuck articles will now be on Monday-Tuesday-Wednesday only during the off-season, and then we will go back to seven days a week during the football season beginning in August.
We will have some occasional guest articles later in the week, but the hottest Oregon football information will be posted in the OBD forum!
The Our Beloved Ducks Forum (OBD) is where we we discuss the article above and many more topics, as it is so much easier in a message board format over there.  At the free OBD forum we will be posting Oregon Sports article links, the daily Press Releases from the Athletic Department and the news coming out every day.
Be a part of the forum and stay caught up!  When you wish to post there, do know that you are protected just as you were on FishDuck. Join us on the free forum right here!
Our 33 rules at the free OBD Forum can be summarized to this: 1) be polite and respectful, 2) keep it clean, and 3) no reference of any kind to politics. Easy-peasy!
OBD Forum members….we got your back.  No Trolls Allowed!