We are excited to announce that Kevin Clark of The Wall Street Journal cited Charles Fischer and FishDuck.com as the source for his story about Chip Kelly in the Friday, January 3rd, 2014 issue, Why the Eagles Aren't Ducks.  Here is an excerpt: (You can view the full article here.)
"According to Charles Fischer, who runs Fishduck.com, a website devoted to Oregon strategy dating back to Kelly's days, he has retained some old Oregon favorites, such as "pulling" the center to block ahead of runs to the outside, and such as running the same plays multiple times in a row.  But while doing so, Fischer says, Kelly has added NFL flavors such as multiple tight end sets and even the "West Coast" offense, consisting of short passes designed to lead to running yardage after the catch."
You may recall that we received a huge endorsement from The Washington Post last summer in the article you can view here, Zone Read Crash Course, which was followed up by a second article a month later about FishDuck.com.  Here is an excerpt from writer's Keith McMillan's first article:
". . . what if you're a casual fan who doesn't really know what a zone read is?  Or perhaps a semi-die-hard who sort of knows a zone read or a read-option play when he or she sees one, but couldn't turn around and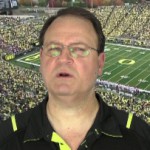 explain it to someone else?  Enter the website FishDuck.com.  I can't think of a better place to turn.  Charles Fischer runs a University of Oregon-specific Web site, and puts his outstanding teaching videos — meant to be a level below a coaches' tutorial and more advanced than what game announcers tell you — online."
While it is fun to be recognized by such large publications, some of our most satisfying moments have come in the emails from readers who enjoy Oregon football that much more than before, from the team of coaches and consultants who assist Charles Fischer in the creation of these Oregon Analyses.
We are honored as a fan website to be recognized by such publications as the Washington Post recently, and now the Wall Street Journal!
(Top photo background courtesy of Craig Strobeck, and side photo from Video)

Want to Write about Oregon Basketball?
We want to add just a few volunteer writers who wish to have fun writing about Oregon Basketball-the Mens and/or occasionally Womens too!
We teach you everything, and have incredible editors who make us all look great.
This will be the most epic Basketball season at Oregon–be a part of the fun! Contact Josh at jddw2@yahoo.com for more information.