Whether through the constantly evolving and rarely boring infamous Duck football uniforms, the noteworthy sense of pride that even an outsider of "Track Town" feels while walking past Hayward Field or the sports logo that has become a symbol of an alliance with Phil Knight and an envy of collegiate athletic programs across the nation, it is apparent that the University of Oregon cherishes its athletes and athletic programs dearly.  We love our Ducks.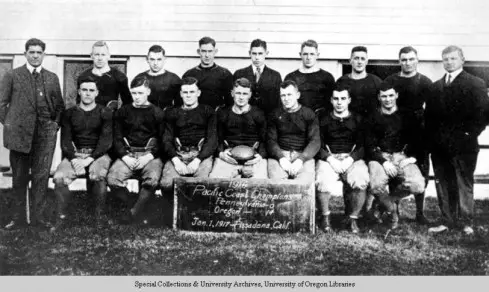 Collegiate sports serve as an integral part of colleges and universities, but if the main responsibility of such an institution (state-funded or private) is to educate its attendees, what should be said about the commercialization and for-profit exploits of a big portion of collegiate-level athletics?
Take, for example, the operating budget of the 2011-2012 year for University of Oregon Intercollegiate Athletics.  The university generated almost $25 million in revenue through Football,  Men's Basketball, Women's Basketball,  Men's Baseball, Men's Track, Women's Lacrosse, Women's Softball, Women's Track, and Women's Volleyball.  Football accounted for more than 80% of that revenue.
On top of that, another $63 million was received through donations, broadcasting royalties and other vehicles of profit generation.  In total, the revenue earned was more than $88 million.  Almost $40 million was used to fund all Division 1 athletics at the university, including many sports that generated no revenue whatsoever (such as Men's Tennis, or Women's Acrobatics and Tumbling).
After administrative and other expenses, the total input (money going into University of Oregon athletics) was $88,325,000.  So, athletics at the University of Oregon are a million dollar industry, but all of the collective revenue is used to sustain the system.
Not to say that head football coaches of power-house teams like Oregon aren't making millions of dollars per year (they are), but that some athletic programs at UO wouldn't exist without the funding they receive from revenues generated through popular sports such as football and basketball.
On Wednesday, March 26, the National Labor Relations Board made a decision that will allow scholarship football players at Northwestern University to unionize.  The decision was based off the argument that the relationship between a Northwestern football player on a scholarship from the university is similar to that of the relationship between an employee and an employer.
According to The New York Times, the decision argued that, "It cannot be said that the employer's scholarship players are 'primarily students.'" And many would agree that the time a student-athlete dedicates towards university athletics must make extremely challenging, if not hinder his or her ability to perform exceptionally in rigorous academic curriculum.
In an article from the New York Post, Kain Colter, the Northwestern quarterback leading the case stated referring to a student-athlete's relationship between athletics and academics that, "You fulfill the football requirement and, if you can, you fit in academics."
The decision marks the first action taken in the long and frequented debate over the eligibility of NCAA athletes to receive pay for their participation in athletics.  Will collegiate athletes be receiving salaries in the next few years?  I deem it highly unlikely.
It's also important to note that the decision in its current form could only catalyze further decisions for privatized institutions, as the N.L.R.B has no jurisdiction over public universities, which are absorbed by state law.  So, if the University of Oregon football players decide to follow Northwestern's lead in the issue, they'll have to do their collective bargaining through the state of Oregon.
A student-athlete can be partially compensated for their services to athletic programs at a college or university through a scholarship, yes, but to say that athletics do not detract from such a student's performance in academics is to be sorely mistaken.
On a fundamental level, students who participate in athletics are drawn away from the principle purpose of attending an institution of higher education that is academics, even if they do make a contribution to the institution in helping support programs that might not receive funding if it weren't for the revenue that some sports generate.  However, the idea of providing salaries to student-athletes is blasphemous and entirely contrary to the purpose of collegiate sports.
One solution would be a retreat to the early days of collegiate sports, when the sole purpose of athletics was recreation, comradery and school spirit.  But to wish for such is only idealistic.  The changes to and rise of popularity of collegiate sports are irreversible.
Perhaps collegiate athletes do deserve some protection against the commercial desires of the NCAA and big conferences that characterize college athletics today.  But one thing is for certain: we love our Ducks, and so does the industry.
Top photo from AP files

These are articles where the writer just had a few, or for some reason did not want their name on it any longer–so we assigned it to "staff." We are grateful to all the writers who contributed to the site through these articles.
SIGN UP for the New FishDuck Commenting/Posting System!
The first step toward some big additions to the site is moving away from the Disqus system, to our own new commenting/posting system for the great discussions below the articles.
It takes a minute is all, and will allow us to continue our amazing discussions of Oregon Sports in a new format that will allow more flexibility over time as we add features.  Sign-up now!  
Mr. FishDuck