Joint injury, especially early in life, increases the risk of developing osteoarthritis later in life. Knowing exactly what happens during joint injury may help you understand its relationship to osteoarthritis.  The goal, though, is to shift the focus to joint protection and prevention of joint injury.  If joint injury can be prevented, the risk of osteoarthritis decreases.
It is fairly common to read about football players who develop osteoarthritis — everyone knows that injury upon injury in such a hard-hitting sport takes a toll.  But it's not just injury of that magnitude that is associated with osteoarthritis.
Young people who experience traumatic knee injury for any reason and middle-age people with hip or knee injuries have a significantly greater risk of developing osteoarthritis in the same joint years later. While you can't completely avoid accidents and injury, you can be cautious and focus on proper body mechanics and joint protection principles later in life.  Knowing exactly what happens during joint injury may help you understand its relationship to osteoarthritis. The goal for us all is to shift the focus to joint protection and prevention of joint injury.  If joint injury can be prevented, the risk of osteoarthritis decreases.
Comparing normal, osteoarthritic, and rheumatoid arthritic joints:
Osteoarthritis gradually worsens with time, and no cure exists.  Nevertheless, osteoarthritis treatments can slow the progression of the disease, relieve pain and improve joint function.
Osteoarthritis is the most common form of arthritis, affecting millions of people around the world.  Often called wear-and-tear arthritis, osteoarthritis occurs when the protective cartilage on the ends of your bones wears down over time.
While osteoarthritis can damage any joint in your body, the disorder most commonly affects joints in your hands, neck, lower back, knees and hips.
Rheumatoid arthritis is a chronic inflammatory disorder that typically affects the small joints in your hands and feet.  Unlike the wear-and-tear damage of osteoarthritis, rheumatoid arthritis affects the lining of your joints, causing a painful swelling that can eventually result in bone erosion and joint deformity.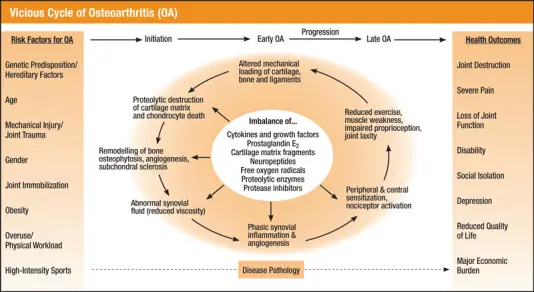 An autoimmune disorder, rheumatoid arthritis occurs when your immune system mistakenly attacks your own body's tissues.  In addition to causing joint problems, rheumatoid arthritis sometimes can affect other organs of the body — such as the skin, eyes, lungs and blood vessels.
Although rheumatoid arthritis can occur at any age, it usually begins after age 40.  The disorder is much more common in women than in men. Treatment focuses on controlling symptoms and preventing joint damage.
The incidence of OA rises with age, with estimates that OA affects 12.4 million adults ≥65 years of age.  OA occurs more frequently in women, particularly after reaching 50 years of age.  Women are also at greater risk for developing OA in the knee or hip.
RA, unlike OA, is an autoimmune condition characterized by inflammation, usually in bilateral joints, and systemic features, such as fatigue or fever.  RA is estimated to affect 1.5 million adults.  RA sufferers are typically younger than those who develop OA, with RA occurring between 20 to 30 years of age, and the incidence peaking at 35 to 50 years of age.  The incidence of RA is higher in women with a higher lifetime risk (3.6%) compared to men (1.7%).
While there are no cures for OA or RA, treatments that slow or halt the progression of RA are available.  Unfortunately, the same is not true for OA, where current pharmacologic treatment focuses on symptomatic relief.
Changes to bones (broken) and connective tissues (ligaments and tissues) often lead to osteoarthritic processes that may take years to become symptomatic.  I broke both my ankles three and a half years ago, and now have osteoarthritic symptoms (particularly a good deal of pain, on occasion).  They will worsen over time, and will make normal walking more difficult as time progresses.
Young athletes can expect that this OA process may occur if they have such injuries to knees, ankles, spine, shoulders, legs, and arms.  It may take several years for the symptoms to occur, and perhaps, new treatments beyond the use of painkillers may be discovered for OA that will alleviate the symptoms more successfully.  Such research is ongoing.
Joint protection is the new focus.  The prevention of injuries, or the amelioration of injuries, can bring big dividends to most of us.  Here are the basics:
Recommendations for Osteoarthritis Prevention
There are certain genetic risk factors that may determine if someone will develop osteoarthritis.  These may be outside of your control, however, yet there are certain lifestyle changes you can make which may reduce or prevent development of the disease.  There are six basic recommendations for osteoarthritis prevention:
1 – Maintain Your Ideal Body Weight
It has been estimated that the force of three to six times a person's body weight is exerted across the knee while walking.  In other words, being 10 pounds overweight increases the force on the knee by 30 to 60 pounds with each step taken.  The force across the hip is at most, three times body weight.  Losing weight will reduce the stress on your joints.
2 – Exercise Regularly and Participate in Regular Physical Activity
For optimal joint health, it is recommended that people perform 30 minutes of moderately strenuous exercise at least five days a week.  Lower levels of exercise can also be beneficial, according to study results.  It's better to get some exercise as opposed to no exercise.
3 – Protect Your Joints
There are several joint protection principles, which if followed will help conserve energy and preserve joint function.  The advice is quite simple, but you must be mindful of proper movements and recognize body signals (e.g., pain).  Good posture and proper body mechanics will protect your joints, and is a factor in osteoarthritis prevention.
When you keep your arms, hands, legs or other joints in the same position for a long time, the joints become stiff and muscles strained and tired. Avoid staying in the same position such as standing or gripping, for a long period of time.
4 – Avoid Repetitive Stress on the Joints
Too many uninterrupted repetitions of an activity or motion, unnatural or awkward motions, overexertion, incorrect posture, and muscle fatigue all contribute to joint stress.  These types of activities are often associated with your occupation, so try to find solutions at your workplace and avoid prolonged periods of repetitive stress.  The extra effort you need to do your work and activities, along with the pain you feel, can be tiring.  Depending on how you feel, you may need larger amounts of rest.  Brief rest periods during the day, particularly for the affected, painful joints, may be very helpful.   Allow a painful joint to rest using a splint if one was prescribed for you.
In osteoarthritis, the small joints of the fingers and the base of the thumb are usually affected.  Try to limit stress on these joints by avoiding tight gripping and pinching.  Use the palm of your hand and open fingers to hold objects.  Use adaptive equipment to help take stress off joints during daily activities.
Larger joints and muscles can take more stress and weight than smaller ones.  Using small joints again and again puts more stress on them and may lead to deformity.  Try to spread the strain and weight over several joints.  This helps you use each part of your body to its best advantage.
5 – Listen to Your Pain
This recommendation seems so obvious, yet people don't always do it.   Learning to view pain as a signal that you are overdoing it and that it's time to rest requires conscious effort.   Balancing rest and activity is optimal for healthy joints.  It's part of self-management to learn not to overuse your joints or push past your limits.  Consider the pain is like a stop sign.   "No pain, no gain" is one of the stupidest sayings in exercise and training.   Be aware of pain.   It is a signal from your body that there is more stress on a joint than there should be.
Locate where you hurt and what brought on the pain.  Look at the position of  joints during activities that are painful and try to place the joint in a less stressful position next time.   If joint pain lasts longer than one hour after an activity, reduce the effort or amount of work you put into the activity or change your way of doing the activity so that it does not cause pain.
6 – Avoid Injury to Joints
Previous joint injury is recognized as a common cause of osteoarthritis.  In joints burdened by improper alignment due to injury, articular cartilage wears away and osteoarthritis can begin to develop.  Avoid injury if at all possible – and if you do injure a joint, seek treatment immediately.
Studies support an appropriate exercise program as part of multidisciplinary management of osteoarthritis.  It's common for osteoarthritis patients to have deficiencies in gait, range of motion, strength, and flexibility – even endurance.
As part of a multidisciplinary approach, a healthy lifestyle focusing on good nutrition and weight management is realistic.  Educating yourself about the role of diet and exercise and a consultation with your doctor is a positive approach.
The good news is that swift injury treatment, pain medications when required, and following the six steps of osteoarthritis prevention can help you keep active long into your elder years!  Failure to take care of yourself can lead to a swifter progression of the disease and greater disability down the road.
Top photo by Kevin Cline
NeuroDocDuck (Dr. Driesen) is a doctor who specializes in neurology, and sports medicine. He is an Oregon alumnus, completing his medical education and training in the UK. He has been both a practicing clinician and professor, a well-known and respected diagnostician, an author, and has appeared on national television.
NeuroDocDuck is active in his profession, and stays current on all new trends in his field. He enjoys golf and loves his Ducks!
FishDuck Has New Off-Season Schedule and see the OUR BELOVED DUCKS Forum!
FishDuck articles will now be on Monday-Tuesday-Wednesday only during the off-season, and then we will go back to seven days a week during the football season beginning in August.
We will have some occasional guest articles later in the week, but the hottest Oregon football information will be posted in the OBD forum!
The Our Beloved Ducks Forum (OBD) is where we we discuss the article above and many more topics, as it is so much easier in a message board format over there.  At the free OBD forum we will be posting Oregon Sports article links, the daily Press Releases from the Athletic Department and the news coming out every day.
Be a part of the forum and stay caught up!  When you wish to post there, do know that you are protected just as you were on FishDuck. Join us on the free forum right here!
Our 33 rules at the free OBD Forum can be summarized to this: 1) be polite and respectful, 2) keep it clean, and 3) no reference of any kind to politics. Easy-peasy!
OBD Forum members….we got your back.  No Trolls Allowed!