You may be familiar with the name "Johnathan Loyd" if you're an avid Oregon basketball fan.  And if you were in attendance for the highly-anticipated spring game, you'll remember chuckling as the voice of Autzen, Don Essig, introduced the freshly-tackled first-year senior with the quip: "Welcome to football, Johnny Loyd."
It's been awhile since Loyd stepped onto a football field and he'll be the first one to admit it.  But, his return to the game has become iconic here in the northwest.  The spring game is never supposed to be perfect.  Loyd certainly wasn't, but that was to be expected after a four-year football hiatus.
In high school, Loyd was a 5′ 8″, 163 lb,  two-sport star.  Clearly basketball won his devotion; however, he couldn't help but return to the gridiron once the other door closed.  Loyd grew up in Las Vegas, attending Bishop Gorman High School.  There he played cornerback and returner.  He tentatively ended his football career averaging 32.6 yards per return kick, including five that went for touchdowns, and 23 tackles with 2 interceptions in 2009.  These achievements garnered him the first-team all-state return man his senior year (2009).
Coming on the team in a rather unusual style — to play as a fifth-year senior in a sport he's just joined — Coach Helfrich allowed him to pick his position.  Naturally they assumed he would take up his old position of cornerback, but he surprised everyone by going the receiver rout.  Loyd defended his choice by stating: "That's one thing I can do — I can catch the ball.  I can run and I can catch.  Receiver is not too much different than anything else." His decision can only strengthen the receiving corps which lost two of its best receivers last year.
For Loyd, spring ball was about shaking the rust off and growing.  And he did so at an alarming rate.  It's incredibly rare to discontinue performing — for four years — in a high-intensity sport such as football.  To return after those four years and still be able to compete with the best of the best, is an astonishing feat.
His teammate and good friend, Keanon Lowe, had a heavy hand in recruiting the former basketball player.  He commented on Loyd's progress with high praise: "… [H]e's out here with the Oregon Ducks and holding his own.  You can tell he's a natural football player." Lowe went on to say that Loyd didn't drop a single pass his first practice.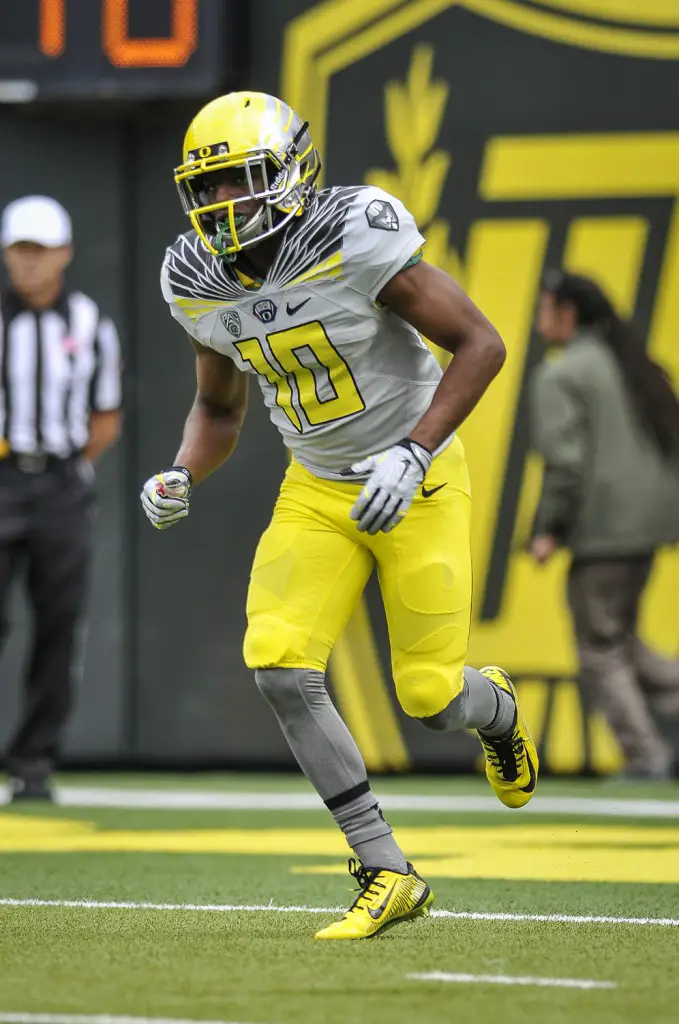 Helfrich had been thoroughly impressed by Loyd's performance during training and expects some great leadership out of the senior.  He allowed Loyd a fair amount of game time on Saturday to better assess his skills and where he'll fit in next year's roster.
Mistakes were made, hits were taken.  All were necessary evils, though, to continue Loyd's transition back to competitive football.  Helfrich and Loyd know where they need to work to get the former basketball star on the Oregon Duck level.  Summer training is now upon them and Loyd can only improve from here.
It will be exciting to see Johnathan Loyd in action again come fall, in whatever capacity he's allowed. During the spring game he did his receiving duties, though it's more likely we'll see him get more game time on special teams.
He's already got we fans behind him after winning our hearts on the basketball courts. Let's see if the winningest player in Oregon basketball history can bring that magic to Autzen Stadium and help make this the Ducks' winningest season.  National championship, here we come.
And welcome (back) to football, Johnny Loyd.
Top photo by Kevin Cline

CAN YOU HELP US?
The pictures you see of the Ducks on FishDuck.com come from professional photographers that must be paid! Please donate through one click so we have pictures from all the games this fall to use through the year. All previous donations helped to pay our big Web Developing bills recently, and I do appreciate it.
Our staff and the photographers who have thousands of dollars invested into their equipment to provide the high quality pictures do sincerely thank you.   Charles Fischer