It began in 2009, when Chip Kelly, in his inaugural year as head coach, took a Ducks team to the Rose Bowl for the first time since 1995. The 2010 season followed with a national championship appearance, and 2011 saw the Ducks end their 95-year-long winless drought in the Rose Bowl.
The triumphs of those three seasons combined brought the program to a new height they have yet to relinquish. With newfound levels of success come newfound expectations and ambitions — perhaps somewhat unrealistically.
When Kelly left the Ducks in 2013  to coach the Philadelphia Eagles, those same expectations followed Mark Helfrich, though he had never coached a college game as the head man. Granted, Helfrich was taking over a very talented team on paper, but there was an obvious learning curve to the job.
Still, several experts mentioned Oregon in the same breath as other national championship contenders, and many fans grew increasingly confident that the Ducks were headed to Pasadena to play in the title game. And then some became a little too confident.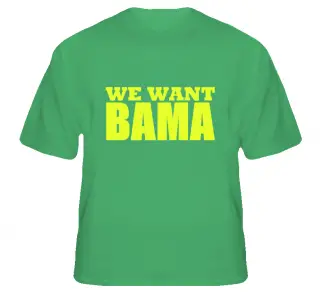 These now infamous shirts represented the increasingly boastful attitude of many Oregon fans. Sure, it was all in good fun, but wasn't it also a little too presumptuous?
In the end it was, as the Ducks lost to Stanford two weeks later for the second consecutive year, in an uncharacteristically sloppy game. The national championship dream was fading, but a Rose Bowl trip was still very much within reach.
That was until a head-scratching loss to an unranked Arizona team who didn't win any games against ranked opponents besides Oregon. There were other factors out of the team's control, such as Marcus Mariota's banged up knee, that led the Ducks to a season not meeting their current standards.
It's highly unlikely that the Duck players and coaches were influenced slightly, if at all, by the many fans who proclaimed that their team was a lock for a national championship. However, it's very possible that the Ducks, in their first year with Helfrich as head coach, lost sight of the mental approach that gave Oregon an edge in prior seasons.
As much credit as Kelly received for his innovative offense, his ability to keep the team focused on the week at hand – and absolutely nothing else — was especially crucial to Oregon's success.
Today's season opener against South Dakota marks a clean slate for the Ducks after last season's frustrating finish. Expectations for this season are at an all time high. Many are saying this could be the most talented team of any from the past five years. That statement could very well be true, but it will mean nothing if the Ducks expect to waltz through any part of this season.
While the Ducks may be as talented as ever, their schedule might also be tougher than ever. A challenging non-conference game with Michigan State next week, combined with PAC-12 games in a conference that seems to be growing stronger annually will require the utmost focus from everyone.
But the Ducks shouldn't be thinking that far ahead yet. They must consistently focus their attention on the opponent in front of them each week in order to be successful. And this week, the opponent happens to be South Dakota.
Top Photo by Craig Strobeck

Will Denner is a junior at the University of Oregon majoring in journalism with a focus in electronic media. Since he worked for The Oregonian as a freelance sports reporter, he has known for sure that he wants to pursue a career in the field of journalism. Will is most passionate and knowledgeable about Oregon Ducks football, basketball and softball. You can follow him on Twitter @will_denner
SIGN UP for the New FishDuck Commenting/Posting System!
The first step toward some big additions to the site is moving away from the Disqus system, to our own new commenting/posting system for the great discussions below the articles.  Signing up now will automatically have you registered in the new forum that will be released in the next three weeks.
It takes a minute is all, and will allow us to continue our amazing discussions of Oregon Sports in a new format that will allow more flexibility over time as we add features.  Sign-up now!  
Mr. FishDuck