I know you're shaking your head at my title; "Charles is shameless in how he tries to get hits." There is truth in the shameless part, but there is also truth in how Royce Freeman made a huge play to help his teammates score a touchdown AND protect his quarterback, Marcus Mariota, from serious injury.
Coach Tony Hoolulu in Hawaii pointed out this consequential play for all of us to study, as well as some other aspects in the finer points of stopping the opponents' defensive line rush when the Ducks have a pass play on. If there EVER was a time for taking a look at the Oregon Pass Protection tactics, the week after having seven sacks is it!
I know it is painful, but let's look at what the Cougars did well and how we will deal with it in the future. Above we see that before Washington State runs a "Tackle-End" twist on our right side. Whether it is "End-Tackle" or "Tackle-End" is dependent upon who goes first. In this case we will see the defensive tackle of the Cougars on our right side explode inside, while the opposite is occurring on the other side of the LOS.
On our left side-Tyrell Crosby (No. 73) controls the initial push (above) by the defensive end superbly and Hamani Stevens (No.54) has his defensive tackle handled. On our right side … it's not good, as the WSU defensive tackle (No. 96) has exploded past our offensive guard** and doomed our pass play from the beginning. You don't see the Washington State defensive end as he out of view when he loops around our guard on the right side. That is the essence of the twist; one DL goes inside with another DL looping around to mess up pass blocking schemes, adding sacks at will.
(**Before the fact-checkers notify me … I KNOW who the guard is, and there is no need to call him out. He has made tons of other tremendous blocks that have led to touchdowns. Let's focus on the Ducks who are doing their assignments well, and give credit to the opponent when they do theirs better. None of us bat 1.000 — Charles Fischer)
Yep … we got eaten up on this play, above. Tremendous execution of the tackle-end twist by the Cougars, and the young guns of Oregon showed their inexperience on this play.
Kudos to the WSU defense and THANKS, as our Men of Oregon took note and improved in practice this week as a result. The best part is we won the game while learning! Cool.
As the play begins above, you see the charge of the Michigan State linemen. The yellow arrow points to Hamani Stevens, while the green arrow refers to Jake Fisher, and the red arrow is on Andre Yruretagoyena. Those were the days!
It was hard to see, but Jake purposely split out wider than a younger player would. Coach Tony explained that since he has fast feet — he gives the DE more room and he wants the one-on-one battle. Above we see how the defensive end exploded inside on Fisher and the Duck moved quickly to stem the attack and begin to pass the defender to his teammate, Stevens. It is an "End-Tackle" twist as the end has gone first this time. If we were on the field we would hear Jake yell "IN" while Hamani would be yelling back "OUT!" (Remember how reports referred to communicating better, and this is a superb example of it).
C'mon. Get excited for offensive linemen! What you see above is a beautiful thing, as at the top you see Andre Y (No. 72) in control of his man and Cameron Hunt has his guy as well (on Andre's left). The yellow arrow points to Stevens and the green arrow is on Jake – BOTH controlled the MSU twist wonderfully. My friends — the coaching and the talent is there; we will be better!
Look at the footwork of the Duck offensive linemen! Be proud! Notice, as well, the pocket presence of Mariota, which is astounding.
Now, let's examine the big touchdown by Devon Allen and look at an unsung hero of that play.
Above we see the play before it began and again — look at those splits between linemen! The green arrow on the right is between the right guard and tackle (Tyrell Crosby, No. 73), while the left green arrow is between guard Stevens, and tackle Fisher. The split on the left side is HUGE — and — I love this player who is my namesake!
Jake is looking at the defensive end who is WAY out there and seems to be saying with his super-wide split, "I can take you with no help." Geez that's a tough guy. The linebacker off the ball that the left arrow is pointing to? That is Freeman's man to block if he blitzes …
Look how Fisher (on the extreme left) is driving the DE away already! Stevens (No. 54) got surprised by his defender bolting to his left after lining up on his right, but he's moving his feet and getting his body on the defensive tackle. Grasu (No. 55) is in great position, but Crosby (No. 73) surprised me by helping Hunt with his man, while that defensive end on the far right of Michigan State seems to have an easy line to the quarterback.
You gotta love the Oregon tackles on this play as we see Crosby (right yellow arrow above) burst outward to cover the MSU defensive end, while Fisher is moving his defender behind and away from Oregon's prized QB. Coach Tony explained that the center and guards are responsible for the depth of the pocket, while the offensive tackles handle the sides of the pocket.
Note the huge gap in the middle when Hamani is pulled away – as is Hroniss. That is a damn good blitz plan by the Spartans …
Holy Crap! We have two blitzing linebackers coming right up the middle to blast Mariota and only one man, Freeman, stands in the way. Technically his man to block is the LB to the left, but what about the other one coming? That is Marcus's man! Both Coach Tony AND Grasu explained in an interview with me Sunday at the Hatfield-Dowling complex how that is the "hot" LB for the QB, thus Marcus is to find the hot receiver and get rid of the ball. But what if you need an extra second?
Coach Tony explained that Royce could have just "held" his position and been correct, but instead he took an extra step forward and propelled himself into the two blitzing linebackers (green arrow above and hidden in front of Mariota) and thus gave Mariota a couple more feet to work with.
If Freeman had not? Maybe the two athletic Michigan State linebackers blast both Royce and Marcus and drive them back. What if Mariota's foot is planted as he throws? The risk of foot, ankle and knee injury is obvious, while breaking a finger on his throwing hand from hitting a helmet is not.
As you see above, Allen is clearing the safety covering him and the Mariota's perfect pass results in a touchdown. Every man on the Oregon offense did his assignment, and everyone played an important role — even the least obvious — such as the RB blocking!
"Oh how we love to learn about our beloved Ducks!"
Charles Fischer  (FishDuck)
Oregon Football Analyst for CNN Network/FishDuck.com
Eugene, Oregon
Top Photo from Video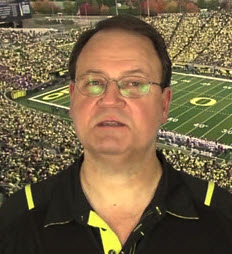 Charles Fischer has been an intense fan of the Ducks, a season ticket holder at Autzen Stadium for 35 years and has written reports on football boards for over 23 years. Known as "FishDuck" on those boards, he is acknowledged for providing intense detail in his scrimmage reports and in his Xs and Os play analyses. He and his wife Lois, have a daughter Christine, reside in Eugene Oregon, where he was a Financial Advisor for 36 years and now focuses full-time on Charitable Planned Giving Workshops for churches and non-profit organizations.
He does not profess to be a coach or analyst, but simply a "hack" that enjoys sharing what he has learned and invites others to correct or add to this body of Oregon Football! See More…
FishDuck Has New Off-Season Schedule and see the OUR BELOVED DUCKS Forum!
FishDuck articles will now be on Monday-Tuesday-Wednesday only during the off-season, and then we will go back to seven days a week during the football season beginning in August.
We will have some occasional guest articles later in the week, but the hottest Oregon football information will be posted in the OBD forum!
The Our Beloved Ducks Forum (OBD) is where we we discuss the article above and many more topics, as it is so much easier in a message board format over there.  At the free OBD forum we will be posting Oregon Sports article links, the daily Press Releases from the Athletic Department and the news coming out every day.
Be a part of the forum and stay caught up!  When you wish to post there, do know that you are protected just as you were on FishDuck. Join us on the free forum right here!
Our 33 rules at the free OBD Forum can be summarized to this: 1) be polite and respectful, 2) keep it clean, and 3) no reference of any kind to politics. Easy-peasy!
OBD Forum members….we got your back.  No Trolls Allowed!