Football Recruiting
Commitments
This past weekend's 62-13 bludgeoning of South Dakota came complete with a "Quack" from one of the west coast's top preps. Tabbed athlete Malik Lovette (4-Star/Redlands, CA/Rivals250) committed to Mark Helfrich and Co. prior to Oregon's Saturday night romp, further stacking speed with likes of fellow commits Taj Griffin (4-Star/Powder Springs, GA/Rivals100) and Travis Waller (4-Star/Anaheim, CA/Rivals100).
News of Lovette's commitment trickled out when prep coach Kurt Bruich announced via Twitter that the speedy jack-of-all-trades had indeed given the nod to Lightning Yellow and Thunder Green.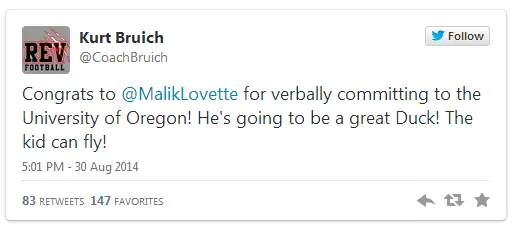 Lovette becomes Oregon's 13th commitment in the 2015 class and moves the Ducks into a very favorable position as mid-cycle commitments have been a-plenty from several top skill position players. Oregon will now focus on highly-touted southeast-based runner Kirk Merritt (4-Star/Destrehan, LA/Rivals100) who will be in town on October 31st for an official visit. Stay tuned!
Visits
Connected throughout the whole of the 2015 recruiting cycle, Oregon may finally be making headway with top defensive talent Marvell Tell (4-Star/Encino, CA/Rivals100). Recently added to the visitor list for this upcoming weekend's matchup with Michigan State, Tell will get a first-hand glimpse at what it means to suit up for defensive backs coach John Neal. A quick-to-cover safety, Tell uses a lanky 6-foot-3, 185 lb. frame to find angles on opposing ball carriers and doubles as a viable threat in the passing game when called upon. Now that an official visit has been secured, Neal will no doubt pull out all the stops for one of the country's premier defenders.
Also in town for this week's day of days, class of 2016 member Seth Green (4-Star/Woodbury, MN/Rivals250) will find himself in familiar surroundings as the midwest quarterback gets another look at the Oregon campus.
"(Oregon) told me I'm the first quarterback they have offered in my class," said Green earlier this year. "That feels pretty amazing to have them think so highly of me."
Named the leader for his LOI signature of the 6-foot-2, 210 lb. Green, Oregon could easily put the field out of reach with a resounding visit this coming Saturday. Green intends to announce his commitment next spring and play through his senior season as a solidified commit, so stay tuned!
For up-to-the-minute recruiting news, please visit our friends at DUCK TERRITORY, who graciously provide FISHDUCK with in-depth analysis and player-generated material. Look for my latest recruiting update every Wednesday. WTD!!!
Top photo by Kevin Cline
Follow me on Twitter: @MarkDFlores
Be sure to like us on Facebook: FISHDUCK.COM


Mark Flores, a Salem, OR resident, is a Firefighter/Paramedic and an avid Oregon Ducks fan. Prior to the fire service, Flores, a graduate of nearby Corban University, spent over seven years in professional journalism including a stint at the Statesman Journal in Salem and held the position of Sports Editor for the Hilltop News (Corban). A career transition however never dampened his love of writing and FishDuck is now his source to share his love of Mighty Oregon. Flores brings detailed knowledge of Oregon recruiting to the FishDuck team and welcomes your feedback.
Please! No Politics…NOTHING Hinted, Implied, Linked…
My friends, I've had to delete six comments in the past six weeks that made some political reference, hint, link or implication from both sides of the political spectrum.
I delete all equally. Please see the rules page and read the rule below…
No. 12: No Politics and Religion: I do not allow even a hint of politics or subtopics pertaining to politics; no names, no terms, no links, not even a word or any references pertaining to anything political. Any of the aforementioned could initiate a political discussion, and veering in that direction at all will cause a site meltdown in today's acrimonious climate.
We do not allow anything negative directed at any religion, toward anyone in the LGBT community, or toward any race, gender or ethnic group. All of us in the categories above are fellow Ducks, and we want to hear all viewpoints.