The Ducks' game against Arizona was my first experience at Autzen, and man, was it an experience to remember!  Despite the unfortunate loss, the fans were absolutely insane, especially around me in the student section. It definitely beats the Stanford fans. I was actually standing and cheering the whole game! This week I'll be watching the game with my friends and other students on campus for a possible PAC-12 Championship Game preview, at least according to many experts. I, on the other hand, believe that UCLA is overrated. Yes, overrated, but still very dangerous. Let's take a look at what makes UCLA a challenging team.
The Bruins' offense looks eerily similar to our own Feathered Friends' offense. UCLA runs an option based spread offense. So, let's begin with their inside zone read play. Above, you can see a screenshot from the UCLA vs. Memphis game earlier this year. The Bruins' offensive line is going to run a zone blocking scheme against Memphis' 3-3-5 formation. The important part of this play is deciding where the hole is going to be. Depending on how the defense lines up, the hole is either going to be between the center and left guard or the left guard and the left tackle.
To better understand understand this play, I first need to show you how to tell whether an offensive lineman is covered or uncovered. First, a lineman is covered if there is a defensive player lined up either directly in front of him or on his playside shoulder. Conversely, a lineman is uncovered when there is a player lined up on his non-playside shoulder. In this particular case, the left side is the playside.
The left guard in this play is covered, so typically the left guard is going to block the defensive end out and make a hole between the center and himself, but the end is going to cut inside so the left guard can seal off the end and make a hole between himself and the left tackle. Finally, the wide receiver wide left is going to run a streak to "run off" the corner back so he can't make a play until the RB has already made his way 7-8 yards downfield.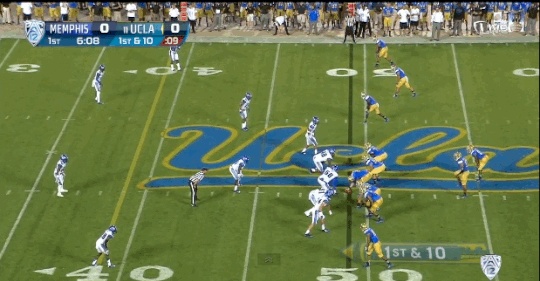 This next play we are going to look at is a high risk, high reward play and will almost always result in either no gain or a 10 yard gain or more. As you can see in the screenshot above, the Bruins are lined up in doubles. This play is called either a bubble screen or a wide receiver screen, depending on whom you talk to. The play is going to be a play action pass with the Bruins faking the inside zone.
As you can see in the screenshot above, the play action leads the linebackers and the other players in the box to either bite on the fake or at least step towards the line and away from where the actual play is going to go. Now, the ball is going to be thrown to one of the two outside receivers who basically just takes a step back and look for the ball.
This play puts the ball in your playmaker's hands and all he generally has to do is beat one man since the inside receiver is running a route downfield that will take the man covering him away from the play. Teams will run this play in order to get their playmakers into space. For UCLA these players are Jordan Payton (#9), Devin Fuller (#7), and Eldridge Massington (#82).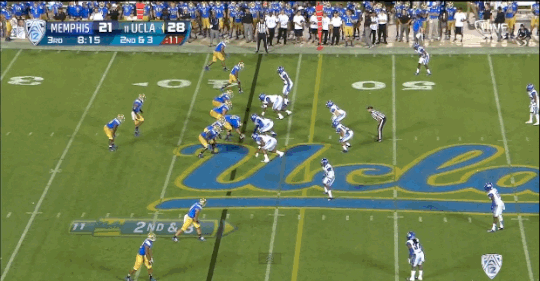 The result of the play is a 30 yard gain and a much needed boost for the UCLA team in its tight matchup with Memphis.
Oregon's game against UCLA last year was a tale of two halves and maybe even three quarters and one quarter. As you may remember, the score at halftime was 14-14. The score at the end of the game: 42-14 in favor of Oregon. That's unreal. Obviously, Helfrich and his fellow coaches made some impressive and effective halftime adjustments. Let's hope we won't need any significant halftime adjustments this year. Just as our Feathered Friends are doing right now, we are going to take a look at what UCLA did so effectively to stymie our offense for the first half.
As you can see above, UCLA has six players in the box, three lineman and three linebackers. This is an interesting formation as that means that UCLA seemingly only has six players to stop the run. I suspect that a significant reason UCLA employed this approach is that they had Anthony Barr, the ninth overall pick in the NFL draft, as well as linebackers like Myles Jack and Eric Kendricks who are well-equipped to stop the run in the game.
As you can see above, the middle linebacker is blitzing in the strongside A gap. If you don't know what I'm talking about when I mention "gaps," take a look at this article from Mr. FishDuck himself explaining the gaps system. The three defensive linemen are going to clog up the remaining holes and force the running back to take the hole that leads right into the waiting linebacker.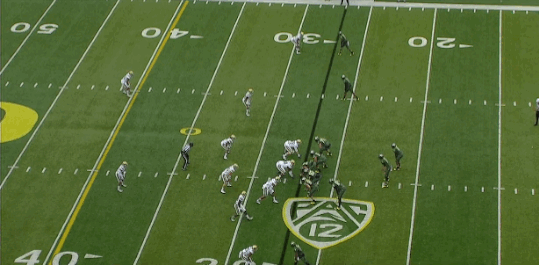 Occasionally, one or two players on the line will shed their blocks and get to the running back for a tackle for a loss or minimal gain as the Bruins do on this play.
The Bruins were a popular pick for the inaugural College Football Playoff at the beginning of the year but have had a shaky start. The Ducks must not let that get to their heads though, since the Bruins have playmakers on both sides of the ball. The play of pre-season Heisman candidates Brett Hundley (#17) and Myles Jack (#30) indicates to me that the score of this game will be a close 38-27 in favor of Oregon. I think our Ducks have learned from their mistakes and realize that this is going to be a much more difficult season than they had thought. Oregon/UCLA should be an exciting game that will have the Rose Bowl rocking.
"Oh how we love to learn about our opponents on FishDuck.com"
Rory Davidson
Opponent Football analyst for CFFNetwork/FishDuck.com
Eugene, Oregon
Top photo by Craig Strobeck

Rory Davidson: Rory (Football Analyst) is a sophomore at Oregon in the fall (Class of 2018). He has been a devout Stanford football fan since he was 2 months old and is excited about the energy and greatness Oregon sports has to offer. For the past 6 years he has been doing advanced data analytics for his high school football team and working alongside the coaches to understand how they strategize about the game. He wants to integrate more statistics into his analyses and try to help readers learn about and understand the future of sports.
Mr. FishDuck … You Simply Can't Handle MY Opinions!

Baloney. I want all opinions here as it enables us see the full spectrum of ideas and helps us to learn from others and modify our own views as a result. In fact, this is the only Duck website where you can safely share your full-spectrum views on Oregon Sports.
If there is a problem … it is with your behaviors, and not your opinion, even if unpopular. Be polite and courteous to others and you will be reciprocated, and consequently you'll have a tremendous experience on FishDuck.
The majority of our rules can be summarized to this: 1) be polite and respectful, 2) keep it clean for grandchildren reading, and 3) no reference to politics.
Easy-Peasy!