After the Cal game, a few memories stung in the back of my mind. Giving up 42 points was a big one, but also there were the issues of Marcus Mariota's first interception and assorted defensive miscues. To clarify, on Sunday evening, I got the opportunity to interview Mark Helfrich at the Hatfield-Dowlin Complex.
I asked what Helfrich saw as the biggest difference with Cal this year compared to last year. He responded by saying that "offensively they're healthy. They're healthier than probably anybody else we've played against." That could attribute to why they gave us so much trouble. The idea of having the same players getting reps with one another builds team chemistry, thus causing both the offense and defense to play more effectively. This is clearly shown in Cal's case, as last year was a disaster. They finished 1-11 (0-9 in the PAC 12) overall mainly due to the injuries that struck the team, specifically on the offensive line and secondary.
Next, I asked Helfrich about how he felt the Ducks defense performed in terms of bringing pressure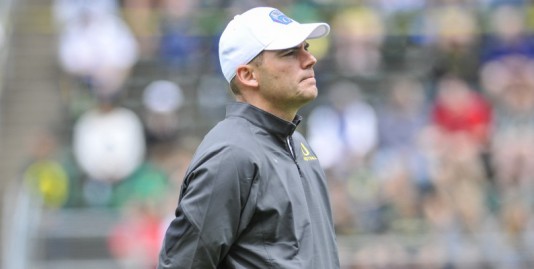 (or lack there of) to Cal's sophomore QB Jared Goff. He expressed that "sometimes we did a great job of getting to him whether it was a sack, fumble, or pressuring him and making him move his feet." This might be a bit of a stretch by Heflrich, but despite surrendering more than 560 total offensive yards for Cal, the Ducks did stop Goff when it came to pivotal moments.
However, it's important to keep in mind that the Ducks secondary still allowed Goff to complete 61.5 percent of his passes to his receivers, a number that needs to be cut down immensely. Plus, they allowed Cal to have 193 yards on the ground, most of which came from mediocre runs by back-up QB Luke Rubenzer from the Wildcat formation.
Finally, I asked Helfrich about how much the absence of RB Thomas Tyner, K Matt Wogan, and DE Arik Armstead affected the team's overall performance. He expanded on my question and voiced his opinion regarding how "the team's performance was that we got a big win on the road. And that's the most important part." Touché, coach. When you put away all the numbers and stats, winning is the main focus that football or actually any sport is all about. Oregon won on the road, and in the end that W is all that matters.
 Top photo from Kevin Cline

Visit our Sister Site, the new Our Beloved Ducks Forum!
This new forum that is unlike anything you have ever seen between our civilized discussion, (NO TROLLS ALLOWED) complete directions available for easy usage and the delivery of all Oregon Sports News.  (That last part is a gradual transition up to Spring Football)
Go to the forum where we delve into today's article and so many more topics and the nuances within them over there.
We have a topic post begun over at the forum for today's article; it is a free site and offers more opportunity for the exchange of opinions on all the Oregon Sports subjects of the day. (And there are some very cool features!)
An introduction article about the new forum is right here.