Liz Brenner is a singular Duck, a once-in-a-generation athlete that excels in every competition she enters. She's an All-American volleyball player, a 6'1″ outside hitter who led the Pac-12 last year in kills. Not only is she gifted with power and leaping ability, she is so skilled and quick that some are touting her for the libero or defensive specialist position on the US National Team. Brenner, a graduate of Jesuit High School in Portland, has started for the Oregon women's basketball team, sand volleyball squad and the women's softball team. She's also an All-American in track and field, throwing the  shot put and she holding the seventh best distance in the javelin for Duck women.
Her list of accolades is notable: She was named by the Oregon Sports Awards as the best woman athlete in the state and nationally, she was one of three finalists for the prestigious AAU Sullivan Award which honors America's best amateur athlete.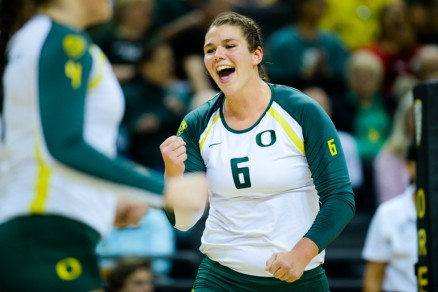 Brenner started her athletic career a six-time world junior champion in racquetball. In an interview with the Oregon Daily Emerald her father, Doug Brenner, said, "It was a good sport for her to get her hand-eye coordination developed, and that really helped out with her softball, basketball and volleyball, and it helped her to be competitive out there and to have that drive to keep winning."
Catch Brenner and the Duck women's volleyball team when they play the Bay Area schools this weekend in The Matt. California comes to town Friday at 8 pm and Stanford plays Sunday at 11 am. Your time to watch her compete at Oregon is short; she's a senior and will be leaving soon. Oregon athletics may miss her, but Duck fans will never forget her passion and her amazingly varied talents.
 Top Photo by Gary Breedlove
Raised in the Central Oregon mill town of Prineville beneath deep blue skies and rim rock, I attended the University of Oregon and during my collegiate summers, I worked in a lumber mill and also fought range fires on the Oregon High Desert for the Bureau of Land Management. After graduating from college at the University of Oregon, I swung from being budding hippy to cop work. I'm still wondering about how that came about. I was a police officer with the Port of Portland and after leaving police work, I obtained an MFA degree in Creative Writing from Vermont College. I live in Portland, Oregon with my wife, my daughter and a spunky bichon frise named Pumpkin. I've had short stories publishing in two Main Street Press anthologies. Harkness is my first novel.
For Football Season: FishDuck Back to Seven Days a Week!
I had to shut down the daily articles on July 20th because I could no longer work the extra 3 to 12 hours per week of certain managerial/editorial duties. (beyond the usual ones with FishDuck)
I've had a blast writing without those duties, and now, due to a new agreement with the writers, I can announce that we will have articles seven days a week again. I wish to thank the writers publicly for their graciousness in coming to a solution, as now I still do not have do those extra duties with our agreement, and meanwhile the writers are back having fun creating articles as I am.
Everybody is happy! So below is the new schedule through football season:
Monday: Mr. FishDuck
Tuesday: Darren Perkins
Wednesday: Coach Ken Woody
Thursday: Coach Eric Boles and Alex Heining alternating
Friday: David Marsh
Saturday: Mr. FishDuck (GameDay Baby!)
Sunday: Jordan Ingram
A couple of writers could not join us as they have new projects in their lives, and cannot write for anyone at the moment–but perhaps we will see them back later.
Things rarely work out so well for all parties in agreements, but this time it has and truly….everyone wins!
Our 33 rules at FishDuck can be summarized to this: 1) be polite and respectful, 2) keep it clean, and 3) no reference of any kind to politics. Easy-peasy!
FishDuck members….we got your back.  No Trolls Allowed!