First off, Happy Thanksgiving everyone! One thing that I'm thankful for is being able to attend the University of Oregon and watching the Ducks dominate every team they play. On the defensive side of the ball, Arik Armstead has been a pivotal player for the Ducks. By either sacking the quarterback or stopping a running back before he explodes for a big run, the defensive lineman has assisted Oregon during essential moments in most games.
FishDuck.com sports writer and reporter McKalie Bellew caught up with Armstead yesterday at the Hatfield-Dowlin Complex to discuss topics ranging from the upcoming Civil War, stopping Oregon State QB Sean Mannion, and enjoying Thanksgiving.
The first question that popped up was how the intensity was building going into Saturday. Armstead said, "Yeah definitely. This is a big game for us and were getting more excited every day." The Civil War has always been a considered one of the biggest college football rivalries. So, it's not surprising to hear from a player such as Armstead that this is a big game. Furthermore, what makes a big game is the fact that Oregon is currently ranked No. 2 in the College Football Playoff rankings. The Ducks simply cannot lose this Saturday or their dreams of reaching the National Championship will be crushed into millions of irreplaceable pieces.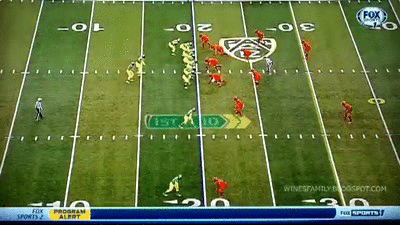 When asked if the Ducks have the ability to stop a great quarterback in Mannion, the defensive lineman responded by saying, "I believe we can. Other teams have been able to stop him this year and I think we have the ability to get to him." A couple weeks ago Mannion set the Pac-12 career passing record with 12,454 yards. Who remembers when he led the Beavers to beat the Sun Devils 35-27? That was a quite a game and he definitely presents a problem for the Ducks in terms of passing.
Finally, Armstead was asked about his favorite Thanksgiving dish is, which he mentioned that he likes, "Mac and cheese. My favorite dessert is banana pudding and peach cobbler." Wow, that sounds so good right now! The only thing that makes it better is if someone puts a nice scoop of vanilla ice cream on a slice of peach cobbler. My oh my; that is something worth chowing down on. Good thing, Armstead is not the only person into peach cobbler.
I hope everyone has a splendid Thanksgiving! Take care, be safe, and pig out.
Top Photo by Kevin Cline

Hey! My name is Austin Willhoft and I'm currently a freshman at the University of Oregon studying Journalism. I lived my whole life down in sunny and beautiful Laguna Beach, CA where I completed all of my prior education. I always have been into sports writing/reporting mostly due to the fact that I love watching, analyzing, and playing all kinds of sports. However, if I were to narrow it down between two sports, it would be basketball and football, both of which I played heavily in high school. I'm thrilled to be working for FishDuck.com and most importantly being a third generation to attend the UO. Sko Ducks!
SIGN UP for the New FishDuck Commenting/Posting System!
The first step toward some big additions to the site is moving away from the Disqus system, to our own new commenting/posting system for the great discussions below the articles.
It takes a minute is all, and will allow us to continue our amazing discussions of Oregon Sports in a new format that will allow more flexibility over time as we add features.  Sign-up now!  
Mr. FishDuck