Three of the five finalists for the Johnny Unitas Golden Arm Award are come out of the PAC 12. USC's Cody Kessler and UClA's Brett Hundley join Hesiman front runner Marcus Mariota as potential recipients of the Golden Arm award. The other two finalists are Baylor's Bryce Petty and Mississippi State's Dak Prescott.
Here's a quick rundown of each quarterback:
Cody Kessler: 69.7 Comp%, 2548 yards, 25 TD, 2 INT and a 168.2 Passer Rating. Kessler is one of two quarterbacks (Mariota is the other) to throw 25+ touchdowns with less than three interceptions. His 168.2 Passer Rating and 69.2 Completion Percentage are both good for fourth in the nation.
Brett Hundley: 72.1 Comp%, 2547 yards, 17 TD, 4 INT and a 158.1 Passer Rating. Hundley is the nation's most accurate passer with his 72.1 Completion Percentage. The UCLA quarterback is one of the country's most dangerous dual threat quarterbacks and has 7 rushing touchdowns.
Bryce Petty: 58.0 Comp%, 2421 yards, 21 TD, 3 INT, 152.2 Passer Rating. Petty has thrown for 54 touchdowns and only 6 interceptions during his Baylor career. That's impressive.
Dak Prescott: 61.1 Comp%, 2231 yards, 18 TD, 7 INT, 158.5 Passer Rating, 779 rushing yards, 11 rushing TD. The Mississippi State quarterback has been the driving force for the No. 1 team in the country.
Marcus Mariota: 67.1 Comp%, 2780 yards, 29 TD, 2 INT, 184.6 Passer Rating. Mariota has the highest Passer Rating in the country and his mark of 10.0 yards per pass attempt is also the best in the nation.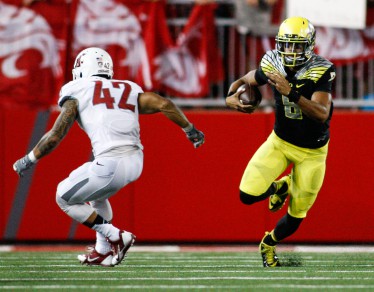 "The winner of the Golden Arm Award is recognized not only for his athletic accomplishments, but also for his character, citizenship, scholastic achievement, leadership qualities, and athletic abilities," said John Unitas, Jr., President of the Johnny Unitas Golden Arm Educational Foundation, Inc.
Top Photo by Gary Breedlove
Tyler graduated from the University of Oregon's journalism program back in the spring of 2010. Tyler has loved the Ducks since the days of his youth, and that love has only grown as he's gotten older. Outside of Oregon football Tyler dives deep into Major League Baseball every year, and considers himself to be a baseball historian of sorts. He also has a Black Labrador named "Page" after Jimmy Page of the mighty Led Zeppelin. In his spare time he enjoys fishing, golfing, and snowboarding even if his skills are questionable at best in those areas.
FishDuck Has New Off-Season Schedule and see the OUR BELOVED DUCKS Forum!
FishDuck articles will now be on Monday-Tuesday-Wednesday only during the off-season, and then we will go back to seven days a week during the football season beginning in August.
We will have some occasional guest articles later in the week, but the hottest Oregon football information will be posted in the OBD forum!
The Our Beloved Ducks Forum (OBD) is where we we discuss the article above and many more topics, as it is so much easier in a message board format over there.  At the free OBD forum we will be posting Oregon Sports article links, the daily Press Releases from the Athletic Department and the news coming out every day.
Be a part of the forum and stay caught up!  When you wish to post there, do know that you are protected just as you were on FishDuck. Join us on the free forum right here!
Our 33 rules at the free OBD Forum can be summarized to this: 1) be polite and respectful, 2) keep it clean, and 3) no reference of any kind to politics. Easy-peasy!
OBD Forum members….we got your back.  No Trolls Allowed!