On the College Playoff Selection show on December 7, the ESPN panel delved into a number of topics about Oregon football and surprised viewers with some new conclusions taken from watching the Ducks over the 2014 season.
About the Oregon Offensive Line:
Rece Davis asks, "Oregon's been banged up on the offensive line with guys playing hurt. But they've had issues up there even when healthy." (Writer note: what?) "How much will it impact having everybody at least closer to fully health by game time?"
David Pollack chimes in stating, "I think it's big to get their center back, Hroniss Grasu. He's an All-American, a good player, and perfect for that system. Then they can put players in their natural home. But we saw the difference as Oregon's had eight different starting lineup combinations. You've seen the difference with Jake Fisher in the lineup. They dominated everybody since that Arizona loss with that starting lineup."
Pollack can't resist giving some love to Oregon quarterback Marcus Mariota as he summarizes to the panel. "Bottom line is, when Mariota's dealing? Good luck to everybody. [Trying to beat Oregon] Bama? (Whistles) Good luck … and to everybody in college football. If he plays great, then it's a wrap."
About the Oregon Defense: 
Danny Kanell began by asking the panel, "Which Oregon defense? Which one are we going to get? The dominant performance we saw against Arizona? Or are we going to see the one that struggled against Cal, or Washington State early? They can give up a lot of yards and if Jameis Winston can get going — ideally if you're Florida State, you'll love to get into one of those shoot-out games because that might be your best chance."
Kirk Herbstreit followed it up with, "I think they [the Oregon defense] are going to face a very physical bunch up front, [From FSU] [David Pollack interjects, 'Like Stanford, as Stanford was physical up front and they passed that test.'] Herb continues, "I think it is different [the Florida offense] because of the balance. Let's give them [Oregon] credit against Arizona; they physically stepped up and played one of their best games all year."
"A big key in the game will be if you have to cheat the safeties down to stop the [Seminole] running game, then you're in big trouble. If you can hold up without cheating the safeties down … that would be big for them."
More about being Physical: 
"We don't have to mention that any more about Oregon," says Pollack. "This is the first year that … you know what? I think they can meet the physical challenge."
"We've all [the panel] said Ad Nausieum that part for a couple of years and Oregon fans are sick and tired of hearing it. They finally manned up and passed the physical test. Armstead, Buckner — they have some dudes that can play. They're physical."
Reaction from FishDuck.com Principal Charles Fischer:
Oh brother. Manned up? It is called recruiting, and yes we improved in the trenches. The comment about Oregon having trouble with offensive line blocking even when healthy is simply not accurate when you look at the physical running numbers of recent years. You don't lead the Pac-12 and reside as one of the nation's top rushing teams for seven years without physical play up front. Yes, I know the narrative about Stanford, LSU, etc. in the past from those in Connecticut, and while I can argue about those years – I simply need to enjoy what was said on national television recently.
It would appear that for those who influence the opinion of so many others, Oregon is no longer considered finesse and soft up front. Better late than never!
Top Photo from Video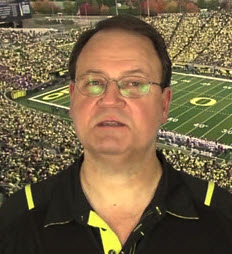 Charles Fischer has been an intense fan of the Ducks, a season ticket holder at Autzen Stadium for 35 years and has written reports on football boards for over 23 years. Known as "FishDuck" on those boards, he is acknowledged for providing intense detail in his scrimmage reports and in his Xs and Os play analyses. He and his wife Lois, have a daughter Christine, reside in Eugene Oregon, where he was a Financial Advisor for 36 years and now focuses full-time on Charitable Planned Giving Workshops for churches and non-profit organizations.
He does not profess to be a coach or analyst, but simply a "hack" that enjoys sharing what he has learned and invites others to correct or add to this body of Oregon Football! See More…
FishDuck EVERY DAY! Articles Appear Seven Days a Week Beginning August 1st!
FishDuck articles will now be on every day of the week beginning August 1st, and we have some dandies planned. Check in every day and don't miss out!
The Our Beloved Ducks Forum (OBD) is where we we discuss the article above and many more topics, as it is so much easier in a message board format over there.  At the free OBD forum we will be posting Oregon Sports article links, the daily Press Releases from the Athletic Department and the news coming out every day.
Be a part of the forum and stay caught up!  When you wish to post there, do know that you are protected just as you were on FishDuck. Join us on the free forum right here!
Our 33 rules at the free OBD Forum can be summarized to this: 1) be polite and respectful, 2) keep it clean, and 3) no reference of any kind to politics. Easy-peasy!
OBD Forum members….we got your back.  No Trolls Allowed!