Imagine your body and talent was worth $3 million. Imagine an injury jeopardizing your future in the blink of an eye.
While the Ducks continue to rally after the recent loss of star cornerback Ifo Ekpre-Olomu, he has quite a predicament on his hands. According to ESPN Sports Business Reporter, Darren Rovell, Ifo Ekpre-Olomu has a $3 million insurance policy to cover a significant drop in his draft stock, should he suffer a big injury.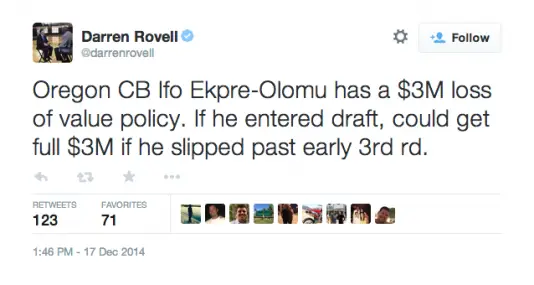 Well, as we all know, Olomu will not be playing any more college football this season due to a torn ACL in practice a week ago. But what does it mean for the future NFL cornerback's salary?
The NFL's latest collective bargaining agreement established that first round picks cannot be given exceedingly large contracts as in years past. Last year's first overall pick, Jadeveon Clowney, makes $22,272,998 over 4 years. That's nothing to shake a stick at. But as a player drops further and further down the list, he makes less and less.
Ifo's projected draft spot prior to the injury was as a middle first rounder, meaning he would make around 8 to 9 million dollars based on last year's NFL salaries in that spot. After the injury, it is more likely that he will fall to the 2nd or 3rd round.
However, according to ESPN, If he does end up falling past the 3rd round he will make back the entire $3 million from the insurance policy. He will start collecting money from the policy at the start of the 2nd round.
While tearing an ACL is one of the worst injuries any player can suffer, an athlete of his caliber can't go overlooked. He would be a great addition to any NFL team's secondary, assuming he is healthy. If he is to fall past the 3rd round, he will make back a lot of the money lost from the dropoff in salary from his insurance. Falling that late in the draft would be a steal for any NFL team looking to maximize talent with its lower round picks.
Top Photo by Kevin Cline

Alex is a junior at the University of Oregon currently pursuing a double major in Spanish and Advertising at the school of journalism. Alex has been a lifetime duck fan, despite growing up in California, and attends every football and basketball game showing his support. In his free time he enjoys watching sports, listening to music, and playing golf.
WE ARE NO. 1!
It is astounding; this site has not had a single comment deleted for over three months, of which contained thousands of comments!
No other site covering Oregon sports can make that claim, thus we are No. 1 for civility in our high-brow discussions. Mr. FishDuck is very grateful for the wonderful Oregon fans who have joined our community.
Yes we have 29 rules, but they can be summarized to 1) be polite and respectful, 2) keep it clean for the grandchildren reading, and 3) no reference to politics.  Easy-peasy!
Learn how to add a link to your comment in seconds right here.