Oregon is in. In the College Football Selection show this morning it was announced that Oregon retained its No. 2 position, and will play No. 3 seed Florida State on New Year's Day in the Rose Bowl.
Rece Davis, the moderator, explained that "we tried to reach Oregon Head Coach Mark Helfrich, but he was in Hawaii recruiting."  That immediately brought howls from the panel as they assumed he was there to sign the next Marcus Mariota, but in reality he was there to get a verbal commitment from a four star defensive tackle–and got it. (Check Mark Flores recruiting update on Wednesday this week.)
The panel enjoyed talking about the UO vs. FSU matchup as David Pollack commented how there would be "last year's Heisman trophy winner against potentially this year's Heisman trophy winner playing in the Rose Bowl." A juicy matchup indeed!
Rece Davis made mention of the four finalists being "big names in Alabama, Florida State, Ohio State, and OREGON." (Caps and bold was MY comment.) My feathered friends — we have dreamed of being elite through so many years, and with comments like that, it shouts the question of whether we truly now have arrived? (Do you feel the glow inside that I do?)
There are major questions that remain that FishDuck.com writers will address in the future, as this Selection Committee made some major statements in how the process will be implemented and how decisions will be made.
Winning one week does not secure a team's positioning for next week as we saw TCU go from No. 3 to No. 6 in the final week.
Playing cupcakes in non-conference is going to hurt you. It was the demise of Baylor in its chances for getting in, and was Oregon's reward for playing and beating Michigan State.
Should this be expanded to eight teams? The problem with that is that NEVER has their been so much excitement and drama in college football as this year involving so many teams. Eight would reduce that interest and drama considerably.
Would Oregon have been in the top two under the old BCS formula? Taking computers and voting into account?  I doubt it, hence the new playoff came at the perfect time for Oregon?
It is certainly a good thing the decisions are made after all the games are played. If it had been decided upon in the third week?  We would have had three SEC teams included in the final group of four.
Of the two teams from the Big-12 — had they been the big traditional names in Texas and Oklahoma, would that have changed things?
Finally, Danny Kanell made the best point of all; we need equalization among all conferences. All teams should play nine conference games and have a conference championship.
I am very curious as to your thoughts on the final selections and process.
FishDuck
Top Photo from Video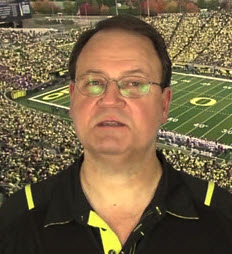 Charles Fischer has been an intense fan of the Ducks, a season ticket holder at Autzen Stadium for 35 years and has written reports on football boards for over 23 years. Known as "FishDuck" on those boards, he is acknowledged for providing intense detail in his scrimmage reports and in his Xs and Os play analyses. He and his wife Lois, have a daughter Christine, reside in Eugene Oregon, where he was a Financial Advisor for 36 years and now focuses full-time on Charitable Planned Giving Workshops for churches and non-profit organizations.
He does not profess to be a coach or analyst, but simply a "hack" that enjoys sharing what he has learned and invites others to correct or add to this body of Oregon Football! See More…
FishDuck EVERY DAY! Articles Appear Seven Days a Week Beginning August 1st!
FishDuck articles will now be on every day of the week beginning August 1st, and we have some dandies planned. Check in every day and don't miss out!
The Our Beloved Ducks Forum (OBD) is where we we discuss the article above and many more topics, as it is so much easier in a message board format over there.  At the free OBD forum we will be posting Oregon Sports article links, the daily Press Releases from the Athletic Department and the news coming out every day.
Be a part of the forum and stay caught up!  When you wish to post there, do know that you are protected just as you were on FishDuck. Join us on the free forum right here!
Our 33 rules at the free OBD Forum can be summarized to this: 1) be polite and respectful, 2) keep it clean, and 3) no reference of any kind to politics. Easy-peasy!
OBD Forum members….we got your back.  No Trolls Allowed!