I try to avoid award shows. In 2014, there is this device called "The Internet" that tells us who the winners of awards are around the time of their issuing. In fact, the fact that award shows still pull ratings in the internet age is one of the great achievements of television production and marketing.
But this year is different. With Oregon players as candidates for several different awards, including the marquee candidate for many major awards in Heisman Trophy favorite Marcus Mariota, the award shows have transformed from nauseating tedium to self-indulgent observation.
There were a lot of them this weekend, from Thursday night's College Football Awards to the program-redefining Heisman Trophy Ceremony, so if you missed any of them, here are some of Oregon's moments from a weekend that changed the program (all times Pacific):
Thursday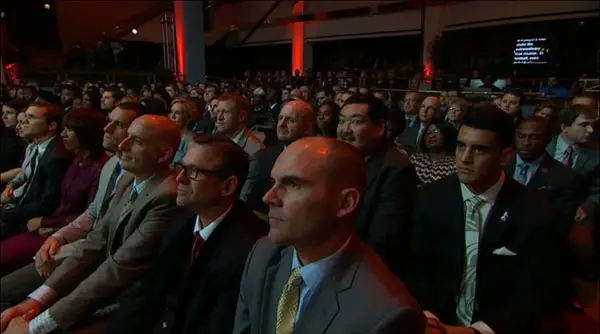 4:02: The first of many Marcus Mariota shots.

4:05: Mariota does not appear to enjoy being showered with accolades.
4:08: Eight minutes into the broadcast and Mariota's already grabbed the first award of the night. Do all award shows go this well?

4:20: Was enjoying the award show a little too much, so ESPN decided to temper my enthusiasm by running a segment where Danny Kanell gets all "glory days" on Mariota. The sequence ends with host Rece Davis and West Virginia's Kevin White literally playing catch in a banquet hall on live TV. Riveting television.
4:33: After falling behind schedule by showing people playing catch, ESPN decides to catch up by breezing through a number of awards. This is not unlike the technical awards at the Oscars, which is fitting given that it is all the awards for lineman and assistant coaches, the technical workers of the football community. Oregon's only nominee for these awards, Hroniss Grasu, gets screwed out of the Rimington Award by Utah's crappy turf.
4:50: The only other award which a Duck not named Mariota is up for, the Jim Thorpe award, goes to Louisville's Gerod Holliman over Ifo Ekpre-Olomu. Hard to argue against a player who had 14 interceptions, I will say this for Ifo: That insane interception he had against Michigan State? I remember seeing the ball go up in the air and being certain he would catch it. Not sure what it means relative to other defensive backs, but he is certainly special.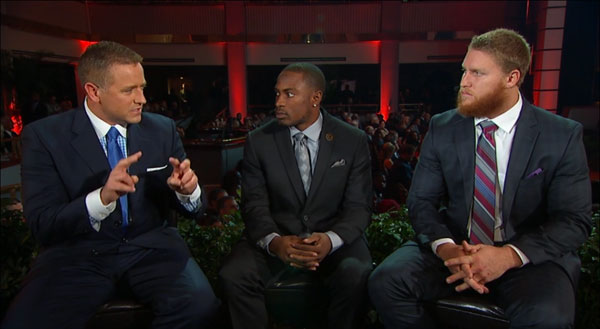 5:05: Apparently, Ifo's penalty for not winning the Thorpe award was being subjected to previewing the Rose Bowl with Florida State's Nick O'Leary. This segment could be best described as "boilerplate."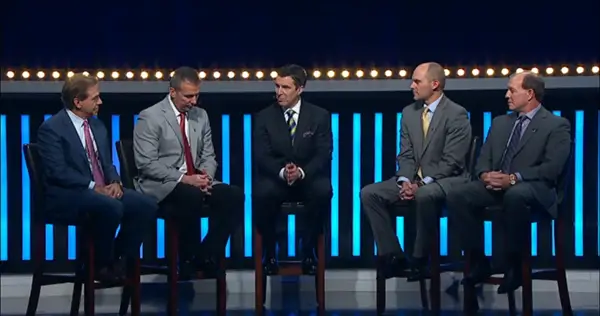 5:11: Wow, I thought I was being a flagrant homer when I called Oregon "America's Team" in the playoffs. Look at that collection of guys surrounding Mark Helfrich. Would an objective party root for anyone else on that stage?
Take Nick Saban. Saban is so despised that on this year's SI's list of "The Most Disliked People In Sports" he actually comes in ahead of notorious woman-beater Floyd Mayweather … and isn't even the most hated member of his own coaching staff. Yet one could argue that Saban is the most respectable of those three other coaches, and he's a guy who got to this playoff using a hurry-up offense after years of decrying its use as "dangerous."
Urban Meyer has had more murders (allegedly!) committed by former players than national championships won. Jimbo Fisher has displayed such moral flexibility with sentences like "there is not a victim because there was no crime!" that his indifference scandal after scandal committed by current players has been reprehensible. I'm nervous about him sitting that close to Helfrich; I keep picturing him leaning over during commercials and casually saying things like "Mark, your players are too respectful to women, that's gonna hurt you in the recruiting game," in that maniacal, Foghorn Leghorn/Yosemite Sam mash-up voice of his.

6:00: The final award of the night, The Maxwell Award presented by college football's answer to Grandpa Simpson, Lou Holtz. That's right, the man who can barely veil his disdain for Oregon's emergence as a program is the one responsible for congratulating that school's greatest player after he wins the award. A magical conclusion to the night.
Saturday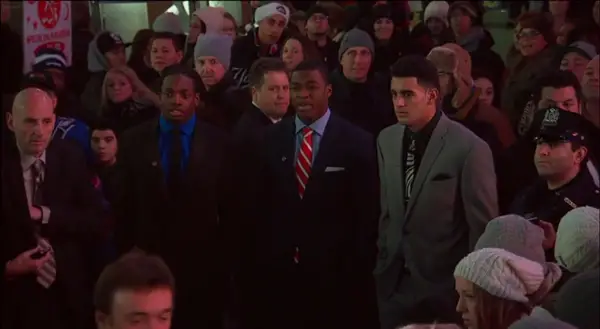 5:00: Oooooh, this is really happening, isn't it? Do we really have to wait an hour? Can't they just give it to him now?

5:18: Joe Tessitore breaks down how insane Mariota's victory would be, given that he would be the first non-USC player Pac-12 player to win the award in 44 years. Nothing so perfectly illustrates the bias of the Heisman voters, or the significance of the accomplishment quite like this summary.

5:30: Ok, fine, I guess we can wait for the presentation if they want to talk about Mariota for a while.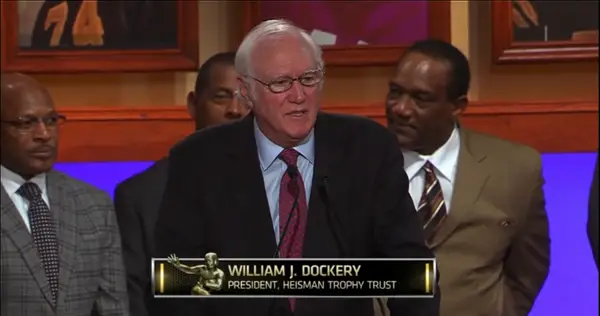 5:58:  Just get to it already!
 
6:01: "The winner of the 2014 Heisman Memorial Trophy goes to … Marcus Mariota."
Despite all the expectation of his victory leading up to the announcement, nothing feels certain until that exact sentence is uttered. There have been Wisconsin running backs who have won the Heisman before. There are skill players coached by Nick Saban who have won the Heisman before. But there has never been a Duck to win this award. That's the fate of an Oregon fan; everything is possible eventually, but nothing is believable until it has been achieved once.
Haven't even come close to absorbing the magnitude of this achievement, but some thoughts come to mind that hopefully aren't too redundant with all that has been written about Mariota winning this award:
Mariota was great before this season, but lacked the achievements to prove the doubters wrong. No conference championship, no division title, no Heisman finalist credit to his name. To see him get all of those this season has been special.
In terms of bragging rights, it gives Oregon something the Huskies never had, and neutralizes one of the few benchmarks the Beavers could hold over Oregon. (Though Oregon State deserves praise for the tremendous class shown in recognizing Mariota's achievement.)
When they do this award show in future years, Mariota's painting is going to be hanging on that wall.
I feel bad for Melvin Gordon and Amari Cooper. Two players who seem like really good human beings. While you can never fully know someone's character, I am comfortable speculating that it is unfortunate that Jameis Winston and Cam Newton possess those trophies and Gordon and Cooper don't.
Even though the season isn't even over yet, I can't even imagine what the introduction video will be like for next season.
Yet for as amazing as the accomplishment of winning the trophy is, Mariota goes and makes the moment even more special with his speech.
After a career spent blowing fans away with his play, Marcus Mariota does so again with his words, giving a remarkable speech that serves as a fantastic punctuation to the award circuit. The award couldn't have a more perfect recipient, and the player couldn't be more deserving. Faafetai tele lava, God bless, and Go Ducks.
All images, including top photo, from video.