FishDuck.com Feature Writer Mike Ostrom sits down with Former Duck Will Tukuafu of the Seattle Seahawks at Super Bowl Media Day:
It's a good thing Oregon Duck Will Tukuafu played so much fullback at Oregon. Look at him now, a key blocking back on sports' biggest stage trying to bring the Seattle Seahawks another Super Bowl title.
You remember Tukuafu blocking up a storm for LeGarrette Blount and LaMichael James right? Remember that big cutback run James had at Tenneesee in 2010:

Do you remember Tukuafu with that decleater to spring James as he reversed field at Neyland Stadium and went 72 yards for a touchdown? You remember that block right?
No you don't, and neither do I because that block didn't happen. Tukuafu didn't block a lick at Oregon. He was a defensive lineman. So how'd the 6-4 (6-1 after a close hair cut) 280 pound bruiser end up blocking for the mercurial Marshawn Lynch?
"They (Seahawk coaches) just asked me if I ever played full back and I said. 'Oh, Yeah.' As in "all the time. You bet. Of course I've play full back lots."
Seriously Will? I've watched most every Oregon game for the last couple decades and I don't ever remember seeing you at fullback.

Says Tukuafu "They didn't ask when I played football. . . Ha! It was little league football but I didn't tell them that part. You gotta do whatever you can do to stay in this league man. It's tough."
And that boys and girls is how you make it to the Super Bowl. You work your butt off, become a top defensive lineman wearing a linebacker's number so you stand out, get drafted and then if someone asks you if you can do something the team needs, the answer is 'heck yea, I can do that coach. I do that all the time. "
Pete Caroll: "Hey, we need someone to dance The Nutcracker, does anyone on the team know ballet?"
I can see Tukuafu selling the coaches, "My Arabesque's are coming along nicely, and you should see my Grande Jete's. They are sick! And if you notice when I extend my arm and Plie' the lines coupled with my wavy hair is quite a site to behold."
Says Carroll: "OK Will, you're our guy."
 Eugene is Home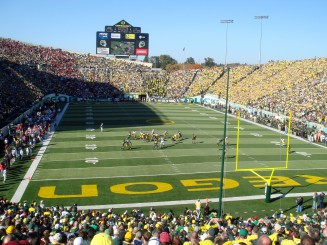 He came to the Ducks as a 4-Star recruit coming out of Scottsdale Junior College. He expects Oregon will bring in more elite players from around the country now that the secret is out. Oregon is for real. If Oregon maintains current commits and lands another whale at the end of recruiting (what they always do) the Ducks will have another top 15 recruiting class on Feb. 4th.
There's a good article by OregonLive's Andrew Nemec highlighting how Oregon commits PJ Locke, Travis Waller, and others are already recruiting key high school players who are still deciding where to commit.
As a recruit Tukuafu saw both the sizzle and the steak at Oregon. The elite facilities, coupled with years of success made Oregon an ideal destination. Tukuafu can see Oregon bringing in more four and five star recruits because players like him see substance and something special, . . . a true team starting with the coaching staff on down. . . . The Oregon way.
"More players want to go to Oregon now. They see Eugene and what a great place it is. It's why I live there in the off-season."
Question: What was a difference maker for Tukuafu at Oregon that took him from good to great?
"It's called 'Friday morning lights . . . ,' waking up at 6 am and working out with Coach Rad (Strength & Conditioning Coach Jim Radcliffe). Those were workouts. . . . made me what I am today."
Question: If you were the coach at Oregon what would you be calling more of?
"The All Out Blitz, . . . everybody's coming. Throw everything at 'em."
And now Tukuafu gets to pick up those blitzes for the Seahawks. Don't be surprised if he tries to light up a blitzing safety on Sunday, and don't be surprised if it's former Duck and now New England Patriot DB Patrick Chung. Tukuafu will be looking for his former teammate.
More later this week from Super Bowl Media Day and comments from the other three Ducks playing:
All Pro Center Max Unger reveals Eugene's best lunch value for the heavy eater.
Patrick Chung talks about the person who changed his life in Eugene
LeGarrette "Blount Force Trauma" explains the key to his big junior season at Oregon that put him on the map.
Pac-12 & Northwest Flavor to the Super Bowl:
For those of you who care for such things, the Pac-12 is well represented in the Super Bowl. The game is being hosted in Tempe just a few minutes from Arizona State University. CB Brandon Browner is representing Beaver nation.
Hey, and how about those Washington Huskies? Our Oregon Territory neighbors to the North even have one player on a Super Bowl roster, receiver Jermaine Kearse.
It's great to see a professional team from the Oregon territory in the Super Bowl… and it's always good to see the Huskies just above mediocre.
Top Photo by Mike Ostrom

Visit our Sister Site, the new Our Beloved Ducks Forum!
This new forum that is unlike anything you have ever seen between our civilized discussion, (NO TROLLS ALLOWED) complete directions available for easy usage and the delivery of all Oregon Sports News.  (That last part is a gradual transition up to Spring Football)
Go to the forum where we delve into today's article and so many more topics and the nuances within them over there.
We have a topic post begun over at the forum for today's article; it is a free site and offers more opportunity for the exchange of opinions on all the Oregon Sports subjects of the day. (And there are some very cool features!)
An introduction article about the new forum is right here.