On June 27th, 2011 future Seattle Seahawks QB and Super Bowl 48 Champion Russell Wilson, with then head coach Bret Bielema announced he was transferring to Big 10 powerhouse Wisconsin. Most Oregon Duck fans remember Wilson from the Rose Bowl game against the Badgers – the first Rose Bowl victory for the Ducks in 95 years. What Wilson did for the Badgers that year may be exactly why Mark Helfrich and his staff have made an offer to Eastern Washington University QB Vernon Adams.
Wilson led Wisconsin to one of the most productive seasons in school history, coming two game-ending hail mary's away from playing in their first BCS National Championship game. Adams, without a doubt, is a special talent who finished second two years in a row for the Walton Payton Player of the Year award. His stats over the last three years are eerily similar to Oregon's Heisman Winner, Marcus Mariota:
Mariota: 10,796 yards passing, 105 TD's, 14 INT's
Adams: 10,438 yards passing, 110 TD's, 31 INT's
While Adams is physically more similar to Wilson, as a playmaker he is reminicent of Mariota.  Both are exceptional QB's, but is it already a done deal?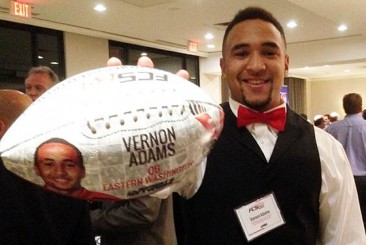 Jim Allen from the Spokane Review spoke with Vernon Adams today, talking about his offer from Oregon, the idea of transferring, and what he's looking for from the Ducks.
"I'm not saying I'm leaving Eastern, but I'm just going to check it out and see what they have to say…I'm not going there to be a walk-on or a second-stringer."
Adams leaves for Eugene on Friday, returning Sunday. He knows that moving to an FBS school like Oregon could help his NFL Draft stock immensely:
"(I would have) a shot at playing at a higher level every single week."
The challenge for the exceptionally athletic Adams is catching up to the other quarterbacks currently on the roster. As Andrew Greif of OregonLive reported, just because Oregon can take a transfer, doesn't necessarily mean they would:
"We're going to exhaust every path to find the right guy, the right fit, but we certainly believe in who is on campus and what is to come," Helfrich said.
Adams would have stiff competition, as the Ducks QB roster is already pretty well stocked, with Jeff Lockie, Morgan Mahalak, Ty Griffin, Taylor Alie, and the imminent signing of Four-star recruit Travis Waller out of California. Another important question is whether Vernon Adams transferring to Oregon would affect the signing of Waller. Would Helfrich and company risk the future for one year?
Wisconsin had an amazing season with Russell Wilson, even though it ended with a loss. What most Oregon fans don't remember is that Wisconsin returned to the Rose Bowl the following year, after Wilson left for the NFL. The transfer worked out for the Badgers, perhaps it can work out for the Ducks as well. Or maybe, Oregon already has what it needs. Raise your hand if you picked Mariota as the starter before the 2012 Ducks spring game. Yeah, neither did I.
Top Photo Credit: wikipedia.org
I (Managing Editor and Writer) am a lifelong Oregon Duck fan, currently living in Seattle, WA. While born and raised in the Pacific Northwest,; a Tour of Duty in the USMC and a successful corporate career has taken me all over the U.S. I graduated from Willamette University with a BA in Economics, minoring in Mathematics. I wrote for the Statesman Journal during the late '90's/early 2000's and have contributed to a number of online publications. I am married, the father of two awesome girls, and the Managing Editor for FishDuck.com. You can find me at: @Bigducklitlduck on most social media, or email me here.
The Comments Below are CLOSED, as we are moving to the OUR BELOVED DUCKS Forum!
Comments below articles are now closed as we have moved all conversation over to the free Our Beloved Ducks Forum. It has been a big success already with many more posts than what we could fit into the comments below articles.
The Our Beloved Ducks Forum is where we we discuss the article above and many more topics, as it is so much easier in a message board format over there.  At the free OBD forum we will be posting Oregon Sports article links, the daily Press Releases from the Athletic Department and the news coming out every day.
Be a part of the forum and stay caught up!  When you wish to post there, do know that you are protected just as you were on FishDuck. Join us on the free forum right here!
Our 33 rules at the free OBD Forum can be summarized to this: 1) be polite and respectful, 2) keep it clean, and 3) no reference of any kind to politics. Easy-peasy!
OBD Forum members….we got your back.  No Trolls Allowed!