Nothing shows the character of a team more then its willingness to fight through injury. Last year, the offensive line for the Oregon Ducks were no strangers to injury, with star linemen Jake Fisher and Hroniss Grasu both missing extended periods of time due to lower leg injuries. Many people thought losing these guys would derail the Ducks hopes of doing anything long-term, but they continued to fight and went on to have an incredibly successful season. One guy who helped the Ducks overcome all these injuries was Andre Yruretagoyena.
It was reported by goducks.com editor Rob Moseley via twitter yesterday that Yruretagoyena made the decision to retire and forego his senior season.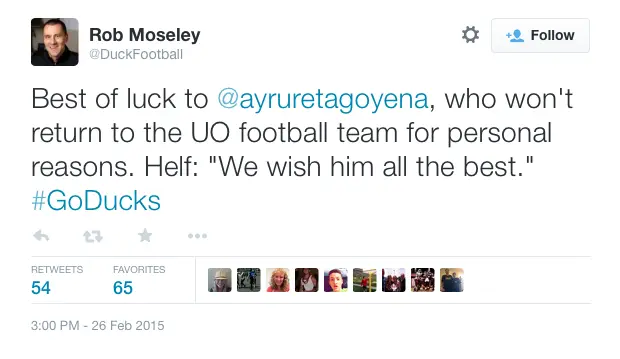 This is not news that Ducks fans were expecting to hear. After the injury to Fisher last season, Yruretagoyena stepped up and helped anchor the line. Unfortunately, Yruretagoyena got hurt as well, but the few games he pitched in before getting hurt, and then coming back towards the end of the season, were enough to have an impact. He was expected to contend for a full-time starting position come Fall.
Ducks fans support their Ducks no matter what they decide to do, and this case is no different. It takes a lot to play Football at the college level – the commitment and sacrifice one must make is of epic proportions. Yruretagoyena gave his all to this team, and Ducks fans should be forever thankful for that.
"Andre, if you read this, I remember meeting you on campus a few months ago and to say you are a respectful young man would be an understatement. Your contributions to this team this past season, and in years past speak volumes to who you are as a person, and a Football player. We thank you for committing your life to this team, and wish you the best in your future endeavors."
Top Photo From Video
Visit our Sister Site, the new Our Beloved Ducks Forum!
This new forum that is unlike anything you have ever seen between our civilized discussion, (NO TROLLS ALLOWED) complete directions available for easy usage and the delivery of all Oregon Sports News.  (That last part is a gradual transition up to Spring Football)
Go to the forum where we delve into today's article and so many more topics and the nuances within them over there.
We have a topic post begun over at the forum for today's article; it is a free site and offers more opportunity for the exchange of opinions on all the Oregon Sports subjects of the day. (And there are some very cool features!)
An introduction article about the new forum is right here.