Just over a week ago Grantland Staff Writer, Ryan O'Hanlon, posted an article questioning just how far Marcus Mariota would slip in the draft. Here is an excerpt from that piece.
"A report from an anonymous scout captures the general sentiment around Mariota as a prospect: 'See, the thing about this guy? He has a great arm. He reads a defense better than any prospect I've ever seen. He has size. He's a leader. He's a phenomenal athlete, and, really, he's just a great kid. The kind you'd want your daughter to bring home for dinner. But does he [clears throat] HAVE WHAT IT TAKES TO PLAY QUARTERBACK IN THE NATIONAL FOOTBALL LEAGUE? I'm not sure.'"
The article, although meant to parody the draft predictions by ESPN analysts Mel Kiper and Todd McShay, called into question one serious issue: Why is Marcus Mariota slipping in these mock drafts?
There are three main issues surrounding Mariota right now.
Oregon runs an offense that allowed Mariota to look better than he actually is.
Mariota's skills won't be able to translate to an NFL offense.
He can't perform as a pocket passer.
I'll take the issues one by one, however throughout the article I'd like to reference a current NFL QB: Seattle's Russell Wilson.
Here is Wilson's stat lines from his final college season:
Wilson: 309 attempts/ 3175 yards/ 72.8% completion rate/33 TDs/ 4 INTs
Now here is Mariota's line from the 2014 season:
445 attempts/ 4454 yards/68.3% completion rate/42 TDs/ 4 INTs
With that in mind, let's address Mariota's first issue. Although those who didn't watch Mariota for every second of every game may feel that he is just the byproduct of an excellent system, we out here at Oregon know better. There's a fine line between benefiting from an offense, and utilizing one to its fullest potential. What Mariota did with this Oregon offense, record-setting and all, is unheard of.
The last QB to run this same Oregon offense, Darron Thomas, was statistically worse than Mariota in every single category listed above. In most categories he was worse by a lot, too. Mariota set new standards for what this Duck offense can achieve, and in the process accumulated a Heisman trophy and a signature win against an FSU team that hadn't lost since 2012.
Mariota also possesses an unique ability to read defenses, one that would benefit almost any NFL team when using the Hawaiian in a read-option package. Although yes it's true that Oregon's offense will produce better numbers than most, Mariota exposed what the Ducks can truly achieve when an elite QB is running the show. See below how Mariota uses his exceptionally high I.Q. to read the Arizona State defense. Keep in mind this happened back in 2012, when Mariota was only a freshman.

Now, when addressing the next issue, I'd like to bring on the comparison to Wilson. Many experts feel Mariota's skill set will not translate to the NFL. Well, what is Mariota's skill set? He possesses elite speed and elusiveness as a runner, he has an exceptional football I.Q. (demonstrated by his mastery of the Read-option), and he excels outside of the pocket while extending plays. Remind you of any one? If you guessed Russell Wilson, starting QB of the almost back to back Super Bowl Champion Seattle Seahawks, you are correct.
Wilson uses his speed and elusiveness, as well as his extremely high football I.Q., to make up for what he lacks in elite arm strength. Instead of forcing Wilson to fit into the mold of the prototypical NFL QB, Pete Carroll and the Seahawks molded their offense around Wilson. The result, although thoroughly assisted by the emergence of Marshawn Lynch, is one of the toughest offenses to stop in the entire NFL.
Seattle ranked as the ninth overall most productive offense, led by Wilson, who averaged over 260 yards per game of total offense. Although Wilson's skill set was predicted to fail in the NFL, Seattle's ability to play to Wilson's strengths turned him into a Pro Bowl QB. Now not only does Mariota possess Wilson's speed and I.Q., but he also has an added five inches and 20 lbs. If that isn't "NFL ready", then I don't know what is.
Wilson was taken with the 75th pick, while fellow third year QB Robert Griffin III was taken with the second. RG3, although physically more impressive than Wilson, lacked what Wilson had in football I.Q., and the results of the Redskins' mistake have shown. I.Q. is highly undervalued among NFL QBs, but it's proven time and time again to be a key component among successful NFL QBs. See below as Wilson uses his instincts and elusiveness to turn a ten yard loss into a big gain.

Finally, Mariota's third question is his ability to play the role of a true prototypical QB. Basically, can he stand in the pocket and deliver the ball on time and accurately? Although the answer should just be yes, I'll break it down a little bit more. A big myth surrounding Mariota is that he looks down his first option, and if that isn't open he tucks and runs. That is almost NEVER true.
Mariota goes through his progressions, just like any other QB, and if all three or four options are covered then he will tuck and run. The majority of Mariota's runs were either designed QB runs or Read-Option plays, and very few were from frantic scrambles. Now, in terms of his ability to hang in the pocket and deliver the ball on time and accurately, here are a two clips from the 2013 Cal game.

Although those were just two short examples, those are typical throws that Mariota will make often. With a tight spiral, accurate placement and a little zip, Mariota is able to make plenty of NFL caliber throws.
Top photo from Craig Strobeck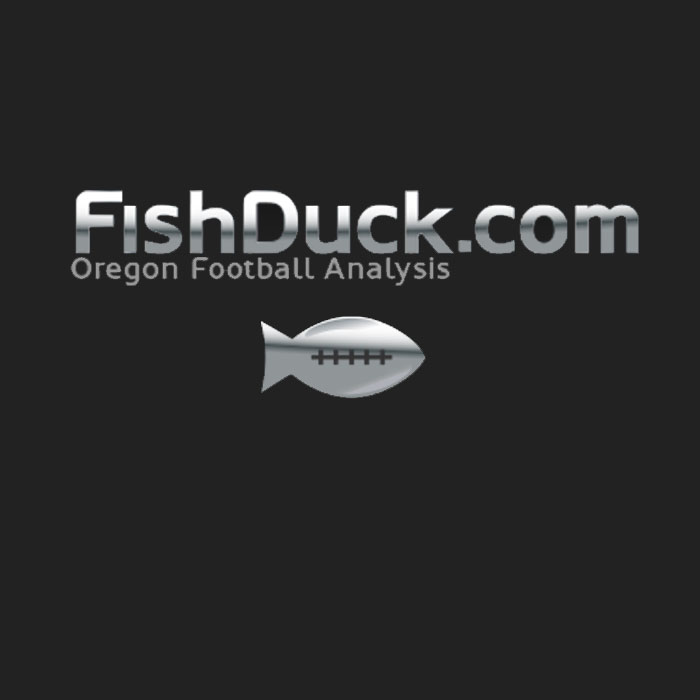 Caleb is a sophomore at the University of Oregon intending to double major in Journalism and Sports Management. He is the Managing Editor for FishDuck.com, along with being a lifetime Saints and San Francisco Giants fan, as Caleb fell in love with sports at a young age and developed that love into a passion for sports analysis. He is looking forward to cheering on the Ducks throughout his career at Oregon, and is always willing to talk sports with any fellow fan.
A Clean Site … no Ads!
With the transition to the new format on the site to better serve mobile users–the ads would have been pushed to the bottom and cease to become a relevant revenue source.  So we don't have any!
This site is now GUARANTEED TROLL-FREE and AD-FREE, which makes it the cleanest site out there! Do donate a few bucks when you can, as it is so nice to not have the distracting ads present.