Eight days after his official visit to the University of Oregon campus, Eastern Washington's quarterback Vernon Adams has chosen to fly with the Ducks. Adams, who will be transferring in as a fifth year graduate student, announced his decision this morning via his Twitter: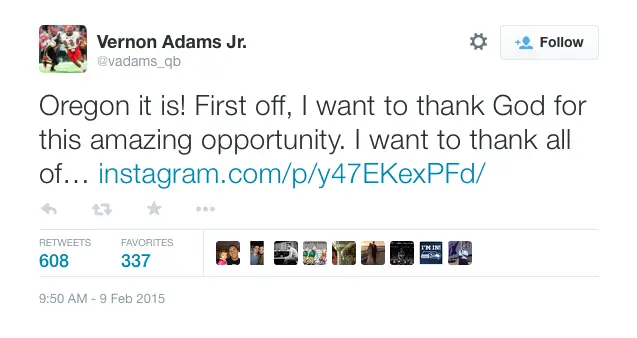 Getting Adams almost certainly fills the quarterback hole that Marcus Mariota left after declaring for the NFL Draft. Adams brings extreme skill and experience that none of the current or recruited Duck quarterbacks have. Despite only playing in 10 games last year due to a broken foot, Adams still passed for 3,483 yards and 35 touchdowns to only eight interceptions. Very impressive numbers to say the least, even coming against lesser competition.
While it will be impossible to replace Mariota, Adams gives the Ducks the best chance of succeeding next season. His style of play fits very well for the offense that Head Coach Mark Helfrich plays. Along with the rest of the returning players and recruits on offense, the Ducks look set for the start of next season. Landing Adams makes Oregon a powerhouse yet again in the tough Pac-12.
Stay tuned to FishDuck.com for the latest in Ducks sports news.
Top Photo From Video

Want to Write about Oregon Basketball?
We want to add just a few volunteer writers who wish to have fun writing about Oregon Basketball-the Mens and/or occasionally Womens too!
We teach you everything, and have incredible editors who make us all look great.
This will be the most epic Basketball season at Oregon–be a part of the fun! Contact Josh at jddw2@yahoo.com for more information.