Eight days after his official visit to the University of Oregon campus, Eastern Washington's quarterback Vernon Adams has chosen to fly with the Ducks. Adams, who will be transferring in as a fifth year graduate student, announced his decision this morning via his Twitter: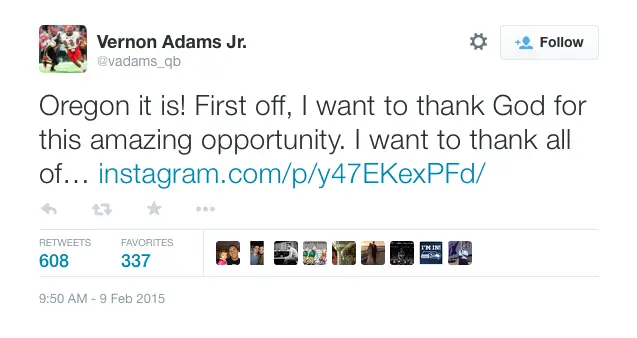 Getting Adams almost certainly fills the quarterback hole that Marcus Mariota left after declaring for the NFL Draft. Adams brings extreme skill and experience that none of the current or recruited Duck quarterbacks have. Despite only playing in 10 games last year due to a broken foot, Adams still passed for 3,483 yards and 35 touchdowns to only eight interceptions. Very impressive numbers to say the least, even coming against lesser competition.
While it will be impossible to replace Mariota, Adams gives the Ducks the best chance of succeeding next season. His style of play fits very well for the offense that Head Coach Mark Helfrich plays. Along with the rest of the returning players and recruits on offense, the Ducks look set for the start of next season. Landing Adams makes Oregon a powerhouse yet again in the tough Pac-12.
Stay tuned to FishDuck.com for the latest in Ducks sports news.
Top Photo From Video

Jason is a Junior at the University of Oregon, currently double majoring in Public Relations and Political Science. Jason has been an avid sports fan for his entire life, growing up playing Football, Basketball, and Baseball. Over the last year, Jason has found his love for sports reporting, and enjoys creating pieces that use his love and knowledge for sports to portray his message. In his spare time, Jason enjoys obsessing over Ducks sports, Scuba Diving around the world, and listening to music. Tweet at Jason…. @1seltank. He loves talking sports with other avid sports fans.
Comments have to be CLEAN? How Clean?
We want to keep it clean for the young grandchildren reading what Grandpa wrote in his article or comments.  Yep, most of you are younger than many of us Grandpas, but we really do have grandchildren reading … so keep it clean, please.
Most of the stuff I delete is actually pretty minor for adults, but if it were your grandchild reading–would you want it there?
The majority of our rules can be summarized to this: 1) be polite and respectful, 2) keep it clean for grandchildren reading, and 3) no reference to politics.
Easy-Peasy!