Just a few short days after landing four star WR Theo Howard, Oregon appears to be the front-runner to land five star recruit Brandon Jones. The safety from Nacogdoches, TX is the No. 14 ranked recruit on ESPN's top 300 list, and is the top ranked safety in the class of 2016.
Yesterday, after receiving the official offer from the Ducks, Jones tweeted out: 

In an interview with Andrew Nemec of OregonLive, Jones said that, "Oregon has been one of my favorite schools since seventh grade." He went on to say that receiving an offer from Oregon is, "It's pretty much a dream come true."
According to Andrew Nemec, Jones' recruitment process has been heavily influenced by close friend and Oregon commit, QB Seth Green. Jones has already admitted that Oregon is one of his top five schools to choose from, and that the opportunity to play with Green is, "a topic we always bring up in our conversations."
After seeing Jones' tweet, Green tweeted something out: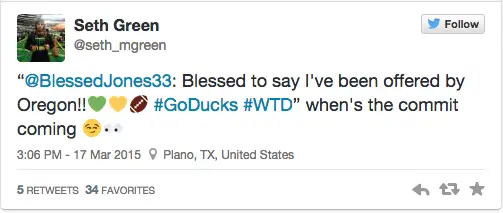 When asked why Oregon was so high on his list, Jones replied, ""For sure, the jerseys (at first) and the facilities." He went on to say, "I like the way they run their offense. They are really fast playing. I'm fast and I could see myself fitting into the program really well."
If Jones ultimately does choose Oregon, it would be one of the biggest recruitment signings in Duck history. The 5'11" safety is also considering offers from Alabama, Florida State, Georgia, LSU, Oklahoma, Ohio State, Ole Miss, Texas, Texas A&M, USC, and many others.
Check out his highlight video below.
Top photo from video

Fantastic FishDuck.com Discussion!
The comments below the articles have drawn raves from so many, and I do appreciate your emails about it.
Be a part of it!  If you check the rules, you will see that I protect everyone from the trolls.  So, there is no downside! We want to hear from all readers on all the articles, so jump in Ducks, (as the water is fine) and be a part of this tremendous community!