Just a few short days after landing four star WR Theo Howard, Oregon appears to be the front-runner to land five star recruit Brandon Jones. The safety from Nacogdoches, TX is the No. 14 ranked recruit on ESPN's top 300 list, and is the top ranked safety in the class of 2016.
Yesterday, after receiving the official offer from the Ducks, Jones tweeted out: 

In an interview with Andrew Nemec of OregonLive, Jones said that, "Oregon has been one of my favorite schools since seventh grade." He went on to say that receiving an offer from Oregon is, "It's pretty much a dream come true."
According to Andrew Nemec, Jones' recruitment process has been heavily influenced by close friend and Oregon commit, QB Seth Green. Jones has already admitted that Oregon is one of his top five schools to choose from, and that the opportunity to play with Green is, "a topic we always bring up in our conversations."
After seeing Jones' tweet, Green tweeted something out: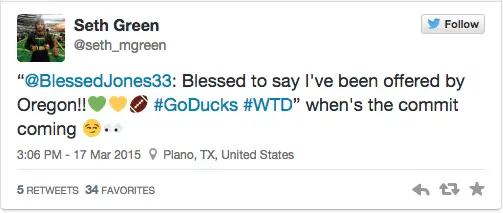 When asked why Oregon was so high on his list, Jones replied, ""For sure, the jerseys (at first) and the facilities." He went on to say, "I like the way they run their offense. They are really fast playing. I'm fast and I could see myself fitting into the program really well."
If Jones ultimately does choose Oregon, it would be one of the biggest recruitment signings in Duck history. The 5'11" safety is also considering offers from Alabama, Florida State, Georgia, LSU, Oklahoma, Ohio State, Ole Miss, Texas, Texas A&M, USC, and many others.
Check out his highlight video below.
Top photo from video

Caleb is a sophomore at the University of Oregon intending to double major in Journalism and Sports Management. He is the Managing Editor for FishDuck.com, along with being a lifetime Saints and San Francisco Giants fan, as Caleb fell in love with sports at a young age and developed that love into a passion for sports analysis. He is looking forward to cheering on the Ducks throughout his career at Oregon, and is always willing to talk sports with any fellow fan.
Mr. FishDuck … You Simply Can't Handle MY Opinions!

Baloney. I want all opinions here as it enables us see the full spectrum of ideas and helps us to learn from others and modify our own views as a result. In fact, this is the only Duck website where you can safely share your full-spectrum views on Oregon Sports.
If there is a problem … it is with your behaviors, and not your opinion, even if unpopular. Be polite and courteous to others and you will be reciprocated, and consequently you'll have a tremendous experience on FishDuck.
The majority of our rules can be summarized to this: 1) be polite and respectful, 2) keep it clean for grandchildren reading, and 3) no reference to politics.
Easy-Peasy!