News
With every passing recruiting cycle, Oregon seems to entrench a deeper foothold into once-untamable territory. Almost four days removed since linebacker Darrian Franklin (4-Star/Downey, CA/Rivals250) made his pledge to journey north to Eugene for his college career, the tone of Oregon's rise in the minds of young west coast recruits is now undeniable; the Los Angeles area is now as much Thunder Green and Lightning Yellow as it is the feuding colors of burgundy and powder blue.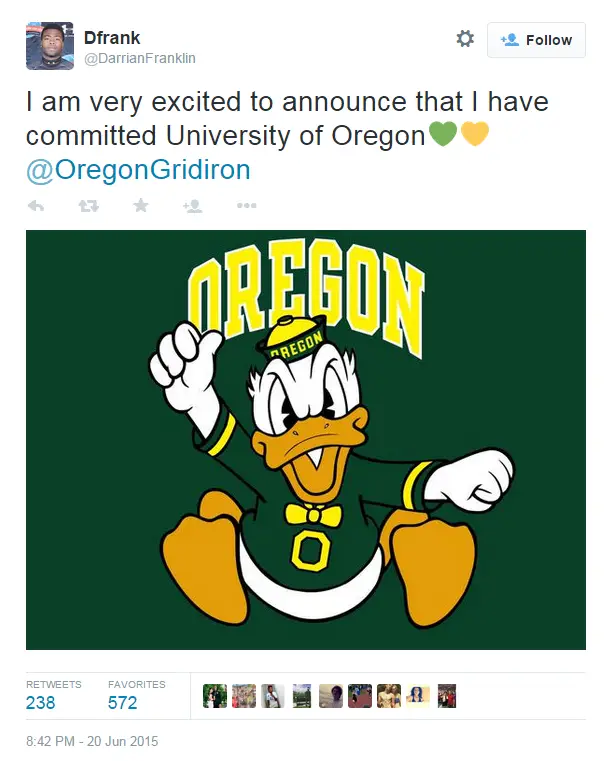 Franklin is the type of player with immediate impact capability. Hard hits and quick movements to the ball only scratch the surface as to his athletic promise.
To view Franklin highlights, please click here.
Shifting to the hardwood, we find shooting guard Charles O'Bannon (4-Star/Las Vegas, NV/Rivals150) received an unexpected surprise in the form of an offer from assistant coach Tony Stubblefield.
"I knew they were looking at me, but I hadn't really had a lot of communication," said O'Bannon. It was a big surprise, a good surprise you could say. I am very interested in Oregon."
Standing an already-stout 6'5″, 185 lbs., O'Bannon is already versed in the finer points of wing-play, knocking down jumpers and getting teammates involved off-the-ball.
"I am also interested in Oregon because Johnny Loyd is a Bishop Gorman guy and he's had big things there. Plus, I also like the way Dillon Brooks plays. I like his game."
For up-to-the-minute recruiting news, please visit our friends at Duck Territory, who graciously provide FishDuck.com with in-depth analysis and player-generated material. Look for my latest recruiting update every Wednesday. WTD!!!
Top photo by Kevin Cline
Follow me on Twitter: @MarkDFlores
Be sure to like us on Facebook: FISHDUCK.COM


Is FishDuck a NEGADUCK or HOMER?
I am neither as I am both. This site wants all opinions and even if you are in the minority–we want to read it. You will be protected by our rules as we are only GUARANTEED TROLL-FREE Oregon site, and will always be that way.
I simply write it the way I see it, and I invite you to do so as well!