Set the way-back machine to 1951 and get your DeLoreans up to 88 MPH. We're going back to look at a famous Duck from Oregon's rich history. While Oregon has had many great coaches over the years, I think we can all agree that the coolest name of them all belongs to Len Casanova. Known as Cas to his friends, he was the head coach of our Oregon Ducks for 16 years (1951-1966) and athletic director for four (1967-1970).
Before the 1950 season, Casanova was the head coach of his alma mater, Santa Clara, for four seasons. Despite Santa Clara being an absolutely tiny school, Casanova was able to lead them to an Orange Bowl upset of Bear Bryant's Kentucky Wildcats. This was Casanova's last season in Santa Clara, as the tiny college's football program became a victim of cost cutting measures.
But because of his success at Santa Clara, Casanova was able to get the head coaching job at the University of Pittsburgh. However, after just one year at Pitt, Casanova found himself missing the west coast, which led him to leave Pitt and accept the head coaching job at Oregon.
Despite having some good players, including phenom QB/DB George Shaw — a future 1st-round pick in the NFL – Casanova won only two games in his first two seasons in Eugene. Casanova upgraded from terrible to mediocre in his third season at Oregon, going 4-5-1.
In 1955, Casanova and his Ducks looked to be off to a great start – 5-1 in their first 6 games. Unfortunately, they then went on a three-game losing streak, which led some obviously disgusted students to hang Casanova in effigy prior to the last game of the season. The 5-4 record added further fuel to the already blazing inferno leading up to the Civil War game against Oregon State. However, Casanova secured his first winning season by triumphing over the hated Beavers in a 28-0 blowout.
Casanova reached the peak of his career as Oregon's head coach in 1957, going 6-2 in the Pac-8 and 7-4 overall. Oregon also clinched a berth in the Rose Bowl against the No. 1-ranked Ohio State Buckeyes, benefiting from the "no-repeat rule" preventing Oregon State (who were also 6-2 in the conference and had a better overall record) from playing in the Rose Bowl two years in a row.
In the game, Oregon did something that no one expected — they kept the game close. Going into the game as two-touchdown underdogs, the fact that Oregon kept the game tied through three quarters was amazing to most. In the end, the Ducks lost to the Buckeyes by a single field goal, 10-7.
After retiring from his largely successful career as Oregon's head coach in 1966, Casanova spent four years as Oregon's athletic director. During this period the now-iconic Autzen Stadium was constructed. Even though he stepped down as the athletic director in 1970, Casanova's presence was still very much a part of Oregon football.
A large number of Oregon's current athletic facilities owe their existence to the fundraising and projects led by Casanova. For this reason, Oregon's new athletic department complex was christened the Len Casanova Center in 1991. Also, the Len Casanova Award is given to the best freshman or other newcomer on the Oregon football team.
Along with being a presence at Oregon, Casanova was also a force in the NCAA at large, serving from 1969 through 1973 on the NCAA football rules committee. For his success as a coach and athletic director, Casanova was inducted into the College Football Hall of Fame in 1977, cementing his legacy as one of the game's all-time greats.
While he never won a Rose Bowl or went to a national championship, Casanova is one of the greatest Oregon coaches of all time. Without him, the modern Oregon Ducks program as we know it would likely not exist.
It is fitting that his name is kept alive by the Casanova Center, because he is truly the bedrock upon which every subsequent coach and athletic director has built upon. And while he did not have the success of Chip Kelly or Mark Helfrich, Casanova is well worth remembering for building the foundation that allowed Kelly and Helfrich to be successful.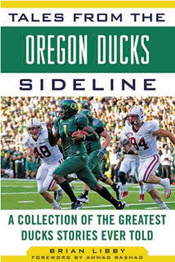 Top Photo from John Giustina
Article Inspiration from Tales from the Oregon Ducks Sideline by Brian Libby (Order one for a gift here)
Noah is an undergraduate student from just outside of New Orleans, Louisiana. Noah is currently pursuing a communications degree with the goal of becoming a sports journalist. Noah is a die hard Duck fan, mainly because of his obsession with football's X's and O's. In his free time he enjoys watching both pro and college football games,playing and listening to music, and drawing up his own playbooks.
For Football Season: FishDuck Back to Seven Days a Week!
I had to shut down the daily articles on July 20th because I could no longer work the extra 3 to 12 hours per week of certain managerial/editorial duties. (beyond the usual ones with FishDuck)
I've had a blast writing without those duties, and now, due to a new agreement with the writers, I can announce that we will have articles seven days a week again. I wish to thank the writers publicly for their graciousness in coming to a solution, as now I still do not have do those extra duties with our agreement, and meanwhile the writers are back having fun creating articles as I am.
Everybody is happy! So below is the new schedule through football season:
Monday: Mr. FishDuck
Tuesday: Darren Perkins
Wednesday: Joshua Whitted & Mr. FishDuck
Thursday: Coach Eric Boles & Alex Heining
Friday: David Marsh
Saturday: Mr. FishDuck (GameDay Baby!)
Sunday: Jordan Ingram
A couple of writers could not join us as they have new projects in their lives, and cannot write for anyone at the moment–but perhaps we will see them back later.
Things rarely work out so well for all parties in agreements, but this time it has and truly….everyone wins!
Our 33 rules at FishDuck can be summarized to this: 1) be polite and respectful, 2) keep it clean, and 3) no reference of any kind to politics. Easy-peasy!
FishDuck members….we got your back.  No Trolls Allowed!