When talking about the head coach who started Oregon on its winning ways in the modern age, people often think of Chip Kelly — he is the one who built the program, many would proclaim. While Kelly did certainly have a lot of success at Oregon, Mike Bellotti is the man who first set Oregon on course with a culture of winning. The fact is that Bellotti is simply forgotten because he had the unfortunate fate of being run over by the force of nature that is Chip Kelly.
Bellotti's time as the Oregon Ducks' head coach started in 1995 when his former boss, Rich Brooks, left to coach the NFL's Los Angeles Rams. Having been offensive coordinator under Brooks for five seasons prior, Bellotti was the obvious choice to replace him — this started the line of succession that is still going at Oregon today.
Despite having always called his own plays in two previous head coaching stints at Chico State and Woodlawn High School (Calif.), Bellotti turned over play-calling duties on offense to offensive coordinator, Al Borges.
In his first year as head coach, Bellotti led Oregon to a 9-2 record in the regular season, losing only to Stanford and Arizona State. This meant that for the second straight year, Oregon was headed to a marquee bowl game – the Cotton Bowl. Despite not being bowl newcomers anymore, Oregon simply couldn't hang with No. 7 ranked Colorado and lost 38-6, leaving Bellotti with a 9-3 record in his first year.
Over the next two seasons, Bellotti struggled to produce winning records in '96 (6-5) and '97 (7-5). Oregon finished a bumpy 1997 game in the less-than-prestigious Las Vegas Bowl, throttling Air Force 41-13.
1998 was the year that success started to take hold. After splitting time at quarterback with the more experienced Jason Maas, the next starter was Akili Smith. With some encouragement from coach Bellotti, Smith gained a firm understanding of new OC Jeff Tedford's more streamlined offense.
Smith's progress could be seen easily in the first game of the season when Oregon steamrolled the Michigan State Spartans in a 48-14 thrashing. Oregon finished 8-3 in the regular season, losing two close overtime games to Oregon State, No. 2 ranked UCLA and Arizona State. Limping to the finish line, the Ducks lost a close one to Colorado in the Aloha Bowl.
In 1999, Bellotti started the change of culture at Oregon — the Nike uniforms — what, you thought that was Kelly's idea? These were the first unis to feature the single "O" on the side of the helmet rather than the interlocking "OU" and started the evolution of the Ducks' look to what it is today. Bellotti won his second bowl game in '99, beating No. 24 Minnesota in an amazing comeback with a 24-20 victory in the Sun Bowl.
Bellotti had his first 10-win season in 2000, largely because of the late game heroics of Joey Harrington. After losing only two games in the regular season, the Ducks won their second straight bowl game in the Holiday Bowl against Texas. The following year, the Ducks had arguably the best season in school history prior to the BCS Championship appearances under Kelly and Mark Helfrich.
Oregon started to appear in the national spotlight in 2001, with both a school-generated Heisman campaign for Harrington and a potential chance at making the BCS Championship game at the end of the season. Because of a close game with Oregon State in a monsoon to close out the season, neither Harrington nor the Ducks got the national recognition they deserved. Instead of going to the BCS Championship, Oregon went to the Fiesta Bowl and trounced No. 3 Colorado, 38-16.
Bellotti enjoyed good years in 2002 before falling back to mediocrity in 2003, and having his only losing season at Oregon in 2004. The following year, Oregon won 10 games for the third time in Bellotti's tenure, but ultimately lost to Oklahoma in the Holiday Bowl. In 2006, Oregon finished with a winning record of merely 7-6, after losing its last four games.
Bellotti's second golden opportunity to coach in a National Championship game came in 2007. They started with a whopping 7-1 record, so every Duck was on cloud nine — and rightfully so. Dennis Dixon was a legitimate Heisman candidate, thriving in new OC Kelly's spread up-tempo offense and the whole team looked like a championship contender.
However, in a fateful game against Arizona State, it all came crashing down when Dixon tore his ACL. Without Dixon, the Ducks dropped their last three regular season games before rebounding to win the Sun Bowl.
Despite Oregon winning 10 games in 2008, the writing was on the wall for Bellotti, Syracuse wanted Kelly as its head coach and Oregon — wisely so — didn't want to lose Kelly's brilliance, so that was it for Bellotti. He was quickly "promoted" to Athletic Director and moved out of the way of the Kelly whirlwind. Bellotti was clearly unqualified and uninterested in being the AD, and just nine months later, resigned to join ESPN as an analyst.
While no one can dispute that Kelly took Oregon to new heights, reaching the BCS Championship in just his second year as head coach, we all need to remember that he inherited a program that had already been built up to where it could be a winner.
Many people seem to think Kelly took a burnt-out Pinto and turned it into a Corvette, when in fact, he only added rocket fuel to the Corvette. Bellotti built the backbone of the winning program that we have at Oregon, and perhaps his greatest contribution to the University of Oregon was hiring Kelly in the first place.
Top photo by John Giustina
Article inspiration from Tales From The Oregon Ducks Sideline by Brian Libby. It's the perfect gift for yourself or loved one, get your copy here.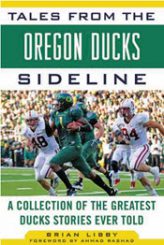 Visit our Sister Site, the new Our Beloved Ducks Forum!
This new forum that is unlike anything you have ever seen between our civilized discussion, (NO TROLLS ALLOWED) complete directions available for easy usage and the delivery of all Oregon Sports News.  (That last part is a gradual transition up to Spring Football)
Go to the forum where we delve into today's article and so many more topics and the nuances within them over there.
We have a topic post begun over at the forum for today's article; it is a free site and offers more opportunity for the exchange of opinions on all the Oregon Sports subjects of the day. (And there are some very cool features!)
An introduction article about the new forum is right here.