Football Gossip … why would anyone give important Oregon football information that label? My routine at lunchtime years back (before beginning FishDuck.com) was to drive home for a sandwich, let the dog out and then check into the Oregon message boards and sites, as so many of you do. My wife would turn on her soap opera shows and get caught up, as well, and I would sneer at how silly some of the plots were and the basis of her interest — until one day she turned the tables on me.
Those football boards, she asked, "Isn't that just gossip — football gossip?"
My stomach churned as I realized that my smugness was misplaced; she was right. I was simply reading football gossip!
That is the basis behind much of the information we seek about our beloved Ducks, so let's go ahead and call it as it is. My first article in this new category of article was a huge hit as many Oregon fans and I wanted to hear the poop from small college and high school coaches who know football better than we do. I would love to do this more than once every six weeks, but it all comes back to time constraints and whether I hear something worth passing along.
Consider this something that I will do unannounced from time to time for fun. It was enjoyable the other night interviewing a coach I had not talked to in a long time, and boy did he give me some juicy stuff to report in an upcoming article.
How weird is this set-up for major media?
Why am I doing it? Because the way major media do it now is ridiculous, as you have reporters who do NOT know the game any better than you or I do — and we as loyal Oregon fans are supposed to listen to that? Notice how journalists (who don't know football well) are always interviewing other journalists?  How weird! (Again, they don't know that much more than you and I.) Why do we want their opinions? Who cares?
When they do interview each other, they speak in banal generalities, giving us the names of players — as if we don't know. I was insulted listening to an interview on the Eugene area radio show from a journalist hired by the local paper who was covering sports in Kansas up until recently — we're supposed to listen to him? What does he know about Oregon football? Does he know how the Inside Zone Read works for Oregon as FishDuck.com consultant coaches do? (On a Google search, note 70 million references and who is up at the top?)
The young writers for the Portland newspapers … were they even alive yet when some of my favorite Oregon players were scoring touchdowns? These writing carpetbaggers from the east, and these Portland Pipsqueaks have no sense of Oregon history … and this is who we, as intense, loyal Oregon fans, are reading and listening to?
It's insane, and I'm mad-as-hell and not taking it anymore! (The Portland Pipsqueaks would not know that quote as it was before all of them were born.)
The best part of uttering a phrase like that is that I can do something about it. FishDuck.com is in the top 2% of all websites in the WORLD, and I can provide what I and my fellow Oregon fans want to read: really great information about our Ducks by coaches who have actually coached our style of offense and defense and put in the hours in the film room.
I have a couple of pages of notes in front of me from juicy conversations with coaches who can provide more insight than all of the journalists you will read. You and I will learn much more from them than any hack you read from the local rags. The only thing these journalists do better than you and me? They write better – that is it! That is why they are hired, and it is NOT due to football knowledge or a deep sense of history about our beloved Ducks.
I am not as skilled a writer as they, but I am decent enough to pass along the tidbits from the coaches I consult with, in a way that is informative and entertaining, which will be far more helpful to you as Oregon fans than the carpetbaggers or 'squeaks can offer. We at FishDuck.com can add to your knowledge.
Note: When Comcast.com brought in Joey Harrington and a coach formerly from Portland State — that was superb commentary. They played and coached the game, and I am grateful to learn from them as well as with Carson York, a former Oregon player. Those are the people to listen to …
So — look for these articles, as I simply love to learn and will pass them along as I hear them from these coaches. This will be so much better than a ton of nonsense we read and hear, and it will improve my skills in interviewing. As you know, I have only a fraction of the knowledge these coaches do, so I will be learning right alongside you.
Help me out; do you know a retired coach who knows his stuff?  I'm listening, so send him to me and we all will benefit more from their insight. (I have a consulting team but am looking to expand it for more tasty stuff.)
Are you a current coach, or a retired coach who has an opinion to share about Oregon Football with FishDuck?  Players? Recruiting? Strategies? Plays? You don't have to have your name published as I will publish it under my banner, and we do not go negative on our beloved Ducks.
charles@fishduck.com  541-915-4541
Top photo from video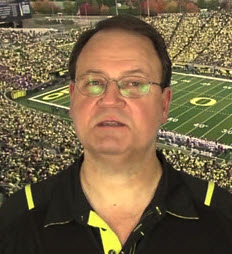 Charles Fischer has been an intense fan of the Ducks, a season ticket holder at Autzen Stadium for 35 years and has written reports on football boards for over 23 years. Known as "FishDuck" on those boards, he is acknowledged for providing intense detail in his scrimmage reports and in his Xs and Os play analyses. He and his wife Lois, have a daughter Christine, reside in Eugene Oregon, where he was a Financial Advisor for 36 years and now focuses full-time on Charitable Planned Giving Workshops for churches and non-profit organizations.
He does not profess to be a coach or analyst, but simply a "hack" that enjoys sharing what he has learned and invites others to correct or add to this body of Oregon Football! See More…
Articles EVERY DAY Again on FishDuck!
Our focus is now on this wonderful Oregon Sports Community, and we will have at least a short article every day to begin the Duck Discussion.
You are also welcome to post other current events or items about Our Beloved Ducks in the comments as well.
Our 32 rules can be summarized to this: 1) be polite and respectful, 2) keep it clean, and 3) no reference of any kind to politics. Easy-peasy!
Take note though, there are NO STRIKES, NO WARNINGS, and NO SLACK given. Violate the rules and you are gone, as this is what the 99% who post superb comments want. (The Ban could be for weeks, months or permanent)
For the 1% out there who do not have impulse-control … as you write your comment that violates our rules, ask yourself, "is this worth getting banned over?"
FishDuck members….we got your back.  No Trolls Allowed!
New at FishDuck? Learn about the site right here!